I published the book Walkable City in 2012. Since then, many of our leaders have realized that establishing walkability as a central goal can make cities better in a whole host of ways. That book did a decent job of inspiring change, but it didn't tell people exactly how to create it. My new book, Walkable City Rules: 101 Steps to Making Better Places (released on October 15 by Island Press) is an effort to weaponize the walkable city for deployment in the field. An excerpt follows below.
—Jeff Speck
Rule 9: Fix your codes
Eliminate legal barriers to mixed use.
Andres Duany used to give a lecture called "The Story of Planning." In it, he would recount the formative victory of the planning profession. It happened in the 19th century, when people were choking on the soot from Europe's "dark, satanic mills." The planners, who were not yet called planners, said, "Hey, why don't we move the housing away from the factories." They did it, and lifespans increased immediately and dramatically.
The planners were hailed as heroes, and, as we like to say, they have been trying to repeat that experience ever since. This story is admittedly an oversimplification, but at its heart it is true. Modern city planning began with the intention of separating incompatible uses from each other, and evolved somewhat mindlessly into separating all uses from each other.

By the mid-20th century, planners seemed to have gone berserk. Having witnessed the life-changing benefits of zoning, they became zone-happy, introducing more and more categories and more and more rules about what should be separated from what else, until the city of neighborhoods was replaced by the city of zones. The planner Paul Crawford used to point out how the typical mid-20th-century zoning code spelled out literally hundreds of separate zone-able property uses, in one case (a small California city) including both "19. Baths, Turkish," and "135. Turkish Baths." This same code permitted the manufacture of potato chips but not corn chips, and allowed chinchillas to be sold retail but not wholesale.
We planners now know that this was wrong. The city of zones is no longer taught in planning school. The leadership of the city planning, urban design, and real-estate professions all agree that single-use zoning is a recipe for economic, environmental, and social disaster. Yet, nationwide, the old-school zoning maps still exist, sitting on acre after acre of undeveloped property, directly in the path of progress. It is clear why the city of zones is the exact opposite of the walkable city. If nothing is close to anything different, and the only connection is a single fat roadway, then the population is automatically conscripted into driving.
When a walkable city is mapped by land use, the image is remarkably different. If the picture above is a Rothko, the one below is a Seurat—he was the pointillist. Uses are still separate, but at a much finer grain, like confetti. And a large section of this plan, shown in red, contains buildings holding multiple uses, mixed vertically.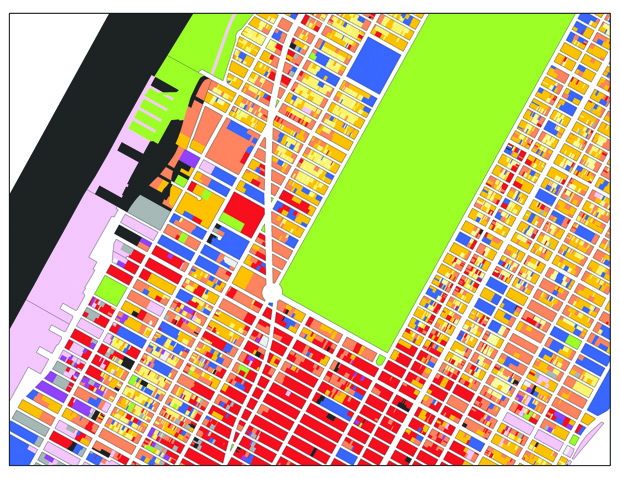 If they are to once again achieve walkable outcomes, cities must replace their use-based zoning codes with something different. There are many ways to do this, but the most comprehensive and effective is to enact a form-based code instead. Form-based codes, pioneered in the 1980s, still address land use—keeping incompatible uses apart—but focus more attention on those physical aspects of private buildings that impact the quality of the public realm, such as height, placement, and where the parking goes. They also replace our current dangerous street standards with designs that encourage walking and biking. Based on the design of livable places, they result in more of them.
Rule 31: Focus on speeding
Street improvements should be linked to keeping speeding in check.
"It's the speed, stupid." Roughly half of this book addresses different aspects of the street and how they are designed and managed. Many of these points may serve multiple objectives and audiences, but they all aim back, in one way or another, at a single issue, vehicle speed.
While many different factors influence the safety of humans in cities, none matters nearly so much as the speed at which vehicles are traveling. The relationship between vehicle speed and danger is, to put it mildly, exponential.
The diagram below is one of many that can be found to communicate this relationship. (Other diagrams show people falling out of buildings, with 20 miles per hour equaling the second floor and 40 miles per hour equaling the seventh.) The basic message to remember is that you are about five times as likely to be killed by a car going 30 as a car going 20, and five times again as likely to be killed by a car going 40.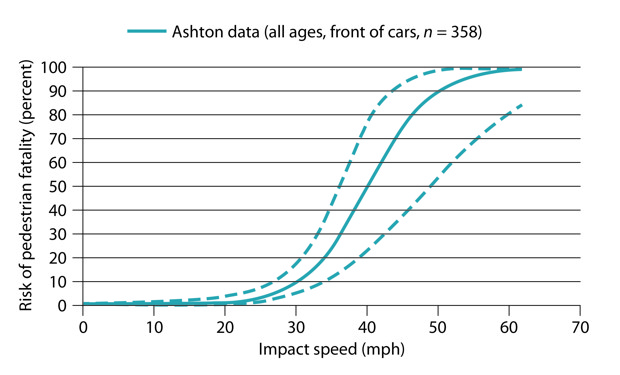 This threshold zone of 20 to 40 miles per hour is basically where it all happens—the difference between bruises, broken bones, and death. And 20 to 40 is roughly the range of speeds that we find cars traveling on the best downtown streets. Keeping cars on the lower end of that range, therefore, must be the central objective of urban street design.
The speed of the impact itself is not the only factor. As cars move faster, the likelihood of a crash also rises. Drivers and pedestrians alike have less time to respond to conflicts; stopping distances lengthen; and the driver's cone of vision narrows. These factors multiply the impact of speed beyond those indicated in the above graph. It is safe to say that a car traveling 30 miles per hour is probably at least three times as dangerous as one going 25. Many cities have a downtown speed limit of 25. All should—or lower.
These limits simplify the conversation, because it is no longer necessary to talk about "slowing drivers down." Who wants to be slowed down? That sounds like congestion. Instead, we can simply talk about "reducing illegal speeding."
Streets need to be redesigned so that fewer people will speed on them. This cannot be accomplished with speed limits alone, because people do not drive the posted speed; they drive the speed that is implied by the street design. Streets must be designed to encourage the speeds that we have set for them, or the result will be illegal, deadly speeding. That is the central message, and the street designer's mandate.
Rule 53: Understand that cycling follows investment
Topography, climate, and culture can't compare.
In the 1970s, people in Portland, Oregon, biked not much more than people in the rest of the United States. Over the ensuing 40 years, the city invested about $60 million in cycling infrastructure—enough money to pay for about one mile of urban freeway. Now, people in Oregon bike to work at a rate that is more than 14 times the national average.
The same story can be told of many European cities, except with more dramatic outcomes. By the 1960s, cars had begun to dominate the landscapes of Amsterdam and Copenhagen, just like in the typical American city. But then, national and local policies directed investment away from highways and toward comprehensive urban cycling networks, with an emphasis on safe bike lanes largely protected from automobile traffic.
Now, in the Netherlands, 36 percent of people list cycling as their most common way of getting around, and the percentage in urban centers is even higher. Meanwhile, in Copenhagen, after $150 million was invested in the past decade alone, a whopping 62 percent of residents commute to work or school by bicycle—almost seven times as many as go by car.
It snows a bit in Copenhagen—the city famously plows the bike lanes before the car lanes—and of course it rains a ton in Portland, about 150 days per year. It snows there too. There's a saying in Portland: "There's no such thing as bad weather, just bad gear."
This brings up another point, which is that weather, once thought so important to bike ridership, seems to not have much of an impact on outcomes, and neither does topography. Twice as many people commute by bike in Canada's northern Yukon Territory than in California, and hilly San Francisco has double the cycling rate of relatively flat Denver.
Clearly, hot weather can be a problem, which is why development regulations encouraging showers at work—as the LEED green-building certification does—are a key part of the picture. But climate, hills, and other local factors cannot legitimately be cited as insurmountable hurdles to growing a cycling population, when the evidence clearly suggests otherwise.
The most befuddling red herring of all is "culture." Often is it claimed that "nobody will bike here because nobody bikes here." Observing that few people bike in a place without a good bike network is like saying that you don't need a bridge because nobody is swimming the river.
In sweaty Macon, Georgia, past city officials installed three noncontiguous blocks of bike lanes and then pointed out that nobody used them. Last year, they striped eight miles of pop-up bike lanes and witnessed cycling increase by more than 800 percent.
Rule 88: Make sticky edges
Energize public spaces with active, deep facades.
In Jan Gehl's classic Cities for People, the index contains 36 distinct entries under the term "edges." Gehl understands—and has helped us to understand—how the quality of a place's perimeter is largely responsible for its success or failure as public space.
He uses the term "soft edges" to describe the objective, noting that people almost always linger at the perimeter of a space rather than the center, but that the most successful edges offer more than a blank wall or a sheet of mirror glass. The best do two things well: They are active, and they are thick.
Active Facades
Active facades provide the street with interest and energy. In terms of what can be written into city codes, these qualities translate into percentage of openings, rhythm, and limited repetition.
The bluntest instrument for avoiding blank walls is a minimum openings percentage. In its "active facade" zones, the City of Melbourne sets a minimum of 60 percent, which is appropriate to retail uses. Residential facades can have a minimum closer to 25 percent to allow punched openings, but this rule should be tied to a "no blank walls" requirement that demands a window or door every 10 feet or less on each story.
Rhythm is provided by buildings having vertical rather than horizontal articulation. The ribbon window of early Modernism does many things, but it does not support an interesting walk, as it stretches out distances and provides no articulation as you move past. Codes should require that long facades in would-be walkable areas provide vertical members at their lower stories.
Limited repetition is provided by encouraging small increments of development and, where that is not possible, breaking up long buildings into distinct segments.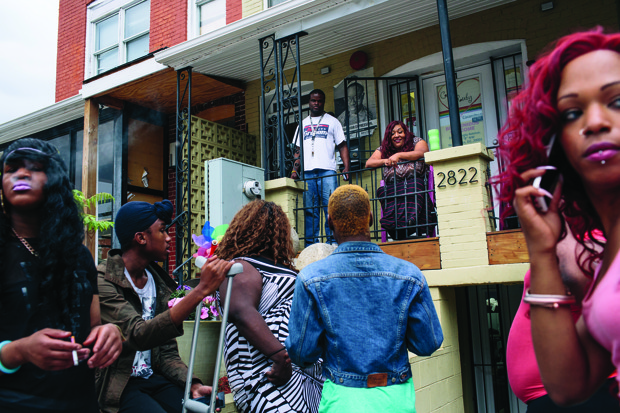 Thick Facades
What makes a potential shopper more likely to enter a store? What makes a resident more likely to interact with passersby? What makes pedestrians more likely to stop and hang out for a while? All these questions have the same answer: robust transition zones between the insides and the outsides of buildings, architectural features that attenuate the path from public to private. In shorthand, these can be called thick facades.
Thick facades take myriad forms. In retail architecture, examples include sidewalk dining, benches against facades, placards and merchandise in the frontage zone, entry alcoves flanked by display windows, roll-up and other wide-open warm-weather facades, arcades, window counters and window bars (the drinking kind), and upstairs balconies or other overhangs. Most retail facades should have some form of awning. The goal is to blur the distinction between the shop and the sidewalk.
In residential settings, short setbacks, front porches and stoops, bay windows, balconies, and active front-yard gardens all add thickness. A new best practice among skilled multifamily developers is to make first-floor apartments look like rowhouses by giving them stoops and front doors, even though they may still be hallway-served.
In office buildings, first-floor offices should be given transitional spaces like bay windows and porches against the sidewalk where possible, similar to residential uses. But a better approach, one becoming favored among office tenants, is to forego the large glamorous lobby in favor of leasing out as much space as possible to amenity retail such as restaurants and coffee houses, which can provide proper storefronts instead.
Rule 100: Don't give up on sprawl
It's where most Americans live.
In 1999, when Andres Duany, Elizabeth Plater-Zyberk, and I were writing Suburban Nation, it seemed that stopping the spread of sprawl might actually be possible. Two decades later, it is difficult to harbor such illusions. Most of the subsidies and market perversities that drove the initial suburban outflux are still in place, and too many powerful organizations still benefit from our dependence on cars and roads.
Even though polls and price comparisons show that the auto zone is vastly overbuilt, the sprawl machine will continue to churn, sucking in farmland and fossil fuels and spitting out soulless subdivisions and ever more carbon. The data suggest it might kill us all before long. But while we're still here, why can't we just live in the kind of places we want?
This final question, and our collective failure to change the rules of the game, has led to a new mandate, less ambitious but still important: making the walkable lifestyle available to more of the people who want it but can't find or afford it in their cities. As the sprawl bomb continues to slowly detonate, planners and activists can make the biggest difference by bringing more attainable housing to our city and town centers. But they can also have an impact by creating pockets of urbanism where the people already are: in the belly of the sprawl beast.
This work has been going on for decades now, described in such books as Retrofitting Suburbia—new mixed-use town centers plopped in the middle of the auto zone. Most of them, like Legacy Town Center in Plano, Texas, or Belmar in Lakewood, Colorado, occupy the sites of dead malls or office parks. When done properly, they seem to be an almost surefire real-estate home run, because the hundreds of thousands of people surrounding them are absolutely starved for urbanism.
Their desirability means that all but their smallest apartments quickly become too expensive for most. But they still provide a much-needed experience for regional suburbanites, who drive to them in droves to shop, dine, see a movie, or just walk around. Avalon, one such center in Alpharetta, Georgia, has more than 200 public events each year. These are what planners call "park-once environments." And for those who can afford to live there, they provide a happier, lower-carbon lifestyle.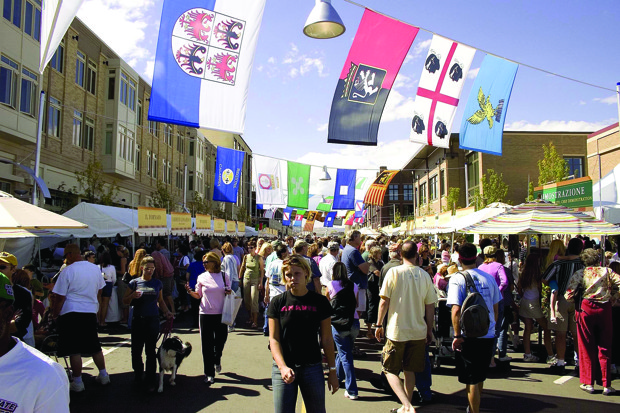 Are such new suburban centers really more sustainable overall? It's hard to say. But they help to alleviate the monotony of sprawl, which is now where most Americans live, including many of the poorest.
When suburbia was more wealthy than poor, planners could theoretically hold their noses and confine their design work to city centers. This would no longer seem to be a moral choice. The statistics make it clear that the vast majority of people living in sprawl don't want to be there: In a recent National Association of Realtors survey, only 10 percent of respondents want to live in single-use housing subdivisions. This means that perhaps a third of Americans are trapped in the suburbs involuntarily, most because they can't afford real urbanism. Besides giving them cute town centers to stroll around, what can be done?
The answer lies in the type of suburbia they are stuck in. The first and best opportunity, available only in places that experienced real growth before 1950, is to find the old Main Street and bring it back to life. Sometimes, a town that appears to be all sprawl, like Tigard, Oregon, is stealthily concealing a spore of urbanism that is ready to germinate if given the proper care. Wise communities will focus their investment there, fix the streets, build new housing, and reinforce a walkable design standard to create a core of walkability that can lift the entire community.
But then there are all the newer places like Chandler, Arizona: 250,000 humans doomed to scuttle around perhaps the most utterly placeless landscape in America, 65 square miles of entirely car-dependent nowhere. Without the full-scale insertion of a large, new town center, what can be done to make the denizens of the purest sprawl less isolated?
While true walkability is out of the question, the most essential improvements would seem to surround safety for pedestrians, cyclists, and drivers, too. People are dying in these landscapes at an alarming rate, thanks to high-speed road geometrics, inadequate crossings, and rare and dangerous bike lanes. Such places can't really be fixed, but they can—and should—be made safer using many of the techniques contained in this volume.