The streets of Sacramento, California, have erupted in protests ever since police there shot and killed Stephon Clark, an unarmed African American, on March 18. Last week, Louisiana Attorney General Jeff Landry announced he would not be bringing state-level charges against the police officers who killed Alton Sterling, another unarmed African-American, two years ago. And in March, people of color living in Austin, Texas, found themselves living in a state of terror when a white man rigged bombs around the city, claiming the lives of two black people and injuring a Latino woman.
These tragic events, combined with the years of police violence preceding them that triggered uprisings in Ferguson and Baltimore, suggest that for many, cities across the U.S. might be unsafe to travel to if you aren't white. This was a serious thing for African Americans to consider during the Jim Crow era, and it even inspired its own literary genre: the Green Books for black motorists and travelers. These were essentially travel guides for African Americans to navigate the racially hostile terrain of the South.
New Orleans-based writer Jan Miles has revived the enterprise with the publication of her book The Post-Racial Negro Green Book, released in November last year, which continues the service of identifying the problem of a lack of safety and security for black travelers. There's a twist on Miles' book though: Instead of listing hotels, restaurants, and gas stations that African Americans can patronize, as the original Green Books did, Miles' book lists various acts of police violence and racial profiling in a given place that have made the news in recent years. It also delves into both concrete and abstract examples of racism reported, such as mass incarceration, sentencing disparities, microaggressions, and even white privilege.
For example, for the section on Louisiana, Miles not only lists the police killing of Sterling in Baton Rouge, Louisiana, but it also lists an incident two years prior to that in which a white Baton Rouge cop was found with racist text messages on his phone saying that black people were "niggers" and "nothing but a bunch of monkeys." She also lists a 2013 calamity in Baton Rouge involving Ervin Edwards, an African-American man who was arrested for violating a city ordinance requiring pants to be worn at the waist. Edwards was taken to a Baton Rouge jail where he was tased and then left unconscious for ten minutes on the floor of a cell where he died.
Another distinction between Miles' book and the original Green Books is that while the latter focuses on the South, Miles documents examples of racism across all fifty states. She began documenting these occurrences for the purpose of creating an online archive, but later came up with the idea to present it in the Green Book format. What she created ended up becoming the "inverse" of the Green Book, showing not where it was safe for black people to travel, but rather a litany of reasons why these places may not be safe for African Americans to travel to at all. Miles' book only covers incidents from 2013 to 2016, but she says she has enough material from 2017 alone to create a follow-up book.
"You couldn't do a book like the original Green Book anymore," says Miles, "but where we are now is at a place where you could do an inverse of the Green Book, because we have so much more access to reports and video in this technological internet era. You're now able to compile all of that and fill an actual book with that type of information, which is horrifying."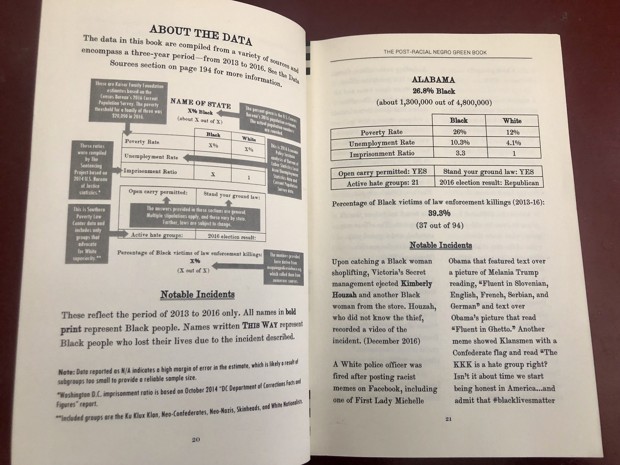 Miles tabulates much of the info for her book from reports by the NAACP, American Civil Liberties Union, district attorney offices, and state civil rights agencies. And while Miles' book locates racism in multiple forms, beyond the kind experienced in the accommodations industry, it still very much serves as a travel advisory guide, as the Green Books did before it. It provides the kind of travel cautions that even civil rights groups themselves are taking up these days—the NAACP issued two travel advisories for African Americans in 2017 against American Airlines and the state of Missouri.
However, Miles encourages people of color to engage in a more robust form of travel agency, beyond merely avoiding certain places. In the "What You Can Do" section of the book, she invites people to join local activist groups, to attend workshops on shoring up organizing strategies, and to find places to divest and divert resources from if they tolerate racial discrimination.
A 1949 version of the Green Book stated optimistically that "there will be a day some time in the near future when this guide will not have to be published." Indeed they stopped publishing in the late 1960s, near the apex of the Civil Rights movement. But given today's racial violence, perhaps that was premature.