In 1979, construction began on one of the biggest public transportation projects in the history of Buffalo, New York—an ambitious rapid-transit system called Metro Rail that boosters hoped would help arrest the population freefall the city was then enduring.
Accordingly, the city's leaders and the Niagara Frontier Transit Authority (NFTA) were determined to make this new system a showstopper. The transit authority asked architects to draw up designs for a network of modern underground stations. To complement each one, a public art selection committee was formed and handed $1.15 million in public funds. Predating the MTA Arts and Design program in New York City by six years, the committee received over 500 responses from artists around the world; 75 were asked to submit proposals and 25 were ultimately chosen to have their work displayed. For a Main Street corridor hemorrhaging businesses and people to the suburbs, the presence of these stations, and the artwork within them, announced a once-in-a-lifetime investment in Buffalo.
But Metro Rail ended up being nearly the opposite of what its planners originally hoped for.
Since opening in 1985, the limited service has been a local punchline, referred to disparagingly as "The Train To Nowhere" and highlighted as a textbook example of government waste. Annual ridership has dropped to 4.5 million, down from a peak of 8.5 million in 1991. And the Main Street corridor the line anchors has yet to fully recover. It remains much as it was when construction began 40 years ago—a scattering of healthy colleges and hospitals, some underused commercial buildings, and quiet sidewalks and streets.
More recently, signs of economic life have sprouted up in pockets around Buffalo thanks to a handful of bullish developers—a rare occurrence since Metro Rail's debut. And so the NFTA thinks it has something to offer to build a more vibrant, denser future for Buffalo—its stations. The NFTA has asked a local development company to conduct a Request For Qualifications (RFQ) this summer as it seeks to make Metro Rail more appealing to a new generation of people who live and work within the city. The goal is to issue Requests for Proposals (RFPs) for seven of its eight underground stations as well as its rail depot, police station, and inter-city bus terminal. The city wants to take better advantage of its expensive-but-underutilized rail line by luring new housing, offices, and retail along its route. There's hope, too, of building a long-promised suburban extension to the system.
It's a worthy goal, with one big problem: The process of trying to save Buffalo's Metro Rail could end up destroying just about the only thing it truly got right.
***
Talk of a Buffalo subway dates back to the mid-1960s, as civic and business leaders began campaigning for an underground system to help revitalize the shrinking city's fading downtown. New York State Governor Nelson Rockefeller was on board and early plans showed a 12-mile-long system that would travel underground through downtown, along elevated structures through the rest of the city, and then travel at-grade through the suburbs, all the way up to Rockefeller's pet project for the region—a new SUNY campus in the northern suburb of Amherst, then under construction.
But when Rockefeller left Albany in 1973, the project lost its most powerful ally. The federal government told the NFTA one year later to scale the project down to a light rail system. In affluent Amherst, anxious residents spoke out against rapid transit and the urban ills it would surely drop off in their community.
The project proceeded anyway. After 20 years of planning and construction, and $530 million in state and federal money ($1.24 billion today after inflation), Buffalo's Metro Rail was officially completed in November 1986, but in a deeply compromised form.
The downtown portion, which began service in 1984, was redesigned as part of a free-fare transit mall at the request of then-Governor Hugh Carey. The rest of the city's stations were buried underground, opening in two phases afterwards and at such great cost that suburban expansion was no longer feasible. Service terminated at the city's northern edge, four miles from the new, hard-to-love SUNY campus, leaving thousands of university students with few convenient transit options to the city besides an inter-campus shuttle. (This writer was once one of those inconvenienced, car-free students).
As a transit system, Metro Rail may have underperformed, but it's an underrated artistic triumph. Thanks to the art selection process, overseen by celebrated local gallerist Nina Freudenheim, riders have spent the last 30-plus years experiencing pieces like Beverly Pepper's 150-foot-high Corten steel sculpture that anchors University Station's bus loop and Stephen Antanokos's alternatively curved and angular neon tubes that stretch across the ceiling inside. Towards the other end of the line, riders ascending the escalators at the Summer-Best station are greeted by colorful steel sculptures by George Sugarman that appear frozen in motion along the walls and glass ceiling. Just outside, additional pieces of his function as places to sit or play on. In between these stations, site-specific art by men and women of various backgrounds, ethnicities, and locations remains just as compelling.
The architecture of the stations themselves is also worthy of preservation. Similar to the initial commissions for Montreal's Metro and Atlanta's MARTA, Buffalo's Metro Rail stations were designed by a variety of firms, both local and national. Utica Station, for example, was created by Buffalo's Robert Coles, an African American architect who merged Modernism with urban activism in a long career. He had designed Atlanta's Lindbergh Center Station one year prior to the Buffalo commission (and also ended up designing Metro Rail's sleek, mysterious Operations Central Control Center).
It's not clear what the fate of these spaces will be. In its RFQ, the NFTA says that it wants developers to "present a cohesive vision for these properties that will increase the vibrancy of the Metro Rail corridor and its share of regional employment, households, population, regional gross domestic product, and public-sector revenue in the region."
"We're leaving it to developers to be creative and flexible," NFTA spokeswoman Helen Tederous tells CityLab. "We want to allow for an out-of-the-box mindset." The stations, she says, "represent a time and a place, and we're very sensitive to that."
One underground station, Allen-Medical Campus, has already been redeveloped, and its changes should be more than enough to give fans of the original facilities pause. Last year, SUNY Buffalo's medical school relocated from its old Main Street campus to the Buffalo-Niagara Medical Campus, which has expanded greatly in the last decade and sits on Allen Station's doorstep. The NFTA's original one-story station building was demolished, replaced by a terra cotta-cladded, $375 million, 628,000-square-foot structure housing the university's School of Medicine and Biomedical sciences. Designed by HOK, it has become an instant landmark for the city since opening last December.
The new station boasts a newsstand, a few digital information screens, and one art piece; gone is the NFTA's original brick-and-glass building and open courtyard, plus multiple original art installations that were created specifically for that space. Among the missing: a mural by Charlie Clough that hauntingly reinterpreted a Charles Burchfield painting through his signature finger-painting method; Spring Fling, an energetic sculpture collage by Richard Friedberg; and a tiled Latin Gallery Poetry Wall by Alberto Cappas, Juan Gonzalez, and Olga Mendell. Each piece felt like part of the architecture—their absence unimaginable as long as the building supporting them was intact.
"The first floor had a broad view from the street with windows to the left of the escalators as you went down," says Friedberg. "I thought it would be nice to have a piece that changed dramatically as you went under it. It had two focal pieces, one read at eye level as you entered and another that appeared more dramatically as you went under. It also had a nice profile view from the street."
Clough says he just wanted his mural to "engage, lift spirits, cause some kind of introspection." The artist, who played a vital role in Buffalo's acclaimed art scene of the 1970s, recalls the station art program fondly—it brought the city international attention for the right reasons. He'd moved to New York City before the system opened in the 1980s and only saw his Allen Station piece four years ago. "I was amazed; it looked just like when it was installed," he says.
The new art is Shasti O'Leary Soudant's Gut Flora, whose sprawling forms draw from the medical research conducted upstairs. But its placement on an elevated, glass-protected platform isolated along the Main Street facade announces with near hostility that it should never be touched. The new station lobby's sterile hospital-like interior abruptly runs into the brick mezzanine of the 1985 station. On a recent weekend afternoon visit, one of the new transit info screens was broken and the newsstand was closed.
The original pieces, Tederous stresses, survive: They're now in storage under the care of the Albright-Knox Art Gallery. That's quite a downgrade for a piece like Spring Fling, which graced the cover of a brochure promoting the station art when it debuted. Friedberg has soured on public projects in recent years for exactly this kind of outcome. "These types of commissions are exciting at first because you're making something that contributes to specific space, but then you're subject to the vicissitudes of ever-changing developments." He said an Albright-Knox curator contacted him a couple of years ago about possible new locations for the piece, but he never received a follow-up. "It was a nice project. I was enthusiastic for it and glad to have my work in a space with other artists I admire."
There's no question that the new building is an asset for its neighborhood, but despite its proximity to the walkable, diverse, and lively Allentown neighborhood, the revamped Allen station is no more crowded than an average Metro Rail station: It's only the sixth-busiest of the system's 13 stations today.
***
If a partnership with SUNY Buffalo—an institution that takes architecture and design more seriously than the typical local private-sector client—resulted in the new Allen Station, then the future does not bode well for the others. It's also hard to justify further facelifts that sacrifice thoughtful public space for private development when there's such a surplus of vacant, underused, and cheap land in walking distance up for grabs.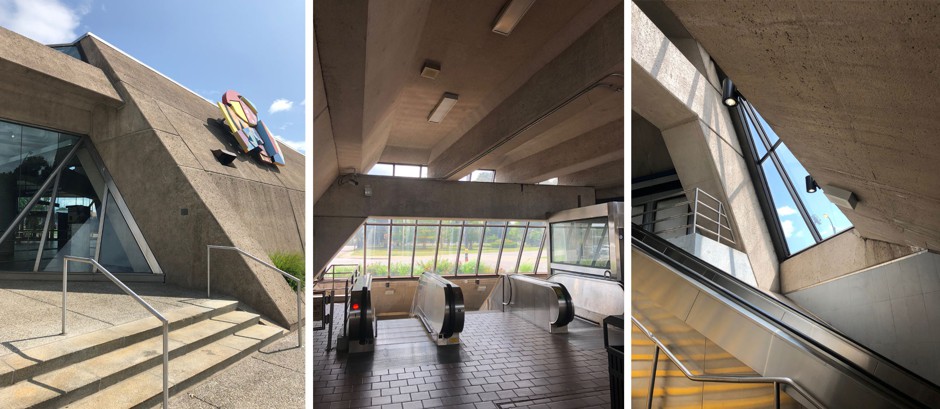 Many of these stations sit on the edge of economically depressed neighborhoods that haven't stopped losing population since the system opened. Why would the land above a station be so appealing to a developer when nothing else around it has been? It's hard to believe that a station like Utica should lure a prospective developer, despite having to build over a bus loop and an underground train station, while a one-story Burger King across the street with a sizeable private lot remains. The Summer-Best station sits next to a vacant lot that its owners haven't touched since demolishing a motel on the site a decade ago. The surface lot for LaSalle Station is big enough to support a decade's worth of residential construction. There's plenty of room for development in the areas around these stations.
The remaining sites can't offer much. Delavan-Canisius is situated on the edge of a vast cemetery and a college campus. Humboldt-Hospital also brushes up against those, and an expressway. Amherst Station is on a tight, triangular site on the border of pleasant Victorians to the west and an industrial and commercial area to the east that is only starting to experience reinvestment after years of extreme decline. And besides a vast Park-and-Ride lot for commuters, University Station is enveloped by green space on a classically laid-out campus for SUNY Buffalo that deliberately separates city life from academic life.
More than any hypothetical developer bent on demolition, the biggest design risk in this plan is the transit authority itself, which has failed in recent years to show much understanding of what makes its Metro Rail stations special. The NFTA does not have a chief architect, only a director of public transportation who works with the head of engineering on design details. And it shows.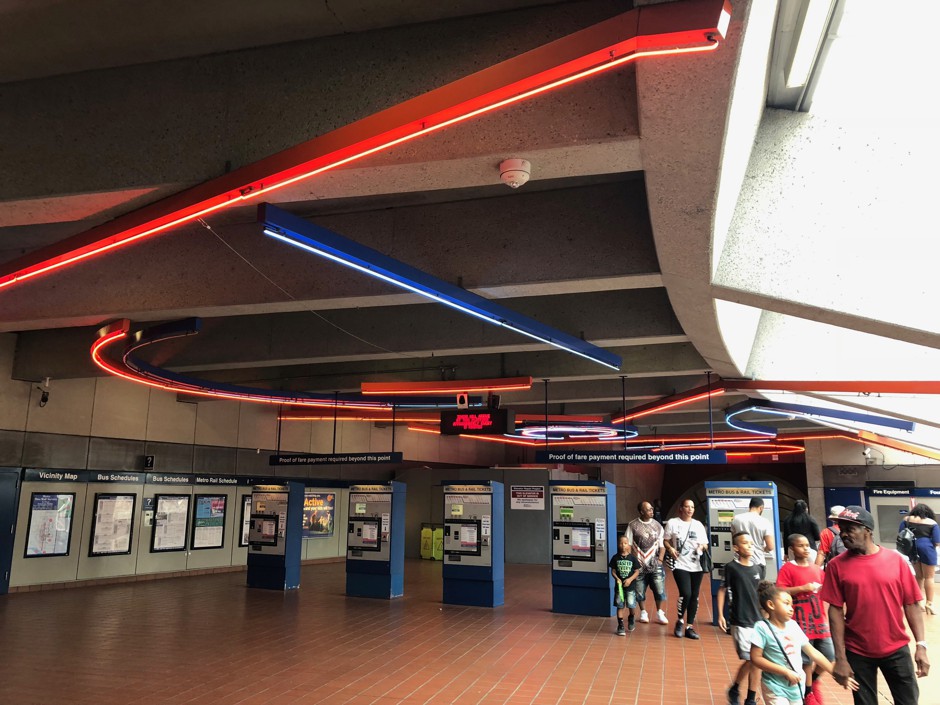 Besides the disappointing Allen Station renovation, the NFTA has made head-scratching aesthetic choices since the turn of the century. Decommissioned seating from the Buffalo-Niagara International Airport was moved to rail stations, and the minimalist white steel-and-glass entrance for University Station was repainted gray and blue (while throwing in a extra row of old airport seating outside). The agency also abandoned its instantly identifiable "M" logo for a clunkier "NFTA-METRO" on its rail cars, buses, shelters, stations, and printed material, and there's now a plan to replace its infrequent fare inspections with a turnstile-based system—a move that, intentionally or not, implies a newfound mistrust in its ridership.
Together and at varying degrees, these all add up to a departure from the progressive ideas that fueled the system's original appearance.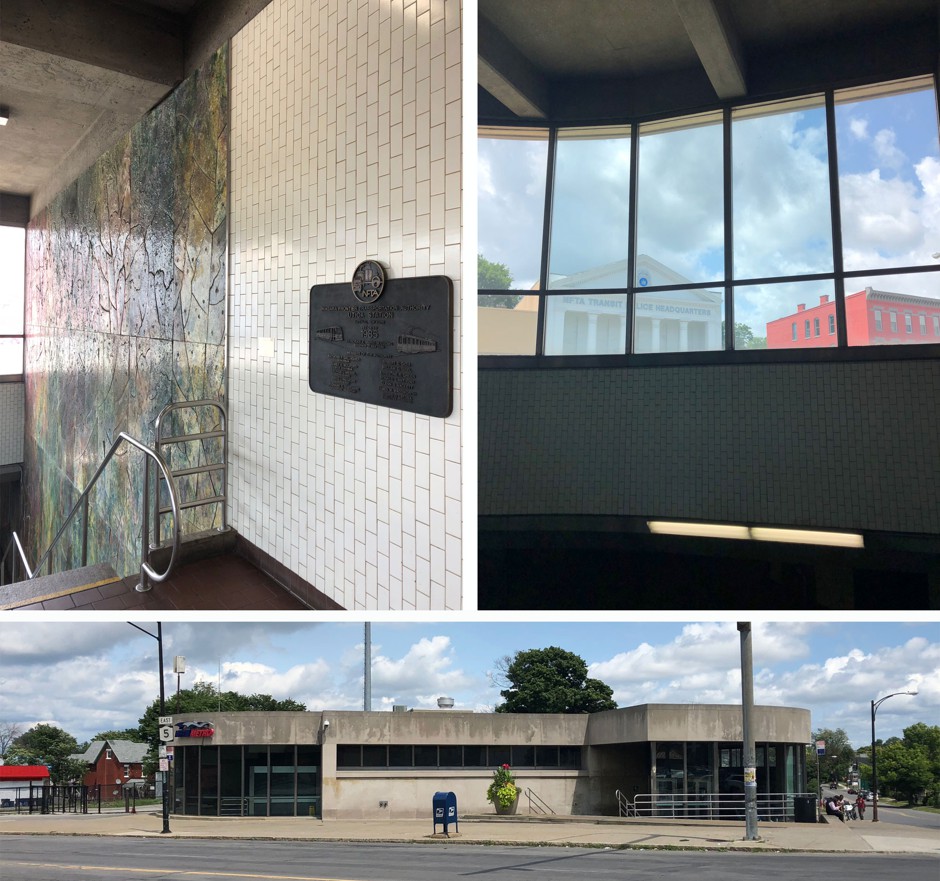 Newcomers to Buffalo—those who don't share locals' long-held cynicism towards the much-maligned system—are just now discovering Metro Rail's underappreciated virtues. "I was considering New York City after college, but not so much these days because of how expensive it is and their own subway problems," says Long Island native William Vogel, acting director of El Museo, an arts organization for underserved artists in Buffalo. "When I had to think about where my quality of life would be highest, the fact that Buffalo had this transit system and is thinking about expanding it was a draw to me. I know that's important to other people, too."
Along with curator Bryan Lee, who came to Buffalo from China as an architecture student at SUNY Buffalo, Vogel put together a tour of the Metro Rail system last month to show off the system's rich design history. "There weren't a lot of people, about 10 or 12. Some were seeing it for the very first time," says Vogel.
"Each station has its own unique appearance, so it was nice to take a closer look," Lee says. "There were a lot of details that went into consideration for the original construction."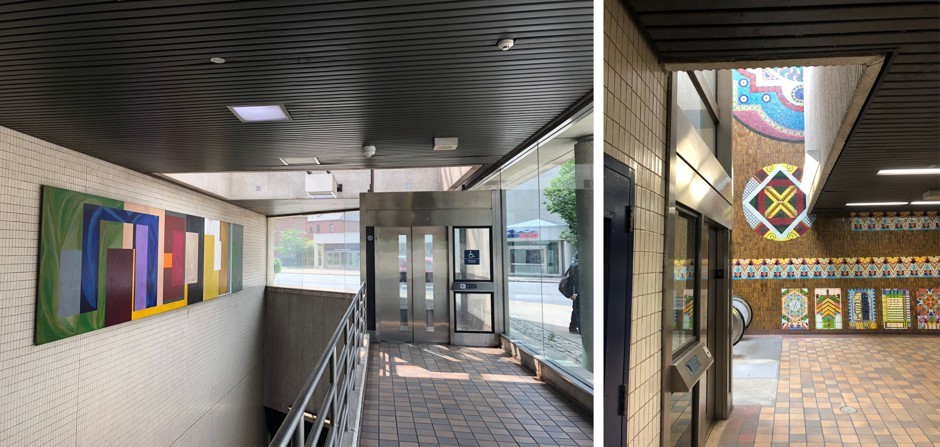 El Museo is also working with the NFTA on a pilot project for Utica Station in which they'll commission new poster art to go on the back of the ticket machines that stand in the middle of the station's ground floor. "The NFTA wants to make the train exciting and appealing to younger people," says Vogel, who was inspired by the transit authority's bus art shows held during the 1970s up into the '90s. "It struck me as odd that they have a substantial public art collection but no ongoing dialogue or practice in terms of current artists."
***
A modern transit system in a small, economically struggling American city—no matter how limited in scope—is nothing short of a miracle in an era of austere budgets across every level of government. But it's not clear Buffalonians appreciate that: The city's default nostalgia for its prewar glory days means that publicly financed postwar Modernism and the services they support get little respect here. Instead, they often end up as symbols of the naive arrogance of architects and the reckless civic leaders who gave them too many commissions. There might be local Metro Rail and Brutalism enthusiasts out there who are prepared to defend these structures, but their numbers appear limited. After the demolition of the original Allen Station, Preservation Buffalo Niagara executive director Jessie Fisher says she hasn't received any calls about the NFTA's current RFQ.
Based on the transit authority's lack of restrictions, the only thing that will truly protect these stations now is the lack of demand for the land they sit on. For this underfunded service that never found a way to grow, it'll be hard to say no to an idea that could finally provide some sign of progress.
"We're very proud of our system," says the NFTA's Tederous. "We want to preserve it, but also expand, grow, and evolve."
Hopefully, that progress can avoid undoing what the the system's creators did best.