In 1978, Atlanta's public transit operator built an amphitheater at the Five Points station, the nexus of its rail network, hoping that people would take transit to attend events there.
They didn't. As the decades passed, MARTA's amphitheater went unused due to a lack of programming, and it took up valuable real estate in the heart of downtown. But over the past two years, that space has finally become the gathering place that was envisioned decades ago. It's now the site of a soccer field, which planners claim is the world's first inside of a transit station. It's also the first step in what the city hopes will be an entire network of fields that host a transit-oriented soccer league.
The idea began in 2013 during a trip that Sanjay Patel took to the U.K. He saw kids there taking the train to get to soccer games, and he thought: Why couldn't Atlantans do the same? MARTA stations tend to take up a lot of land, with vacant pockets leftover. He knew that these swaths of empty, unused space would be ideal for mini soccer fields.
Patel, director of strategic projects at Atlanta nonprofit Soccer in the Streets, got to work. The organization, which aims to empower underserved youth through soccer, opened Five Points field in 2016. The second field opened in September, in the historic West End neighborhood, replacing a vacant lot underneath elevated rail tracks. The next is scheduled to open by spring 2019, and seven other MARTA soccer fields are planned to open over the next three years. This future network of 10 stations will make up a soccer league where kids and parents can travel by transit to different teams' fields.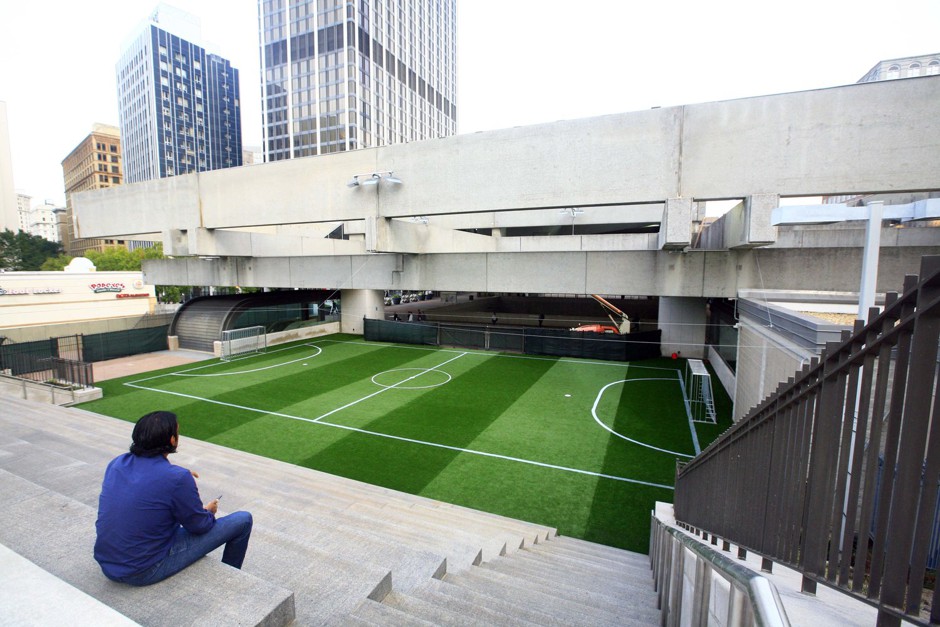 Almost every day, you can find people playing soccer on MARTA fields after school or work, running across the bright green artificial turf. Each field is 90 to 100 feet long, about a third the length of a standard high-school soccer field.
"It's straightforward enough to go and build a mini soccer field," says Phil Hill, executive director of Soccer in the Streets. "But it really is a case of if you will build it, they will not come. You could build these things and nothing would happen." That's why, in addition to children's teams, Soccer in the Streets has adult leagues and weekend pick-up games.
Patel and other people behind the fields hope they will bring the surrounding communities together and perhaps add another facet to Atlanta's transit stations.
"It's just mind-blowing to see a community show up," Patel says. "We're seeing the community come out, families interacting socially, and it's becoming a third space."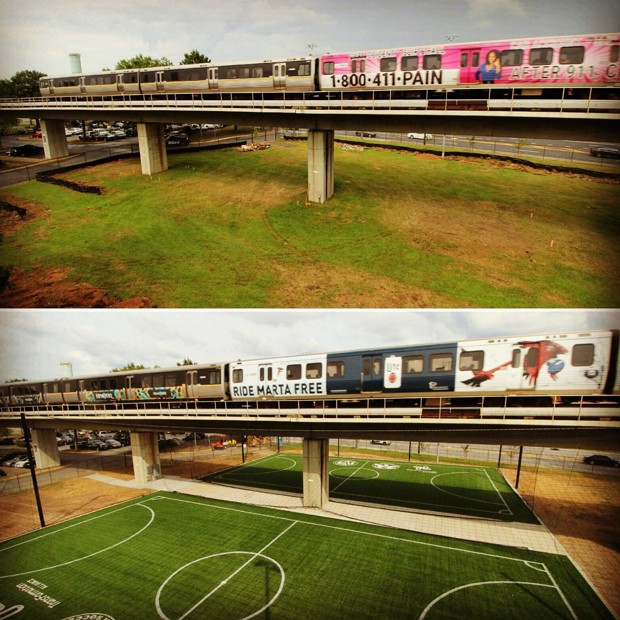 The fields go beyond soccer. At West End, a community task force is studying whether the neighborhood can take responsibility for keeping the field clean and making it accessible more often. (Right now, the lease with MARTA stipulates that Soccer in the Streets must keep the fields locked outside of playing hours due to security issues, Hill says.)
The master plan for West End station also includes the addition of classroom space, says Tim Keane, Atlanta's commissioner for city planning. For the fields, Soccer in the Streets partners with the planning department and the Atlanta United Foundation, the grantmaking arm of the city's soccer team.
"What you can see happening—and it won't take long—is the fields themselves will have this ripple effect that will result in the development of a larger public realm there," Keane says. "It creates a totally different relationship for those neighborhoods with this kind of West End MARTA station behemoth that's been there, and it becomes a place that's central to how the neighborhood functions."
Soccer in the Streets plans to use this community-involving West End field as a template for future ones. Five Points, which is a more commercial area of Atlanta, is a pilot field.
So far, Station Soccer is popular. Within a few weeks of opening, West End had 80 kids playing. And the community has begun to take ownership of the field. Patel says the first weekend that West End was operating, parent spectators saw the unbuilt materials for bleachers that Soccer in the Streets hadn't yet assembled, so they built the bleachers themselves.
Jackson Jones, a 12-year-old on the West End team, goes to practice twice a week and plays at Sunday pickup games. He says his team has doubled to about 18 kids since it began. Like many kids in Soccer in the Streets, Jackson used to travel to the other side of the city in order to play soccer. Fields aren't available in much of Atlanta.
Susan Jones, his mother, has seen a shift in the neighborhood since the field opened.
"You see more kids involved with doing the sport, whereas [before] you would have to drive way out to the suburbs to get the type of soccer training that they're providing for them at the West End," Susan says, adding that the MARTA station has changed as well. "It's not as many people lingering around the MARTA station that you'd kind of be leery of. I don't see that as much when I'm waiting on him while he's practicing."
A transit-oriented sports league has issues to work out. For kids to get to their games, Soccer in the Streets is looking at working with MARTA on a subsidized fare if children are traveling to undertake a healthy activity. (Right now, a roundtrip on MARTA costs $5.) As this league takes off, it provides the opportunity for kids from all over the city to get to know people from other communities.
Station Soccer fields have garnered national attention. Cities including Denver, Los Angeles, San Francisco, and Chicago have contacted Soccer in the Streets about sharing best practices. Patel says some cities have the same issue as Atlanta, where public transit takes up a large amount of real estate, so they're looking for ways to use that space effectively.
Making public transit more compelling is crucial. Like many U.S. cities, Atlanta's transit ridership is down, with MARTA passenger trips falling 2.6 percent in 2017. Partly to make stations more dynamic, MARTA has added an urban garden at Five Points and weekly produce markets at five stations.
Keane, who plays on the city planning department's team at the Five Points field, says Station Soccer, along with other initiatives, could add to MARTA's appeal and affect its use in the long-term. It's all part of envisioning how people can live with public transit as their primary mode of travel.
"The only way for that to be successful—the only reason people choose that lifestyle—is if their experience using transit is a happy one. It's happy because it's comfortable, it's safe, it's affordable," Keane says, adding that soccer fields are one facet of this. "Why would people with choices choose to walk in a dead urban space that makes them uncomfortable and unsafe? Why would anyone choose to do that?"