On Wednesday, Hurricane Michael became the strongest-ever storm on record to make landfall in the Florida Panhandle, pummeling coastal towns with winds of up to 129 miles per hour and a storm surge of several feet. The Category 4 hurricane blasted the windows out of buildings, ripped off roofs, and knocked down trees and power lines by the hundred.
Even after it was downgraded to a tropical storm, Michael spawned tornadoes as it tracked north and triggered flash flooding from Georgia up to New Jersey. The storm's death toll currently stands at 13 and may rise.
The devastation the storm wreaked is clear in stark before-and-after imagery from NOAA. Toggling back and forth between different layers of the online satellite map, you see that neighborhoods that were once verdant and orderly now have far fewer trees and are strewn with the debris of flattened structures.
Here are before-and-after images of the same section of the worst-hit town, Mexico Beach: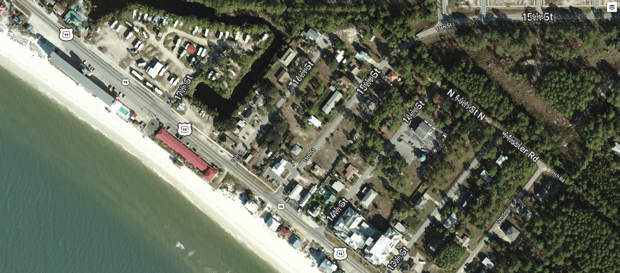 In a more zoomed-out view, the whole town appears to have been decimated. "The mother of all bombs could not have done all this," one local resident said.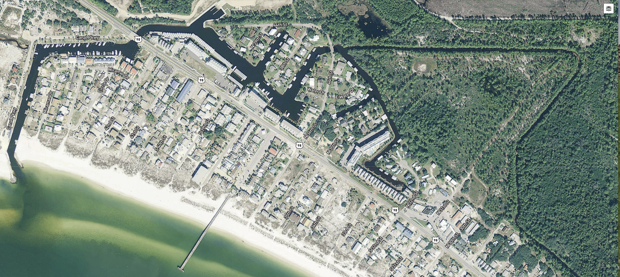 But Michael did not mete out the same pain to everyone along this stretch of coastline. Other places in the NOAA images appear to be more or less intact. Florida has among the nation's most stringent building codes, and buildings constructed to its standard have better odds of withstanding a storm of this ferocity.
Take Seaside, the beach town that's famous as a paragon of New Urbanism and was Jim Carrey's pastel-hued dystopia in the movie The Truman Show. Seaside is 30 miles west of hard-hit Panama City and 90 miles west of Mexico Beach. Yet it emerged from Michael relatively unscathed: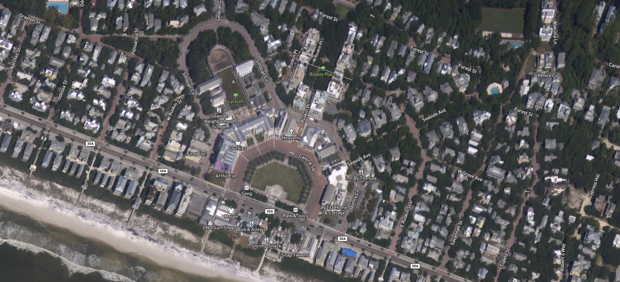 Seaside was developed starting in the 1980s. Mexico Beach, on the other hand, is "Old Florida," and many of its buildings predate the stricter requirements.
Mobile homes are very common in the Panhandle, and their residents were especially vulnerable to Michael's wrath. The storm ruined a trailer park in Panama City, Florida. In Seminole County, Georgia, near the Florida state line, an 11-year-old girl died after strong winds hurled a metal carport into her trailer.
There is something else the NOAA imagery reveals: ongoing beachfront construction. Despite climate scientists' predictions that rising seas will encroach on the Panhandle's beaches and more violent storms will pound them, people are still building homes by the water, undaunted.