When Craig Dykers came to Calgary in 2013 to view the land his architecture firm would build a library on, he found a metaphorical vacuum. "It was a very empty place, a lot of empty parking lots, gravel parking lots, really nothing to define the area," he recalls.
Nearby, Calgary's cultural district and its sometimes-bustling downtown had attractions that compelled people to visit, spend money, and leave. Looking northeast however, Dykers could see the East Village where Fort Calgary originally stood before it was replaced by factories which were later cleared for surface parking. In the late 2000s, Calgary targeted the area for revitalization. For those with money, the results were impressive: more than $2 billion CDN in investment, two new hotels, several mixed-use and residential towers, and the stunning new National Music Centre were built. Yet the neighborhood remained home to many of Calgary's most at-risk people and the services they needed, all delineated by a light rail line that debuted in 1981.
It was atop this line that Dykers and Norway-based architectural firm Snøhetta set out to build Calgary's new, $245-million CDN Central Library, after winning a design competition along with Canadian firm DIALOG. Snøhetta has already successfully re-imagined perhaps the most important library, with the Bibliotheca Alexandrina in Alexandria, Egypt, near the site of the original library, built 2,300 years ago.
On November 1, its Calgary building debuted to effervescent praise. Urbanist Brent Toderian asked, somewhat rhetorically on Twitter, whether Calgary now had the "#BestLibraryInCanada." Calgary city councilor Druh Farrell suggested the building was like a Faberge egg, full of wonders inside. Others said it was just neat that people were saying anything at all about a library in 2018.
As a library, its details are impressive: The building has four floors, 240,000 square feet of internal space, a podcast and YouTube production studio, a performance hall, a grand reading room, a children's library,  a digital commons, heated handrails, an interior blending hyper-modern touches with traditional wood at almost every turn and $500,000 in indigenous placemaking work, mostly in the form of artworks.
It also has 450,000 books.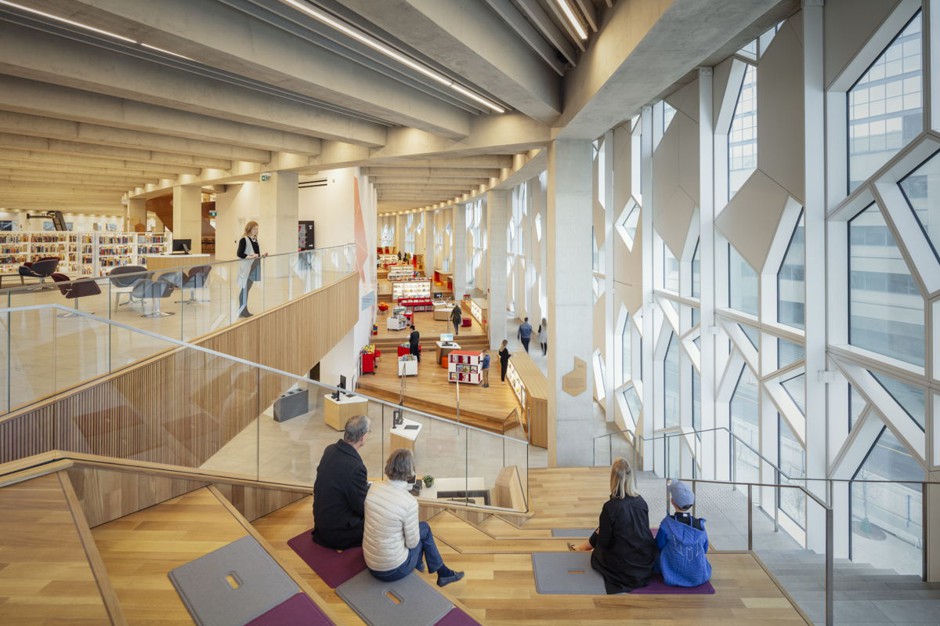 Its architectural features are almost overwhelming. Outside, the geometric, jewel-like windows twinkle like a pile of falling leaves while the cladding dramatically captures sunlight. And the reclined arch of the building—which mirrors the curve of the light rail line the building hovers above—evokes, depending on your perspective, a boat, womb, or eye. To enter, one walks within a massive red-cedar soffit that feels like a "cave of wood," Dykers says. "All of the wood is steamed, and each piece is unique. That level of craftsmanship with wood is something I think is unique to this region of Canada," he adds.
But Snøhetta's design is best contemplated as a public space and a bridge—between Calgary's affluent downtown and the less prosperous space to the east, and between people with the privileges of tech-friendly private space and those without.
That wooden cave entrance is a gateway across a divide. "It's designed to allow people to walk freely between these two districts without having to enter the building," Dykers says. "So, you pass through this wooden archway, over the tracks, and into the different parts of town. We'll see a lot of people walking through this very generous public space."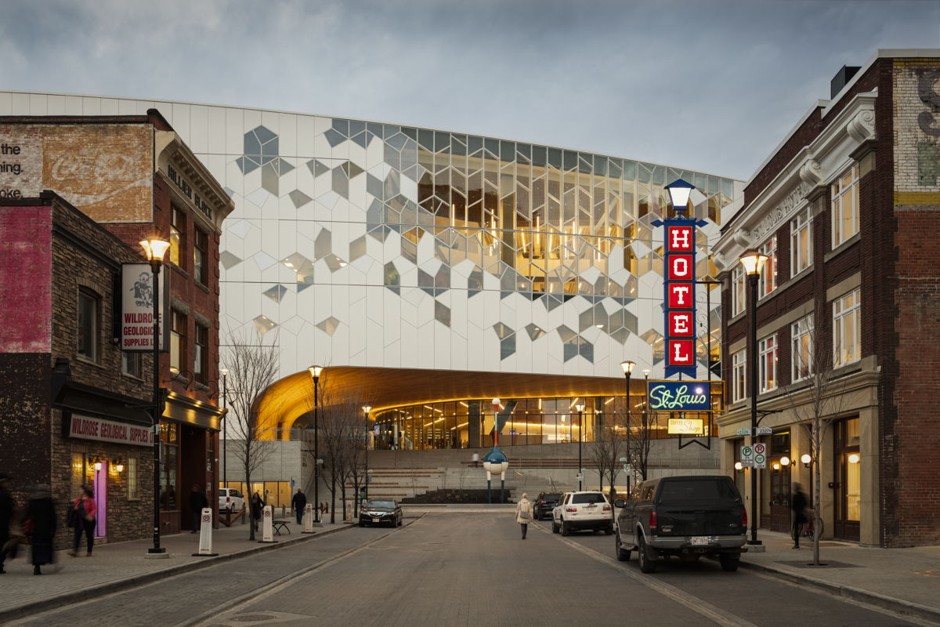 Unlike the private buildings that define Calgary's urban revitalization, this space unambiguously welcomes anyone from either side of the tracks. That's especially important for this library's location in Calgary's East Village which lives outside the city's affluence. Statistics show the majority of its residents rent, are male, and live alone. Nearly half of its residents spend 30 percent or more on shelter, but the harshest discrepancy is income: According to the most recently available census data, median annual household income in the East Village sits at roughly $20,000 CDN per year—four times lower than the region ($81,000 CDN).
While much discussion in the city has focused on the library making the East Village a more livable and trendy place for those who might choose to move there, the building is also about giving people already living there a pleasing space to use for free. The Central Library is also helping the neighboring Salvation Army create a garden outside for their clients. "We added that to make sure they would have some comfort," Dykers says.
"Libraries are becoming more diverse in what they offer," Dykers adds. "They're offering space as much as they're offering information, and space is still a valuable commodity in our society. In this way, the library of the future is very much like the library of the past."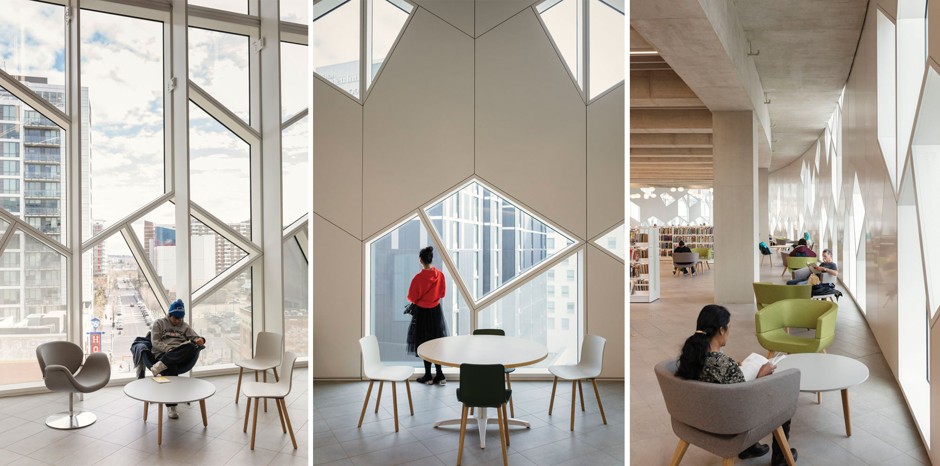 Still, he acknowledges many people today question the logic or need to build libraries at great costs in an age of smartphones and always-available Wi-Fi. Those who bring this up are "usually privileged," he says. "For many people, this [library] is their primary source of contact with information and access to technology." Dykers says he loves the touches that nod to his thinking about libraries as returning to their roots. Like a hidden Easter egg, Dykers says there's a tiny nook made entirely of wood on the fourth floor that leads into the great reading room. "This little vestibule has a place for one seat, for one person," he says. "It's an intimate moment within a very large building. That's special for me. And that tells us something about the needs of libraries today: Not only do they demand to have larger spaces for more interactive use, but they also require more sort of old-fashioned places, too, that are more about repose and introspection. You can find any of those qualities inside the building."
These touches also excite Sarah Meilleur, project lead on the new library with the Calgary Public Library. She says the building's interior is open and compelling — rising from boisterous and loud on the ground floor to contemplative and serious at the top.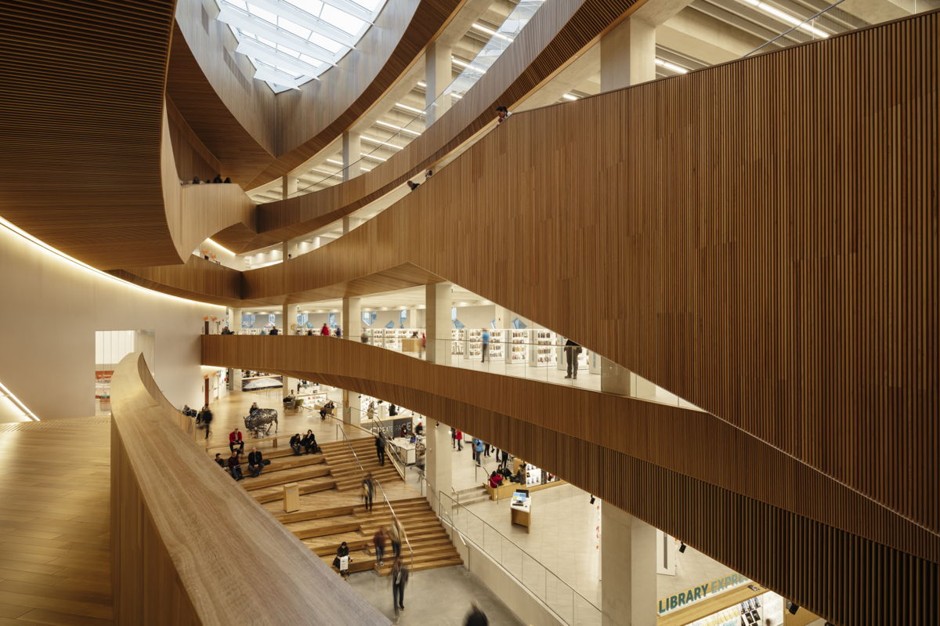 Ownership of the old Central Library, a 1960s Brutalist building, reverts back to the City of Calgary which has suggested it has some "interesting" ideas for new tenants. "We recognize how special it is," Farrell told the CBC. "It's right by transit, right by city hall. It's kind of in the thick of things."
Meilleur says the area Snøhetta was given a "challenging site" for a library and points to the entrance of the new building as a powerful message. "I think it has this beautiful archway that is a public thoroughfare and that really connects the redeveloping East Village to the downtown core through a municipal building," she says.
"This is the largest civic investment that the city has made, really, since the 1988 Olympics," Meilleur adds. "It really demonstrates the city's investment in the potential of Calgarians to achieve amazing things. Public libraries are the most democratic institutions out there. They are open and welcoming for everyone."