Barbara Smith, President of Milwaukee's Amani United Neighborhood Association, stands in front of her north side house and points to a neglected two-family across the street, one of three abandoned properties adjacent to her house. The shingles of its upper floors are missing and ribbons of yellow siding curl away from the sides, exposing the boards underneath. Small holes line the outside wall, used by animals to get in and out. "I call that the critter house," Smith says.
The critter house has been like this for a while: The record of complaints about this property goes back 20 years.
In the 53206 area code where Smith lives, boarded-up houses, stripped of siding and overrun with weeds, are common. Milwaukee's Department of Neighborhood Services says they monitor an estimated 2,500 vacant and neglected homes, but the total number of vacant houses in the city is much higher. Alan Mallach, senior fellow for the Center for Community Progress and the author of a recent report on vacant homes from the Lincoln Institute of Land Policy, says that hard numbers for abandoned homes are hard to produce, but estimating from the U.S. Census housing data on "other vacant" properties, Milwaukee's total number of abandoned homes is probably closer to 16,000.
The city is also dealing with a foreclosure and eviction problem that, thanks in part to its starring role in Matthew Desmond's Pulitzer-winning book Evicted, has helped make Milwaukee a poster child for broken housing programs.
But Milwaukee Mayor Tom Barrett, who took office in 2004, has been making an effort to reverse this legacy. In February of this year, Barrett announced his "Ten Thousand Homes in Ten Years" affordable housing initiative. It's an effort to extend the reach and impact of the city's recent downtown building boom: Recently, the city opened a $524 million arena for the NBA's Bucks, built a $450-million glass skyscraper for Northwestern Mutual, and added almost 12,000 new residential units. This surge of development may have reshaped the city's skyline, but it has done little to alleviate the lack of housing for lower-income residents. Just 760 of those new units, says Department of City Development commissioner Rocky Marcoux, are affordable.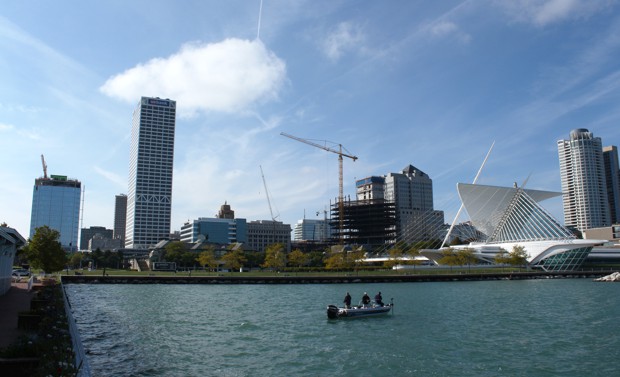 It's a similar story in many other cities, where a boom in luxury housing hasn't translated into progress in alleviating a stubborn gap in more-affordable units. From Boston to Las Vegas, cities are facing severe shortages of rental housing for low-income residents; indeed, no state boasts a sufficient supply of affordable housing. And Wisconsin is among the worst, with only 28 units available for every 100 extremely low-income renters. In Milwaukee itself, the figure is even lower than the state average, at 25 units.
But details on how the city's new plan would close this gap have been slow to come. At a June 27 meeting of the Common Council's Community and Economic Development Committee, Marcoux revised the mayor's claim somewhat, saying it would be more accurate to say that the goal was to create 10,000 housing "opportunities." To accomplish that, the city's plan is less than novel. Mostly, it will continue with what it's already doing: using tools such as tax-increment financing (TIF) and low-income housing tax credits (LIHTC) and "stacking" those resources with about 24 different city programs that offer incentives like cheap land, tax rebates, and repair grants. This—the city hopes—should either create new housing, keep people in the houses where they already live, or ease the sale of city-owned property to developers who can fix them and put them back on the tax rolls.  
Martha Brown, DCD deputy commissioner, says that in 2007, the city took possession of 79 homes in tax foreclosure. In 2016, they seized 855. At the June 27 meeting, Maria Prioletta, DCD's redevelopment manager, told city aldermen that at the height of the housing bust, there were 6,000 bank foreclosure filings per year in the city, and "probably 70 percent of the time" the foreclosed property was sold to an investor. The bulk of that activity was "very concentrated," says Brown, in three aldermanic districts of the north side, where University of Wisconsin-Milwaukee researchers say that the poverty rate is close to 50 percent.
Marcoux describes the 10,000-homes plan as both "ambitious" and "attainable." But many community organizers in Milwaukee are more skeptical.
Sister Patricia Rogers, executive director of Amani's Dominican Center for Women, argues that the city favors big commercial developers over smaller ones in the community, and the rent these developers charge ($800 for a 2-bedroom) is well out of reach for many people in the community.
Danell Cross, executive director of Metcalfe Park Community Bridges, wants the city to help developers lower their rents by giving them "the money they need to help them drive down the price." The mayor's new plan, she says, "is so imperfect, that it's not even a plan."
If the city wants to succeed, says Rogers, they have to involve the community and make addressing racial justice and economic equality their priority. "It has to be the intent for the city to do this," she says. "And it never has been."
While the 2008 housing crisis exacerbated the foreclosure problem on Milwaukee's north side, problems in the neighborhoods go further back. The first complaint about Barbara Smith's critter house was recorded by the Department of Neighborhood Services (DNS) 20 years ago; the second of the three nuisance houses was owner-occupied until 1988, when it was sold and resold as part of a business trust. The third house entered a spin cycle of foreclosures and resales during the 2008 financial crisis.
One of the problems facing cities like Milwaukee—former manufacturing cities that have suffered severe population drops after de-industrialization—are the pockets of concentrated poverty that fail to improve even as other areas recover. As the desirable neighborhoods rebuild after the recession, impoverished ones slip further behind, and deep income disparities result. These areas are also dogged by higher rates of vacancy, according to Mallach's Lincoln Institute report. Overall, Milwaukee's vacancy rate is currently at a relatively healthy 5 percent. But it's far higher in the neighborhoods of the north side; there, one in 10 census tracts is closer to the 20 percent non-rental-unit vacancy rate that defines what Mallach calls hypervacancy.  
The situation is even worse in Michigan cities like Detroit and Flint, and Gary, Indiana, where about 50 percent of census tracts struggle with hypervacancy. It's the end result of a process of deterioration that begins when market demand for housing drops, and the normal turnover of vacant homes slows down, allowing investors to "beat" the homeowners to the properties. Those investors are "looking to make a buck," says Mallach—and for a while, they do, but they also advance a process of neighborhood deterioration as more properties fall into disrepair. Those who have choices move; the neighborhood soon ends up with just a few trapped homeowners. In these areas, Mallach says, "housing markets have largely ceased to work."
This cycle, Mallach explains, could be broken at any time if the market value of the houses goes up and homebuyers become interested in the neighborhood. To help stave off hypervacancy, says Mallach, cities should concentrate on making the neighborhoods appealing to an owner-occupant. Low-income housing tax credits for developers, he says, is not necessarily a solution. "There's a lot of money in the LIHTC industry," says Mallach. "The problem is that it doesn't really make the neighborhoods better.
And it doesn't take much to tip a block into a hypervacancy: Research from Philadelphia and Cleveland has shown that even one boarded-up home can reduce the value of nearby properties by 20 percent, kicking off a fatal cycle of plunging values.
For Cross and other community organizers, what this neighborhood needs is a more holistic approach, one that looks at jobs and education and health—not just housing finances. Neighborhood residents are interested in developing cooperative housing and land grants that would give the community some authority over board-ups and vacant lots.
She points to a city program that allows homeowners to buy vacant lots adjacent to their houses for a dollar. On the surface, that seems like a good idea, but it doesn't address one core concern, she explains. "We're losing our density," she says. That's what transit systems look at when they decide whether to add a stop, and what businesses look at when they choose locations. A holistic approach would help them identify "how one thing will fix the other." If the city would just work with them more closely, "those things would come out."  
"We are the experts on our community" Cross says. "If the city had any faith in the community and community organizers, they would support our efforts."
Even when the city does fix up and rent homes in the community, says Smith, they still present a problem to the community. She points to a pocket of scattered-site projects that have been refurbished: In the rehabbed homes, the developers tore the front porches off the homes and moved the main entrance to the back. Residents now park in the alley and enter through the backyard, without ever seeing their neighbors. That eliminates a key feature of the community's homes—the places where residents could drink their coffee, chat with their neighbors, and keep an eye on the comings and goings.   
"They're backwards," Smith says.
That turns out to be a pretty good metaphor for how things tend to get done in this zip code. "It's been so long since 53206 has been neglected," says Smith. The city will need to do more if it wants to help restore this neighborhood as a place that people want to live. "I don't know if 'presentable' is the right word. But the city needs to do better."