What We're Following
Keep you posted: The United States Postal Service isn't dying, though America's relationship to the mail has changed. As the internet cuts down on letter-sending and stamp-buying, the USPS is carrying more packages than ever. It's also one of the largest employers in the United States, and has the largest delivery reach, conveying 146 billion pieces of mail to 159 million delivery points this year. That hasn't stopped rumors of privatization from re-emerging: President Donald Trump frequently criticizes the 242-year-old agency, and last month, the U.S. Department of Treasury released a Postal Task Force Report outlining a strategy that many postal workers and advocates read as a renewed push for privatization.
"The postal service now goes… to every single address, no matter who we are, where we live, what age, what gender, what nationality, what income group, or anything else," says Mark Dimondstein, the president of the American Postal Workers Union. "There's no way anybody can do that if it's a question of profit. It has to be set up as a public service."
Today on CityLab: Sarah Holder speaks with Dimondstein, who leads one of the seven unions representing postal workers, for a discussion about how the USPS is uniquely positioned to breach the urban-rural divide, what it's doing differently in the age of e-commerce, and why it's worth keeping it as a public good.
---
More on CityLab
---
Remember Your Roots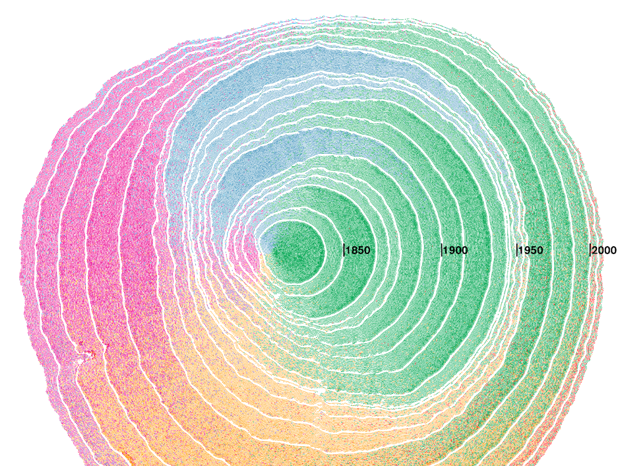 America's immigration history can get pretty granular and complex. But the visualization above, produced by designers at Northeastern University, makes that story a bit more beautiful by using nature as a model: depicting immigration data as a colorful cross-section of a tree that thickens over time.
Borrowing the scientific technique of studying climatic and ecological change via tree rings, known as dendrochronology, this visual uses rings to represent decades, and each cell uses different colors to represent 100 immigrants arriving from different parts of the world between 1830 and 2015. The researchers also replicated the idea for smaller geographies and traditional immigrant gateways to get at where immigration has shaped the country the most. CityLab's Tanvi Misra takes a look at a new way of seeing 200 years of American immigration.
---
What We're Reading
The saddest Santa this Christmas is a mall Santa (Wall Street Journal)
Nashville's star rises as midsize cities break into winners and losers (New York Times)
Denver's density is causing trouble for its trains (Denver Post)
Why Oregon's proposed zoning law would be good for biking (Sightline)
The Holland Tunnel Christmas decorations fiasco: Not a feel-good story (Slate)
---
Tell your friends about the CityLab Daily! Forward this newsletter to someone who loves cities and encourage them to subscribe. Send your own comments, feedback, and tips to hello@citylab.com.