What We're Following
Store credit: After pressure from activists and politicians, Amazon's employees are getting what's been on many workers' wishlists: a $15 an hour minimum wage. Senator Bernie Sanders credited Amazon CEO Jeff Bezos for responding to criticism of the company, saying it could be "a shot heard around the world." It's a big win for the "Fight for 15" more generally to have one the biggest companies raising wages ahead of the holiday season.
But this move should be just the first of many good tidings: There's a lot more Amazon could do to improve how it deals with cities. On CityLab, Richard Florida writes, "It's time for the company to step up for cities as well, saying no to taxpayer-funded incentives for its much-ballyhooed HQ2 and pledging to function as a model corporate citizen for its hometown of Seattle, and in the countless towns that house its facilities." With the company's HQ2 site announcement coming by the end of the year, there's still time to keep up the pressure for some more corporate goodwill. Today on CityLab: Amazon Stepped Up For Workers. It Should Do the Same for Cities.
---
More on CityLab
---
An Unequal Recovery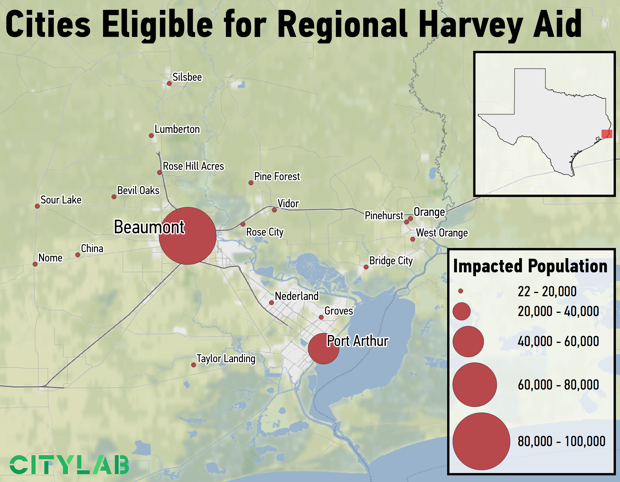 Take a look at the map above and you'll see the impact that Hurricane Harvey had on Texas cities. Focus in on the tiny dot that is Taylor Landing, a town of just 228 residents, and then follow 15 miles east to the bigger dot that shows Port Arthur, a city of 54,000. Both are receiving recovery funds from the federal government, but the difference is striking. Tiny Taylor Landing is getting $1.3 million in aid, or about $60,000 per affected person. Compare that to Port Arthur, whose $4.1 million in aid works out to just $84 per affected person.
That gap reflects a process by which the state and region divvy up disaster recovery dollars. A formula that puts place before people is producing extreme racial disparities: The three cities with the highest black populations are also the three cities with the very lowest funding, while some small, nearly all-white towns in Southeast Texas reap far more funds.
CityLab's Kriston Capps reports: Who's Losing Out on Hurricane Harvey Aid in Texas?
---
What We're Reading
Are opportunity zones a vital tool or a tax windfall? (Curbed)
Estranged in America: Both Democrats and Republicans feel lost and left out (New York Times)
Commutes around the world, visualized as ocean coral (Fast Company)
London underground: How the city's elites went to war over basements (Slate)
U.S. will rewrite safety rules to permit fully driverless cars on public roads (The Verge)
---
Tell your friends about the CityLab Daily! Forward this newsletter to someone who loves cities and encourage them to subscribe. Send your own comments, feedback, and tips to hello@citylab.com.