What We're Following
Down in the dumps: San Francisco Mayor London Breed caused a stir in conservative media with her recent observation that there are "more feces on sidewalks than I have ever seen." The statement has since been used as the example of progressive urban politics gone haywire. But it's actually emblematic of a deeper policy problem, argues CityLab's Laura Bliss: The sidewalk has become a dumping ground for a whole host of city challenges.
"Indeed, the reasons people leave feces and urine in public rights-of-way aren't unrelated to the reasons others leave shared bicycles and scooters there," she writes. Sidewalks have become the last shred of public space in cities, so it's no wonder we're fighting over them. Laura went to San Francisco to see how sidewalks got to be the high-demand space for when city policy goes bad.
---
More on CityLab
---
L in Vain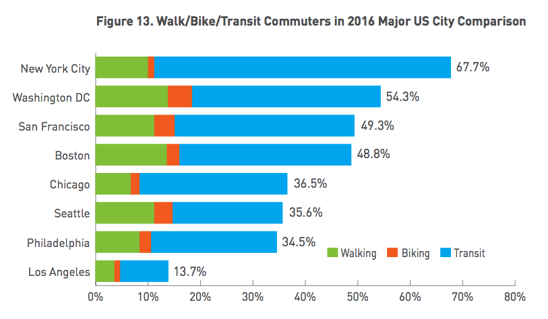 The war on cars is alive and well in Chicago, where advocates are calling for a moratorium on expressway expansion in advance of the city's 2050 regional plan. Active Transportation Alliance, the advocacy group making the call to action, has a new report about car dependency in the region. As the chart above shows, the city is lagging behind some of its peers in terms of walking, biking, and public transportation, which accounts for 36.5 percent of commuters—falling behind Boston and San Francisco, and just ahead of Seattle and Philadelphia. The advocacy organization says that trend is disproportionately driven by the suburbs, where 86 percent of commuters drive compared to 58 percent of Chicagoans overall.
CityLab context: A recent study took a look at the high cost of saving travel time in Chicago, comparing the tradeoffs between public transit and ride-hailing.
---
What We're Reading
The history of Rosa Parks's house is the history of redlining (Next City)
Remember Google Fiber? So do 400,000 households in nine cities (Marketplace)
Why recycling doesn't work (The Walrus)
Where black homeownership is the norm (Pew Stateline)
This company hired anyone who applied. Now it's starting a movement (Fast Company)
---
Tell your friends about the CityLab Daily! Forward this newsletter to someone who loves cities and encourage them to subscribe. Send your own comments, feedback, and tips to hello@citylab.com.