What We're Following
Huddle up: In the weeks before the midterm election, President Trump and conservative media made the case that a group of Honduran and Guatemalan migrants and asylum seekers constituted a grave national security threat. Immediately after the election, the menace they posed apparently evaporated. The migrants themselves, however, did not. The first members of the caravan began arriving in Mexico City this week, where the city's new constitution ensures the protection of migrants, regardless of their legal status.
Their arrival in the capital is forcing Mexico's national politicians to confront the reality of migration: It's as if 5,000 refugees turned up on Washington, D.C.'s National Mall. But the capital city is sheltering people at a stadium, handing out blankets, clothing, medical care, and hot meals. Amid concerns about the costs to the city, Mexico City's minister of the interior said, "We are guaranteeing humanitarian aid and we will spend whatever is necessary to support these people." Today on CityLab: Abandoned by the U.S. Media, the Migrant Caravan Rolls Into Mexico City
---
More on CityLab
---
Even in 'Safe Cities'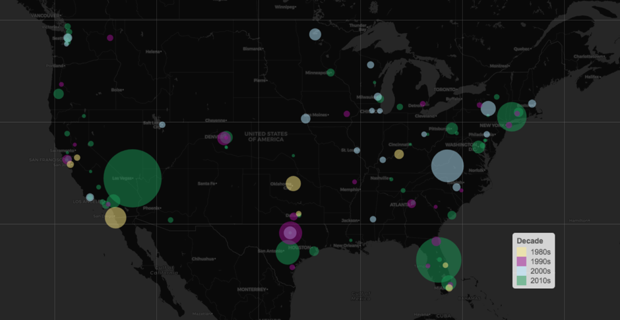 Wednesday night's shooting in Thousand Oaks, California, was the deadliest shooting in the state since 2015. The atrocity in this well-off suburban area that's considered one of America's safest cities is a grim reminder that as mass shootings have increased, they've also become more geographically dispersed. The map above, made from data compiled by Mother Jones, shows the location, decade, and number of fatalities of mass shootings in the United States since 1982, demonstrating how much more frequent and more deadly they have become in the most recent decade. From CityLab's Linda Poon: The Thousand Oaks Shooting and the Geography of American Gun Violence
---
What We're Reading
What's next for rent control? (The New Republic)
Cities are making left turns safer with "slow turn wedges" (Streetsblog)
States are enacting their own "sanctuary city" bans as the federal ban crumbles (The Appeal)
The tragedy of Amazon's HQ2 selections, explained (Vox)
The Netherlands' new train cars are nicer than your office (Fast Company)
---
Tell your friends about the CityLab Daily! Forward this newsletter to someone who loves cities and encourage them to subscribe. Send your own comments, feedback, and tips to hello@citylab.com.