Keep up with the most pressing, interesting, and important city stories of the day. Sign up for the CityLab Daily newsletter here.
***
What We're Following
Burning up: As wildfires claim homes, towns, and lives in California, many have pointed out the role that climate change is playing in making these infernos more intense. But another crucial factor hasn't received as much attention: sprawl.
California's homes—and the infrastructure that supports them—are increasingly meeting and intermingling with wildland vegetation. As of 2010, more than 30 percent of the state's housing stock was in the so-called wildland-urban interface. That means more possibilities for wildfires to start, and more things standing in their way once they do. There's a harrowing consensus among scientists that things will only get worse unless something changes in a big way. But the tools at city and state leaders' disposal are often met with hostility from homeowners and hampered by local politics. Can communities at risk balance their needs and fire-proof their neighborhoods at the same time? Today on CityLab, Karim Doumar reports: What California's Cities Can Do to Prevent Wildfires
---
More on CityLab
---
Pay Day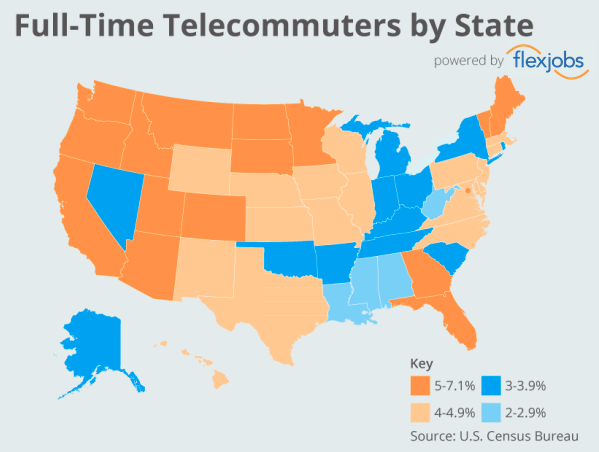 About 3.9 million Americans work remote jobs at least half of the time. Between 2005 and 2015, that share of the workforce grew almost 10 times faster than the rest. The map above from Flex Jobs, a remote job-finding site, shows which states have the largest shares of those laptop-bound telecommuters.
Oklahoma's second city sees that as a big opportunity: Tulsa is now taking applications from remote workers willing to move there in exchange for $10,000 in cash, a housing stipend for a fully-furnished downtown apartment, and a desk at a local co-working space. Think of it as an Amazon HQ2-style incentive war, except in miniature, and in a place where housing is actually affordable. (The median home price is about $120,000, compared to $700,000 in New York City.) Brand new state, gonna treat you great. From CityLab's Sarah Holder: Does Paying Remote Workers $10,000 to Move to Tulsa Make Sense?
---
What We're Reading
E-scooters are like Q-tips (Washington Post)
Cities and their buildings might make hurricanes damper (NPR)
Why the housing market is slumping despite a booming economy (New York Times)
In Trump's America, immigrants are afraid to apply for food stamps (Mother Jones)
Amazon deal will disrupt plans for affordable housing in Long Island City (Politico)
---
Tell your friends about the CityLab Daily! Forward this newsletter to someone who loves cities and encourage them to subscribe. Send your own comments, feedback, and tips to hello@citylab.com.