Keep up with the most pressing, interesting, and important city stories of the day. Sign up for the CityLab Daily newsletter here.
***
What We're Following
Youngstown, old story: General Motors' announcement that it will end production at its Lordstown plant near Youngstown, Ohio, is just the latest in a series of economic blows to the city that stretches back to the 1970s. Political leaders condemning the decision are drawing a line back to "Black Monday," where layoffs put 5,000 steelworkers out of work in 1977, which spiraled into 50,000 people losing jobs in related industries over the following five years in the Mahoning Valley.
The community has never fully recovered from that deindustrialization. From 2001 to 2010, the region had the largest population decline of any of the nation's 100 largest metro areas, and Youngstown continues to be one of the fastest-shrinking cities in the United States. In a piece for CityLab, Sherry Linkon and John Russo, the authors of Steeltown U.S.A.: Work and Memory in Youngstown, explain why the city's residents are rightly skeptical of appeals to "adaptive resilience." Read their perspective: With GM Job Cuts, Youngstown Faces a New 'Black Monday'
---
More on CityLab
---
Overdue Visit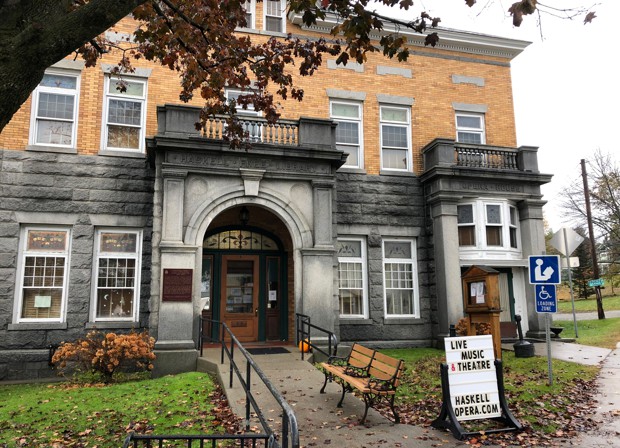 Leave it to libraries to bring people together. Reuters has a heartwarming story about how an Iranian student in the United States on a single-entry visa saw her family for the first time since the travel ban was enacted three years ago. They met at the Haskell Free Library and Opera House, which straddles a border between Quebec and Vermont.
The library has operated in a legal gray area, making it possible for Iranian families to reunite there. Here's a quick excerpt from the story on how the building's entry has reflected changing times:
The library is a relic of a time when Americans and Canadians, residents say, could cross the border with simply a nod and a wave at border agents. It was the gift of a local family in the early 1900s to serve the nearby Canadian and American communities.

"What we are so proud of is that we do have a library that is accessed by one single door," said Susan Granfors, a former library board member. "You don't need your passport. You park on your side, I'll park on my side, but we're all going to walk in the same door."
CityLab context: Our libraries are vital "social infrastructure"
---
What We're Reading
Dystopia delivered: Architects envision Amazon's terrifying New York (Fast Company)
As properties go empty, they become "meanwhile space" (The Guardian)
Areas with mass transit see job growth, research indicates (NPR)
How restaurants got so loud (The Atlantic)
Chicago could get as hot as Phoenix by 2070, according to new White House climate report (Block Club Chicago)
---
Tell your friends about the CityLab Daily! Forward this newsletter to someone who loves cities and encourage them to subscribe. Send your own comments, feedback, and tips to hello@citylab.com.