In the 1920s, the women of Gee's Bend, Alabama, made quilts from spare scraps of cloth to keep their families warm. In the 1960s, Civil Rights leaders declared the quilts to be unlike any they'd ever seen, and helped locals sell them by mail order at $25 a piece. Now, the quilts of Gee's Bend live in the permanent collections of major museums from coast to coast, valued at tens of thousands of dollars each, and widely acknowledged as masterpieces of American art.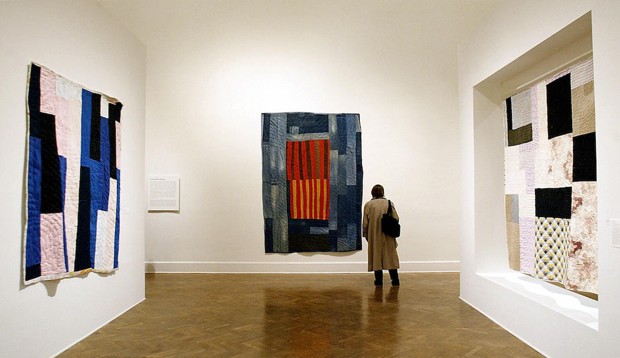 The community where these quilts were made—renamed from Gee's Bend to Boykin in 1949—is tucked against a curve in the Alabama River in Wilcox County, one of the poorest counties in the nation. Its roots are deep in sharecropping and slavery. Thirty-five percent of people in Wilcox County live below the poverty line, with a median income under $25,000 per year, nearly half of that coming from federal welfare programs. In the enclave of Boykin, which has about 300 people, the poverty rate is closer to 60 percent, and most households bring in under $10,000 per year.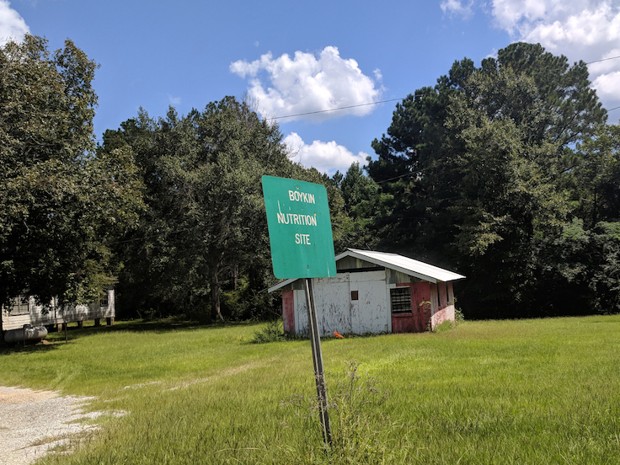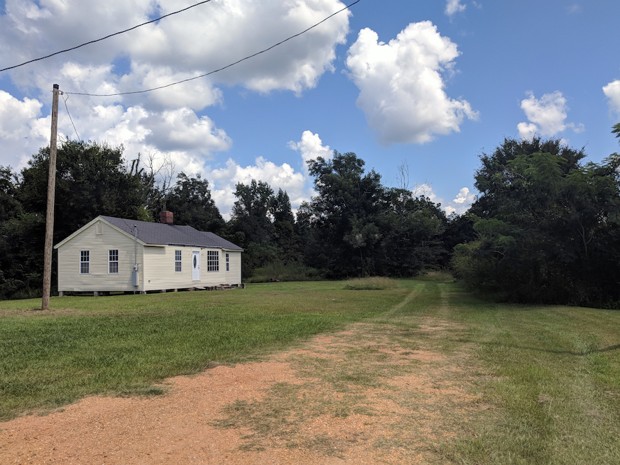 Boykin resident Mary Margaret Pettway comes from a long line of quiltmakers: Her mother's quilts were on display at the Metropolitan Museum of Art this summer. Some of her own quilts are for sale at the Gee's Bend Quilters Collective, a co-op in a repurposed two-room schoolhouse on a dirt road a few miles from her trailer. The collective is the only place in Boykin, other than someone's living room or occasionally the ferry terminal, where you can buy a quilt, not to mention see a quilt or meet a quiltmaker. But 40 miles from the nearest hotel, supermarket, or conventional restaurant, it doesn't get much foot traffic.
"I think it should be opened up to people more," Pettway said of Boykin. "I really think we should just be a town, period." She imagines an after-school program where the older kids mentor the younger ones and a community pool that would offer an alternative to swimming in the river, where she and her neighbors could do physical therapy for their arthritis.
Changing a place's municipal status may not seem like an obvious solution to poverty, but in a place where all manner of social and economic initiatives over the past century—long-term microloans, agricultural stimulus programs, Civil Rights campaigns—have tried to elevate the quality of life with little lasting impact, Pettway's idea is catching on.
***
Back in 2014, an Atlanta-based non-profit called the Souls Grown Deep Foundation took control of a large private art collection that included hundreds of quilts from Gee's Bend. The foundation, for which Pettway is now board chair, has raised the profile of the quilts in the art world through major museum acquisitions and exhibitions, programming, research efforts, and publications. It has also made strides in ensuring that the copyrights of the living quiltmakers and their heirs are protected. But confronted with the reality that the lives of the artists remain notably unimproved, Executive Director Maxwell Anderson said the foundation is obligated to do more.
"The thrust of what we're doing has to have this second chapter," said Anderson in a July interview. "How can we be useful beyond this? How can we leverage the interest in this place in a way that can start to benefit the living artists, their descendants, and the community at large?"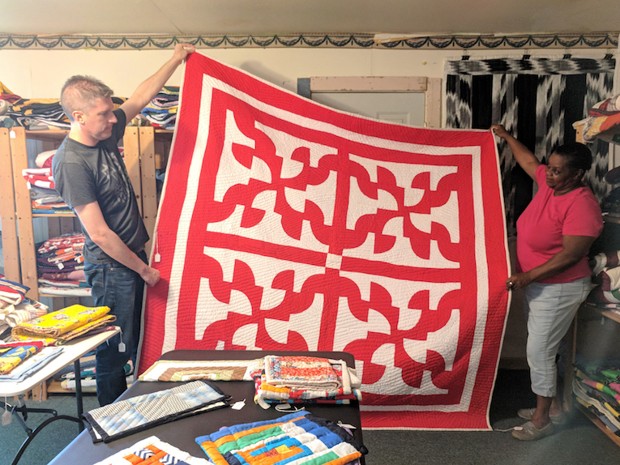 At its annual meeting this past summer, the Souls Grown Deep board (which includes curators, collectors, artists, and Jane Fonda) started that chapter by approving an expanded mission and a new three-year strategic plan, which makes work toward "positive economic and social outcomes" in Boykin part of the foundation's core focus.
In the early stages of planning and research, Anderson is looking to Pettway—who has lived in Boykin all her life—to collaborate on an outline of the community's deepest needs: a mobile clinic, improved food access, clean water (many homes across the region lack septic systems, which drew the attention of the United Nations in 2017), even solar power. They decided on their goals, then plotted how to attain them.
"We talked about a fairly broad aspiration," Anderson says, "to convert Boykin from being an unincorporated town into an independent entity that would have a board of supervisors, perhaps a mayor or some equivalent of municipal government. The idea is: could we get Boykin recognized in state government in such a way that it would be eligible for state support, federal support, and foundation support?"
Local representation in government could mean political agency that the people of Boykin—historically at odds with the county—have never had, and incorporating as a town would give them new access to resources, potentially paving the way for businesses, jobs, and even tourism infrastructure to bring home some of the benefits of the quiltmakers' fame. (Asked whether they might change the name back to Gee's Bend, Pettway said she and Anderson had not discussed it.)
But can simply incorporating as a town open these doors?
"In theory, the answer is yes," said Mark Levin, who specializes in local government at the School of Public and Environmental Affairs at Indiana University Bloomington. "A town is a legal corporation, which means it has the authority to accept and spend funding, whether it's from a not-for-profit or a higher level of government."
Practically, though, Levin hesitates to call incorporation the clear next step. First, he points out, it takes money to be a town. Towns must pay for staffing costs, legal fees, services like trash collection, and to keep the lights on at Town Hall—even to have a Town Hall. Generally, that funding would come from taxes on non-residential development: retail stores, manufacturers, distribution facilities. But in Boykin, there is no such entity to tax.
Further, there is no guarantee, said Levin, that the appointment of local government would give Boykin any more sway with Wilcox County, much less with the state. "You're talking about a community," Levin said, "of fewer than 300 people, smaller than many subdivisions in larger areas. The fact that they are a municipality doesn't suddenly raise them up on the priority list of public health, safety and welfare."
Wilcox County has about 11,000 residents spread across one lone city, four towns, and a number of unincorporated places, Boykin among them, all in dire need of resources. Nearly every business in the county seat of Camden relies on federal support. Even if Camden weren't competing with it for limited funds, the county has never been particularly generous to Boykin—at least, certainly not in the 1960s, when drastic measures were taken to thwart black voter registration and suppress Civil Rights demonstrators.
Above the county, however, is the state, and with municipal status, the state could offer Boykin a little more hope. Unfortunately for Boykin, the state is Alabama.
In Alabama, local democracy has historically been stifled by the state's constitution, which centralizes political power at the state level to a degree that is unique in the U.S., and omits the provisions that in other states allow counties, cities, and towns to effectively self-govern. The Alabama constitution was designed "to silence the democratic voices of small farmers and laborers through poll taxes, literacy tests, and other forms of disenfranchisement," writes Joe Sumners of Auburn University's Government & Economic Development Institute.
***
The echoes of those beginnings still haunt Alabama. But having no allies at the county and state levels only makes Anderson and Pettway more convinced of the need to incorporate.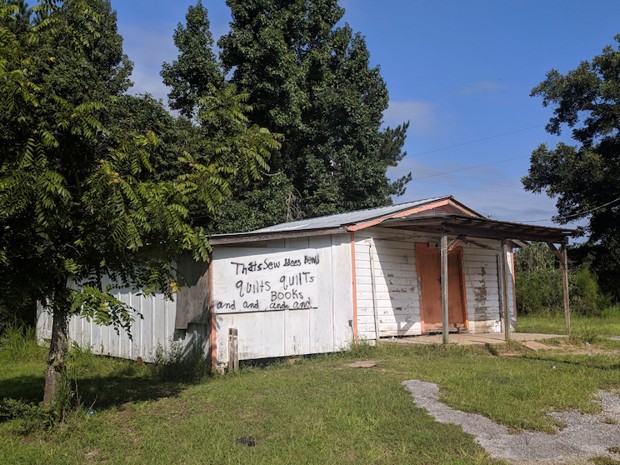 To solve for the start-up costs enumerated by Levin, and for the unreliability of state assistance, Anderson suggests the foundation could work to leverage its relationships in the philanthropic community to drum up grants and major gifts for Boykin—which, as a town, it would be legally permitted to receive and spend. If the foundation has the fundraising power to mitigate the need for substantial government funding into the future, this is a good model.
More immediately, the foundation plans to continue to do research and assess areas of need; appoint a task force on economic parity; explore the potential of grant-making; and identify prospective institutional partners and funders. But whatever its findings bring to bear, and whatever change the foundation and its partners can seed, the question of staying power will loom large.
Boykin has fewer than half as many people as it did 50 years ago. Women still teach their daughters and sons to quilt, but the number of quiltmakers wanes with the population. Patches of a few homes at a time are scattered over many square miles, and barns, shacks, and burned out post-offices stand long-abandoned. The first capital of the state of Alabama, Cahaba, is now a ghost town just up the road, a harbinger of a possible future.
The problem of declining populations in rural communities is not exclusive to Wilcox County, nor to Alabama. When it comes to making rural communities sustainable, there are no easy answers, Levin said. Universities, research foundations, and a federal grant-making partnership search for solutions, but dating back to efforts by the Resettlement Administration and the Farm Security Administration, in Wilcox County and nationwide, long-term answers have been slow to come.
For Boykin/Gee's Bend, seeking municipal independence is precarious. It requires calling on reserves of expertise, research, energy, and funding, both locally and from farther afield. But as Pettway and the Souls Grown Deep Foundation begin to unfurl a vision of the future, the idea of becoming a town offers some hope.