RAMALLAH—On a cold evening in November, several concerned citizens, architects, and engineers gathered outside city hall to discuss a phenomenon that has taken the city by storm: the destruction of Ramallah's historic buildings. Driven by the recent demolition of a 77-year old traditional stone home to make way for a seven-story building, these Palestinians want to safeguard the historic and architectural heritage sites threatened with destruction for development.
In the past decade, the West Bank city of Ramallah, which is the hub of Palestinian political institutions, has experienced a construction boom that has taken some of its inhabitants by surprise.
The boom was kicked off under the tenure of Salam Fayyad, a previous prime minister of the Palestinian Authority (2007-2013) who oversaw a massive state building effort, supported by international donor funds. Though the Fayyad era has ended, the growth of Ramallah's real estate sector has continued. The city's location, just north of Jerusalem, has played a large part in its soaring value, as has the wave of immigration from other cities across the West Bank.
At least four historic stone houses—a characteristic feature of Palestinian cities like Ramallah—have been demolished since 2016, with apartment buildings, malls, and shopping centers erected in their place. Investors, sellers, and the municipality that grants building permits, argue that Ramallah has witnessed a population boom and that development is inevitable in a growing city.
There were 832 historical buildings in Ramallah 25 years ago, according to a survey by local architects. Today fewer than half are still standing. Just last week, an investor rushed to raze Dar al-Husseini, a house located in the historic Old City of Ramallah, as news spread like wildfire that the much-coveted structure had been sold by its owners.
Dar al-Husseini (Husseini house) was built in 1941 during the British occupation, with some additions made in later years. The original house, which was partially inspired by Bauhaus architecture in Germany, was constructed using a now-rare pink and red stone, the hallmark of Palestinian architecture back then. The house had also retained some of its original ceramic red roof tiles, a staple of Mediterranean architecture, imported from Marseille, France.
Prior to that, Dar Harb (Harb house), located near the Clock Square (now Arafat Square) in downtown Ramallah, was demolished to make way for a new shopping center called Centro Mall. In both cases, the houses were knocked down—one in broad daylight, the other during the night—despite protests from local activists.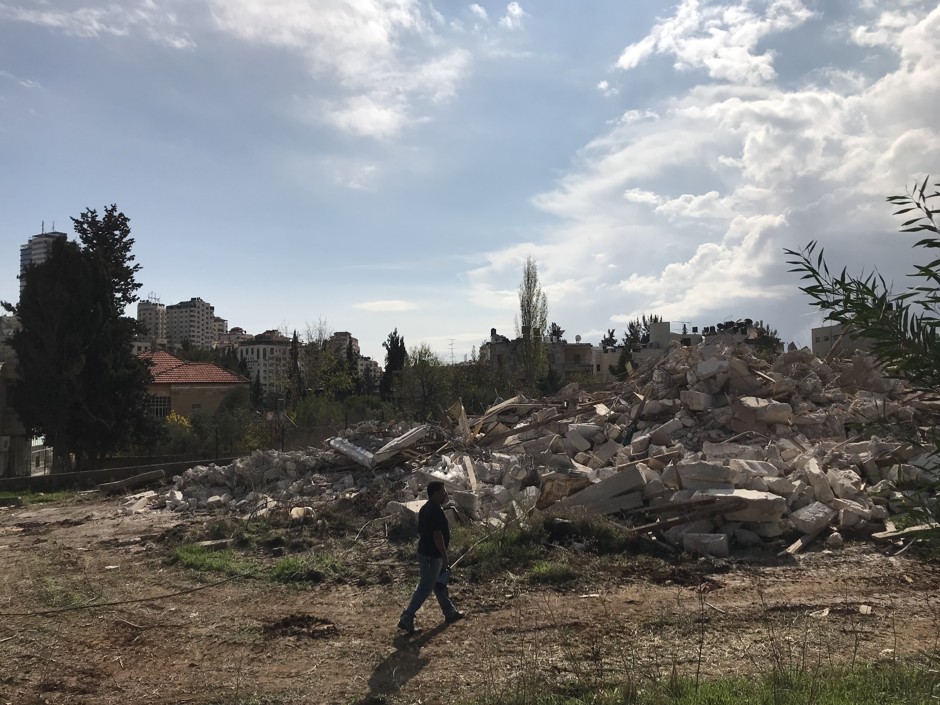 "It's traumatic. It's a loss for our shared memory, and a loss of our own rights in our own city," said Sahar Qawasmi, a member of the group of Palestinians uniting to protect the historic buildings, and co-founder and director of Sakiya, a non-profit that offers a residency program that integrates farming and agrarian heritage with arts and sciences.
"I think it's important for citizens of any city to enjoy certain rights to feel like they are part of the place, that they have ownership over the place, and that they can make decisions over its future. It feels like we have none of that," Qawasmi said.
In the past 25 years, several attempts were made to pass architectural conservation laws, according historical buildings protected status. One of these laws was prepared in collaboration with local cultural and government institutions. With the Palestinian parliament largely defunct since 2007, the law was never enacted. Instead, the local ministry of antiquities and tourism passed its own bill.
But the law had its limitations. For example, it only designates structures built before 1917 as protected by law. However the bylaws stipulate that it's the responsibility of each local government—meaning municipalities—to list important heritage sites in its area and submit this list to the ministry of antiquities and tourism for approval. These post-1917 buildings would need to be of significance to be saved.
"According to the law, any building or zone or area or landscape even can be protected, but it should fulfill certain cultural, natural and economic values," explained Fida Touma, a local architect who specializes in restoration, and also a member of the group working to save the buildings.
"They (the municipalities) can designate these areas as heritage sites, and take that file to the ministry of tourism to be approved. So they have the tools," Touma said. "We're asking for more buildings, more areas to be added to that list. They do a certain selection. But they can protect more."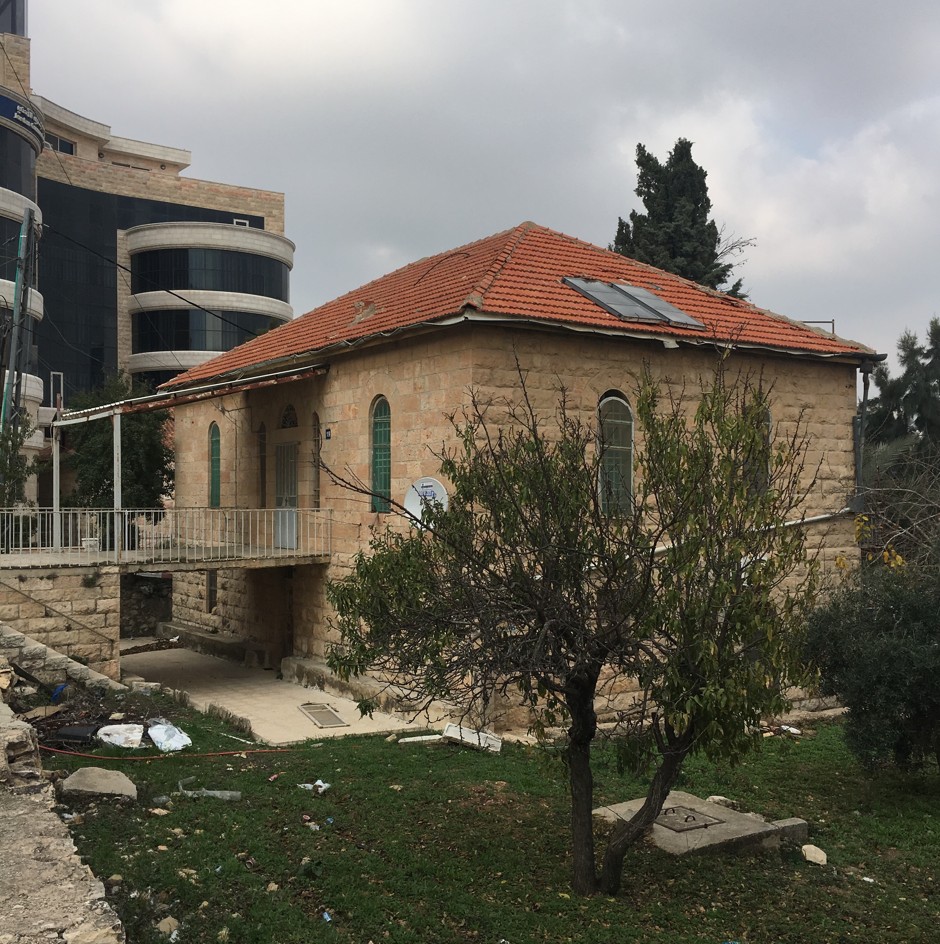 There are several ways to safeguard these historical sites, Touma explained. Elements of old buildings and sites can be more precisely categorized to ensure better protection, and structures can either be saved in their entirety, have their facade safeguarded, or have another more modern structure built around them.
"It depends on the importance, value and history of the building itself," Touma said. "The law is not rigid. Once you do the study for each building, you can tell what's significant about it, what are the important elements, if it's important in its entirety or if the surrounding areas should be protected. So each building or each area would have a protection plan."
Ramallah was ruled by several imperial powers over the years, producing a varied and rich selection of architecture. The center of the Old City of Ramallah consists of Ottoman buildings—simple, "peasant" houses built closely to each other; beginning from the last two decades of the Ottoman empire and moving into the British mandate, a more urban form of building—individual structures with gardens—started to appear outside the historic center of Ramallah.
"So this British mandate period from 1917-1948 was a very important era in terms of cultural heritage for the city," Qawasmi said. "You started seeing iron beams, concrete used in buildings, red tile roofs, different larger doors and windows, higher ceilings, sometimes colored glass and different motifs in the ornaments and stone cuts."
In 1948, the population of Ramallah almost doubled when the state of Israel was created and Palestinians fled or were forced from their homes in mostly coastal cities like Yafa, Ramleh, and Lydd and also from Jerusalem. A building boom marked by modern architecture ensued.
"A lot of Palestinian architects also graduated from Arab universities during that time in places like Cairo, Beirut, Amman and came back to Ramallah so you find many interesting buildings inspired by architecture from other Arab cities," Qawasmi said.
The municipality says that since 2008, it has taken steps to protect more than 160 historical buildings and sites, despite legal action taken by owners and investors against it.
"This crisis has been affecting Ramallah for a long time," said Ramallah's mayor, Musa Hadid. "In the absence of a legislative power to enact the regulations that municipalities can abide by, we are obliged to abide by the law. Despite this, the municipality has taken steps beyond what the law stipulates."
He refers to one case where the municipality had to pay $2,000,000 to buy Beit Jagb, a house built in the 1920s, from its owner who wanted to sell to developers. He also says that the municipality is working on another bylaw to better protect historical sites.
Local activists believe there's more that can be done, and the group that has banded together is using civic engagement and advocacy, as well as artistic, technical and legal efforts to ensure that more historic buildings are protected.
"What we want to do is to protect buildings that we consider important for the recent, modern history and heritage of the city," Qawasmi said. "It's an attempt to be part of the decision-making process and to look for the right channels within the municipality and the larger system where we can exercise our rights as citizens."