The magnetism of Europe's capital cities is getting ever stronger, sucking in more wealth and young people, and further widening the gulf between the continent's metropolitan centers and their hinterlands. Such is the somewhat alarming picture presented by the new regional yearbook from Eurostat, the European Commission's statistical office, which reveals a continent that's continuing to polarize.
Eurostat's report shines a light on many trends you might expect, such as the ongoing prosperity of Germany and Scandinavia. Other factors emerge to complicate the picture. Economic progress has actually been swiftest in regions of the former Eastern Bloc, also (perhaps less surprisingly) the region with the greatest gaps between rural and urban living conditions. And while countries hit by economic crisis, such as Greece, still reveal the toughest conditions, the sheer pressure on city-dwellers is starting to tell even in Europe's wealthiest cities, with a housing squeeze tangibly impoverishing many urbanites in Denmark and Switzerland.
Capital cities and Central Europe get richer
Per-capita GDP has risen most sharply in capital regions across the continent, with the biggest leaps coming from the Dublin region, followed by Inner West London, and the regions around Bucharest, Warsaw, and Bratislava.
The success of these three Central European capitals highlights the region's departure from the economic doldrums. Since before the millennium, countries in this region have been hemorrhaging residents, as their citizens move westwards in search of better jobs and opportunities. In the period 2007-2016, however, these countries seem to be offering more chances for economic self-betterment. With the exceptions of Slovenia, Croatia, and the Czech Republic's ex-industrial North Bohemia, every region east of the Iron Curtain has experienced at least some form of GDP bounce. This is good news, but it comes after years of acute crisis following the fall of communism, thus showing improvements from a fairly low bar.
Meanwhile, further west there are causes for concern as countries tend to polarize between poorer and richer regions; the U.K. in particular shows an especially patchy growth map. While some sections of London remain extremely (if unequally) wealthy, per capita GDP has dropped immediately to its north, above all in most of the sprawling Yorkshire region, where an ongoing journey from an industrial economy decimated in the 1980s towards a service-oriented one seems to be neither complete nor entirely successful.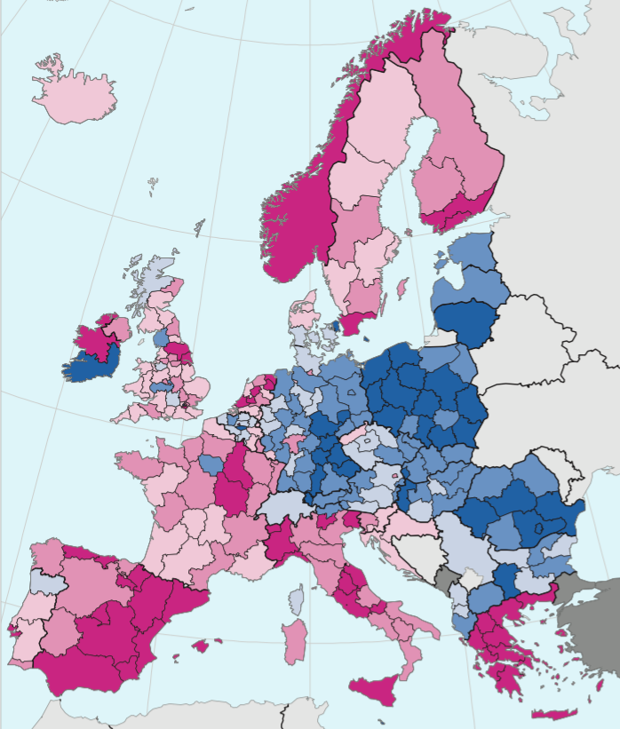 The Usual Suspects Stay Strong
The map above doesn't show the full picture, however. The European map of wealth growth may have changed, but it has not shifted so radically that the overall picture of the continents' richest and poorest regions isn't immediately recognizable.
For a more stable picture of overall household wealth, look to the map below, of per-capita purchasing power across the continent. In this case, the most consistent seats of European wealth remain familiar: Scandinavia, the German-speaking lands, the Low Countries, Paris, London, and to an extent, Southern England and Northern Italy.
Even here, the onward march of capitals is clear. Beyond the stellar results for southern Germany, all the areas with especially high purchasing power are capitals, notably, London, Paris, Brussels, and Oslo. Meanwhile one lividly pink spot sticks out in Central Europe: the Ilfov region surrounding Bucharest, whose citizens' purchasing power now stands in stark contrast to the rest of Romania.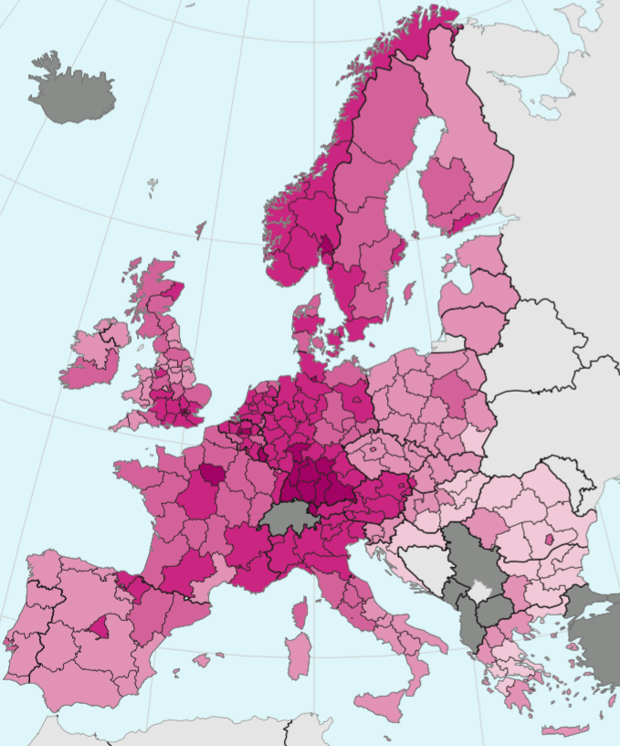 Capital cities stay young, as Germany ages
Capital cities may be getting wealthier, but they aren't necessarily getting older—at least not as quickly as their surrounding regions. Overall, the demographic direction revealed in the maps is somewhat alarming, with large sections of the map shaded in the dark orange that signifies an especially high median age.
As the map shows, Germany's population is aging fast. Indeed, it has the largest proportion of regions with a median age of 47.5 years or over in the continent. In eastern Germany, cities such as Berlin, Leipzig, and Dresden now represent the only relatively youthful pockets.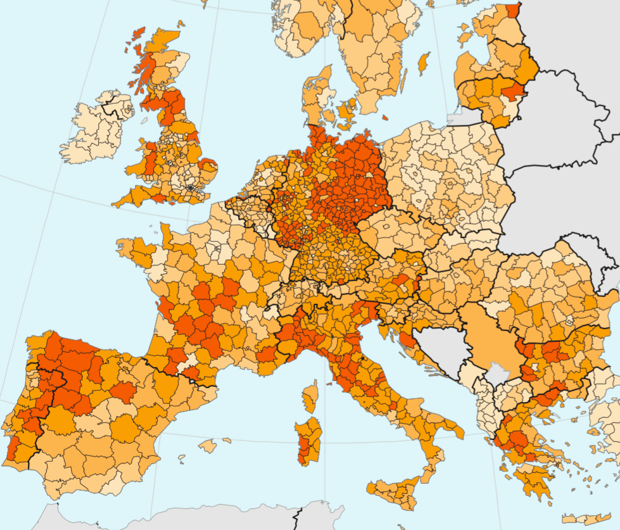 Germany's east side isn't alone when it come to the aging of its small cities and countryside. The regions north of Hamburg and the rural districts that sandwich the heavily industrialized Ruhr region both have notably high average ages, suggesting that here too, the countryside is being drained of young people, pushing these regions towards becoming agricultural and retirement communities with little urging younger locals to stay.
This doesn't just reflect an absence of opportunities for young people outside the larger cities. Places like Germany's North Sea Coast are increasingly attracting retirees from Berlin, people who may be struggling with higher rents (in a city where renters outnumbers owners) and are no longer tied to the city by work. This influx is encouraging a situation where opportunities remain scarce even as housing costs rise.
On a continent-wide level, it was in fact capital city regions, by contrast, that had the lowest median ages for all regions in seven countries—the U.K., Belgium, the Netherlands, Sweden, Austria, Ireland, and Bulgaria. It can at least be deduced from this that the high costs for which such cities are becoming notorious are not yet so great that they are actively deterring young people from trying their luck there, even if it is in tough circumstances.
There are still signs elsewhere, however, that younger people are being simultaneously attracted to capital cities by their opportunities but are unwilling or (one suspects) unable to love in their cores. In France, Greece, and the Czech Republic, it was not in each capital that the lowest median ages were found, but in surrounding suburban and ex-urban regions where living costs were generally lower. Europe's young people may be flocking towards major cities, but this pattern suggests a suburbanization of young people that may only become more perceptible in years to come.
A widening gulf
Another key map in the report highlights just how much Europe's regions are diverging. The image below relates the GDP of urban regions to their national averages, with blue shading showing rates above national averages and orange showing rates below. Again the U.K. shows cause for concern, with the London region powering ahead of the national average and almost all of its former industrial heartland in central and northern England falling behind. Poland's contrasts are also notably sharp, with Warsaw far wealthier than the national average while its rural hinterland just to the south is far poorer.
The gulf opening here is not just between metropolitan and rural regions (such as it is around Warsaw) but between first and second-tier cities. Major urban centers such as Bremen, Germany, and Łódź, Poland, are also falling behind their national averages, suggesting that the success of the largest cities may be having a somewhat cannibalistic effect on other major towns in the same country.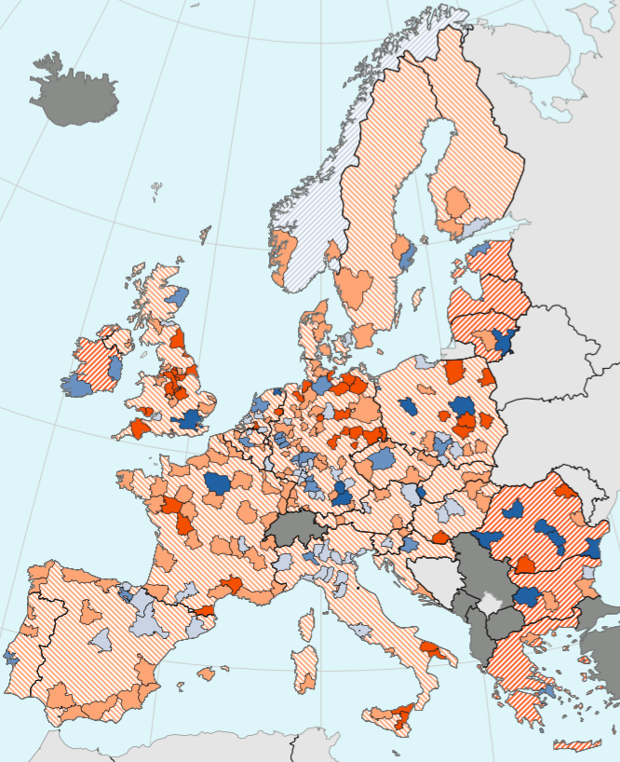 Housing under stress
The data suggests no let-up in the onward march of capital cities. Look closer, however, and you can find evidence that the concentration of wealth and opportunities in these places is producing measurable strain. Perhaps the clearest indication is the cost of housing. Eurostat's charts show that, for many city-dwellers who are not at the upper end of the social pyramid, their home base's success may well feel like a mixed blessing.
The chart below reveals the number of people who must pay 40 percent or more of their income towards housing costs—a level beyond which managing other expenses can become problematic.
The largest motor behind housing stress still seems to be economic crisis. By far the most serious situation is to be found in Greece, where 45 percent of city-dwellers and 35 percent of rural residents were overburdened. Serbia also shows serious problems, as does the Bulgarian countryside.
It's not surprising that residents of countries where jobs are scarce and low-paying might struggle to cover their housing costs. Alarm bells should nonetheless be ringing in the wealthier sections of Western Europe as well. Denmark's cities show poorly, with around 23 percent of their residents spending at least 40 percent of their income on a place to live. German, Swiss, and Belgian cities also scored badly, suggesting an emerging trend where the housing market is failing to keep up with galloping demand in wealthier cities.
Brought together, these figures create a picture that will look familiar to both Europeans and North Americans. A country's largest city (which is almost always a capital in Europe) offers by far the best income levels, even in countries which were struggling economically until quite recently. As these core metropolises grow, rural regions and second-tier cities are often left behind as their GDP drops and their population ages. Meanwhile, as people scramble to capitals, finding a way to access their opportunities while finding an affordable way to live seems ever more elusive.