There's a distinctive twist in Rotterdam's latest push to build more public housing: most of the units constructed shouldn't be around for very long.
The Netherlands' second largest city is going big on temporary homes with a new promise to start construction and installation of up to 3,000 mobile housing units. They're designed to help manage emergency needs while the city continues to build more permanent public housing.
The idea of shoving low income residents into makeshift homes built to last no more than a decade or so might sound dystopian, but Rotterdam is merely following a national trend. As the country struggles to keep up with the pace of delivery it needs for new housing, many cities have sprouted temporary micro-neighborhoods of mobile prefabricated housing, normally located on brownfield sites that are often vacant and on the far edges of city limits.
To meet demand, the Netherlands will need to construct an estimated extra one million homes by 2030. Dutch cities are trying to ease matters by reducing the size requirements for future public housing units and trying to flush unused units onto the market.
Currently, they're still 200,000 units short of their target for rental housing. While the country waits for these units to be completed, their future tenants need somewhere to live.
The short-term solution being adopted is constructing what are referred to locally (somewhat exaggeratedly) as "tiny houses."  These prefabricated units, normally designed for single or two person occupancy, are cheap to construct and install, and can be located on sites that haven't yet been prepared for heavier construction or which are available only for short-term use. They've achieved acceptance due to another key advantage: While they might conjure up images of basic, drafty cabins, and trailers, the housing they provide shows real care given to both internal layout and the grouping of units into viable communities.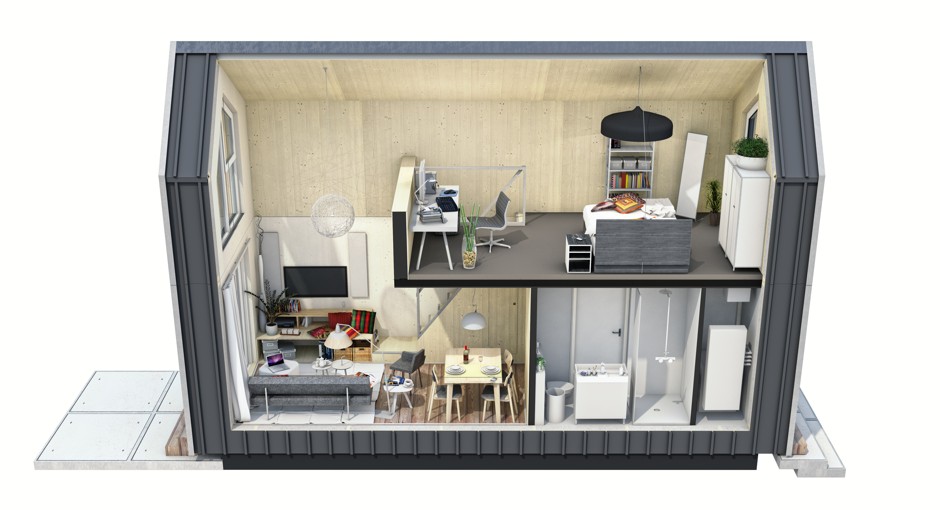 You can see what Rotterdam's new temporary communities might look like by visiting an already constructed project in Nijkerk, a small city about an hour's drive west of Amsterdam. This September, Nijkerk completed the final units in a 28-home community of so-called tiny houses.
These 420-square-foot homes, whose purchase and installation costs start at around $81,000, may not be large, but are not in fact tiny by the standards of Europe's biggest cities. Designed and fabricated by the company Heijmans, each unit contains enough space for a kitchen and shower room, a dining space, double height living room, and a mezzanine bedroom that also contains enough space for storage and a desk.
With a thick wooden covering of the steel frame providing insulation, the houses are entirely prefabricated in a factory. They require no foundations, arrive in just two sections that can be slotted together on-site within a day, and can also be easily disassembled. They cost €417 ($473) a month, with an extra €23 ($26) for tenants who want them furnished.
The units look pleasant enough. No one, however, wants to be dumped on some unused, poorly connected bit of wasteland in a glorified trailer. Accordingly, Nijkerk has tried to arrange the units to create both better functioning external space and connections between tenants. The houses are grouped into clusters of four, which together share a storage unit and adjoining patios. In each cluster, a unit is allotted to a young person on a low income, a person with recognized asylum status, and two tenants with emergency housing needs. Periods of tenancy might vary from person to person, but the general rule of thumb is two years.
The solution seems sensible but it would be wrong to romanticize such communities. Typically, these are accommodations for people with nowhere else to turn, who end up living in places where no community has had a chance to put down firm roots, on sites that may not be well connected to the rest of the city.
Crucially, this high-quality temporary housing should not end up as low-quality permanent housing delivered through the back door. The adoption of short-term prefabs built after World War II's destruction as permanent homes has happened so often in both the Netherlands and the U.K. that it is debatable whether this turn of events is exception or rule. If the Netherlands sticks to the plan to keep these homes short-term, however, they could do much not just to serve a pressing need, but to give people have been struggling to find a home with some comfort and stability.