This month, one of the world's oldest surviving railway terminuses acquired an unusual new component: an entire Victorian street.
Stainer Street, a road that used to run beneath London Bridge Station, which has served the U.K. capital since 1836, is reopening this week along with the revamped station above it. It's a surprisingly elegant pedestrian walkway that runs parallel to the station's main concourse. This final finishing touch is emblematic of the way the terminus, which first started service in May, has been reconstructed. Thanks to the rebuild, London has a properly contemporary, easily navigable railway hub that manages to knit itself seamlessly into an urban fabric that is both historic and chaotic.
There's no denying that London Bridge Station's surroundings are full of interest. The terminus is squeezed into riverside streets where over 2,000 years of London history have washed up, leaving behind a tide of ill-tended, ill-preserved mementos. A Roman bathhouse was uncovered during the station's reconstruction while, along with some very old houses, a coaching inn of the type in which the pilgrims of Geoffrey Chaucer's Canterbury Tales gathered to begin their journey survives nearby.
Despite these survivals, the station surroundings' overall impression is still one of Victorian and 20thcentury grime. Its packed and polluted streets are full of good restaurants and bad offices, all housed in buildings that, seen together, look both muscular and severe.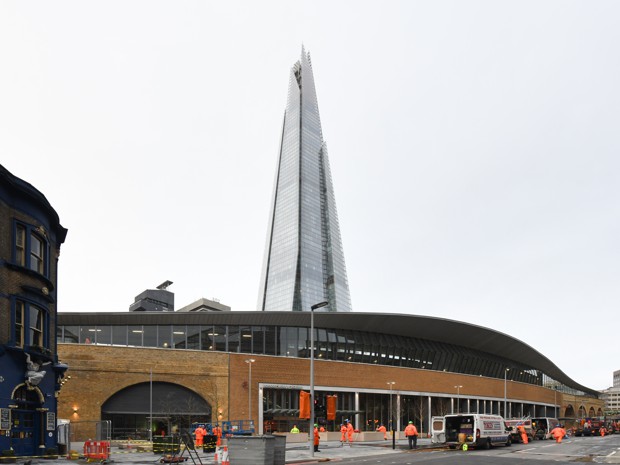 If you haven't heard much about the terminus that lies at the heart of all this interesting muddle, that's probably because there wasn't much to hear. First constructed in the mid 19th century—when stations were new and still rudimentary in layout—London Bridge Station was built and rebuilt, then bombed and rebuilt until years of poor provisional planning left it an utter mess. Before the current reconstruction it had two separate clumps of platforms accessed from different, distant points. This meant that it always seemed to be busy with people running for their train after realizing at the last minute they were in the wrong place. Visually, it matched grimness with aesthetic anticlimax, combining a rain-streaked and shelter-less forecourt, gimcrackery 1970s glass roofing, and a few sullen, windowless Victorian walls that looked like someone had been bricked up behind them.
Remarkably, it was possible to construct the new, Nicholas Grimshaw-designed space without ever closing more than two station platforms at a time. That's because, rather than knocking down and rebuilding what was there, the main station concourse simply moved downstairs. All lines that come into the station are elevated, and as a result the old concourse was at a higher level than surrounding streets. Beneath the tracks, however, was a kind of catacomb, filled with railway vaults and threaded across with Victorian streets that had become submerged beneath arcades at the station grew above them. It's into this area that the new station concourse, first opened in May, has shifted, providing access to the platforms above via escalator.
The result is altogether more spacious and easier to use. Visually, its layers also read like the different historical strata of the area around it. At the top, overlooked by the Shard, are steel and glass encased platforms. Escalators then take passengers down through a concourse ceiling clad with ribbons of wood. Below, a brick-walled hall blends easily into the Victorian tunnels and archways. The result suits the area well, an impressive feat given that the area is full of jarring contrasts of style and scale.
Meanwhile, Stainer Street itself has become a kind of focal point. It's been decorated by what look like vast glass and metal umbrellas (created by artist Mark Titchner), as well as plaques charting the development of the station around it. At one end is the reminder of a tragedy that occurred on the site—a night in February 1941 when 68 people were killed trying to shelter in the tunnel from Nazi bombing. The decor is a stark improvement. Gone are the days of a dank, ill-ventilated space filled with car fumes so heady that pedestrians entered at their peril. The joints between the contemporary concourse, yellow brick arcade, and the street outside, meanwhile, now feel seamless.