Washington, D.C., has all kinds of tunnels, from the many miles carved out by Metro to the underground labyrinth that connects the government buildings on Capitol Hill.
Now those tunnels and more are on display in the "D.C. Underground Atlas," a new, highly detailed interactive history of how underground D.C. came be—whether for government, transit, sewage, or steam. Taken together, the project impressively maps out the city's tunnel construction, providing a cultural history of the federal government and the city where it sits.
"You can track Washington's development through this narrow lens of tunnels," says Elliot Carter, the creator of the digital atlas. "The emergence of industrial technology, the push in the 19th century for sanitation, the mid-century interest in mass transit—it's all there."
But Carter says his fascination with tunnels is driven as much by how they affect life above ground.
"Tunnels reveal an alternative geography" of the city, he says. "When people ask me where I live, I don't tell them which cross street. I say the nearest subway station."
The first tunnels in Washington were the aqueducts built for drinking water in 1863. The aqueducts harnessed the power of the Potomac River, using dams and gravity to divert water from the northwest into the city. Carter says that early system had an effect on the city's socioeconomic geography that's still reflected in the map today. "In [D.C.'s] northwest, you can see that the wealthy people lived with clean water and water pressure," he says. "There are areas east of the Hill that didn't develop as quickly because they didn't have running water until the 1930s." Today, the system delivers 300 million gallons through the city, pumping water to a reservoir several miles east, near Howard University.
It wasn't long after the aqueduct project began that Congress saw tunnels as a way to solve some of its own problems, including working in D.C.'s oppressive summertime heat. In 1865, tunnels were built to ventilate the Capitol Building's sub-basement offices, and in 1896, tunnels were built to connect the Capitol to the new Library of Congress building, which opened a year later. That was the first underground connection on Capitol Hill, making way for the sprawling network of pedestrian tunnels that now helps lawmakers, staff, and visitors traverse the Capitol complex. (The Hill's tunnels get their own section in Carter's atlas.)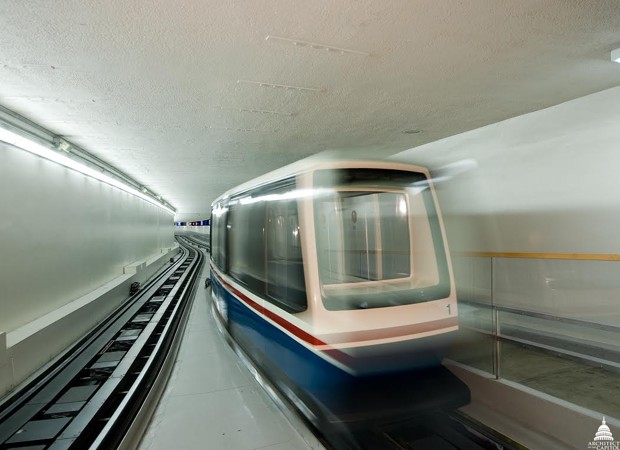 "It's a huge campus, and there's a tendency to want to interconnect your buildings," Carter says. "It's the fact that it's a federal city, a company town with just one landlord means you have this mega-tenant that has an interest in convenience and cost savings."
It's not just the Hill. As the executive branch expanded during the New Deal, tunnels became ubiquitous in the White House and executive buildings for what now feels like a mundane reason: heating and air conditioning. There's even a specific steam tunnel that can be attributed to Harold Ickes, FDR's secretary of the interior, wanting to keep comfortable after moving office buildings. "His office in the old building had air conditioning, which was really rare, so they built this tunnel just to provide it for his office," Carter says. "It was clearly just Harold Ickes's air conditioning tunnel. No other reason."
In digging up information on the tunnels, Carter discovered a paradox that comes with dealing with the federal government.
"There's an interesting disconnect in Washington," says Carter, whose day job in public relations introduced him to GIS and spurred his amateur mapmaking efforts. "If you called up the [General Services Administration], to ask which side of the street a steam tunnel is on, they won't discuss it. They'll say it's a matter of security. But no city is as well documented in federal records as Washington."
Compared to asking officials to discuss the tunnels, it was relatively easy to find out about them through historical documents in the National Archives, the Congressional Record, and other library sources, he said.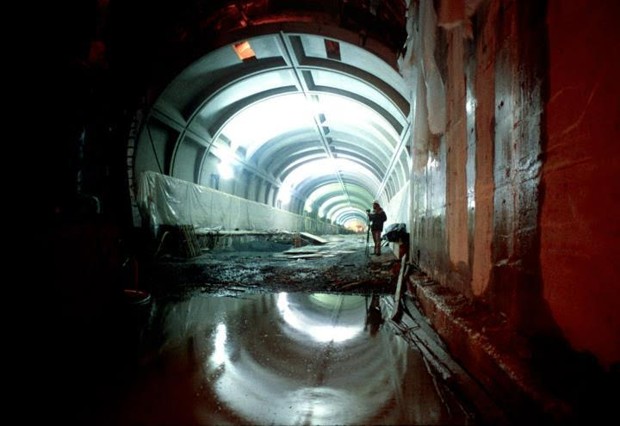 The federal government's interests also tend to complicate the construction process for more mundane tunnels. As WMATA's Metrorail made its debut in the 1976, The Washington Post reported on how subway diggers had to dodge communications lines for everything from the White House to NASA.
"It's amazing how much of a pain in the ass it was to tunnel under Lafayette Square. Nowhere else do you have to schedule building around moon landings," Carter says.
Carter says he would eventually like to turn this project into a coffee table book, and he's still sifting through some of the richest source materials, which he considers a highlight of the interactive web version. The papers of a former WMATA public relations officer, which Carter cites as a source for some of the most specific system details, could probably fill a book on their own with his publicity stunts—whether he was taking reporters out on dirtbikes to see the system's tunneled underbelly or singing songs as protest during Metro funding debates.
But Carter says the "single most epic Washington tunnel story" might be the adventures of Don Bloch, a Washington Star reporter who wrote for the paper for about a year. In 1934, Bloch convinced the inspector of maintenance at the pumping station to let him cross the city through its sewers for a Sunday feature. Equipped with a flashlight, rubber boots, and a gasmask, he hopped down manholes from street to street, with "cloud watchers" who would warn him if a storm might pose a risk from rising waters.
Bloch's tour guide shoved him in a trunk lid for a ride on the waters leading into Rock Creek. Carter says it might be the "best thing in stunt tunnel journalism Washington has ever produced," but Bloch's story remains sort of an enigma to Carter. One of the few details he has been able to verify about him: He co-founded the Speleological Society of the District of Columbia in 1939. No mystery there, it's not much of a leap from tunnels to caves.