A little over a year after Hurricane Harvey barreled through Texas, cities are still rebuilding. Recovery efforts have lagged in many poorer communities, in part because of the uneven allocation of federal recovery funds favoring smaller, often wealthier neighborhoods. But Houston is now trying to break from that pattern with a data-driven effort to send federal aid to the vulnerable populations that need it most.
The first step is to reconstruct Hurricane Harvey.
To get a better picture of which communities were hardest hit by the storm and subsequent flooding, the city has enlisted the help of Civis Analytics, founded by the chief analytics officer for Barack Obama's 2012 re-election campaign. Using various data about Harvey itself and the city's environment, the firm is running through predictive models of the storm to figure out what flooding looked like across the city during the hurricane, and how much damage it amounted to.
It's a new way of gauging the storm, one that, according to the city, is more accurate and telling than the traditional method used to assess damages. "People aren't fully recovering, and there isn't enough money, especially when those disasters are happening one right after another,"said Sarah Labowitz, the communications and policy director at Houston's housing department. Just in the last three years, Texas had five federally declared disasters. "It made us think we need a better way to count the damage."  
Traditionally, assessing the impact of a storm (and the amount of funding a city needs) is based on applications for FEMA assistance. The agency's record of "verified loss" includes damages worth at least $8,000 for homeowners and at least $2,000 for renters. But that only includes those who applied for assistance right after the hurricane hit and who were then approved. By that measure, Houston calculated its unmet housing needs to be around $3 billion, which the city's housing department says is a severe undercount. It leaves out storm-damaged households that didn't or couldn't apply for FEMA assistance, and the more than 182,000 applications that were rejected, according to the Houston Chronicle.
That means, by even conservative estimates, the $1.15 billion Houston received as part of a $5 billion aid package to Texas from the U.S. Department of Housing and Urban Development isn't nearly enough to cover what residents lost in the storm. And that's why the city is now trying to ensure the limited funds will actually go to the most vulnerable.
Fair housing advocates have long criticized FEMA's process of assessing needs as being unfair, even discriminatory, toward communities of color and low-income groups. "The higher the amount of property someone has, and the higher value of their property, then the more likely FEMA will consider them as having an unmet need," said Christina Rosales, communications director at the nonprofit Texas Housers. "So it's very much skewed toward higher income households." It's also skewed toward homeowners, even though nearly half of the city's residents are renters, according to Texas Housers co-director John Henneberger.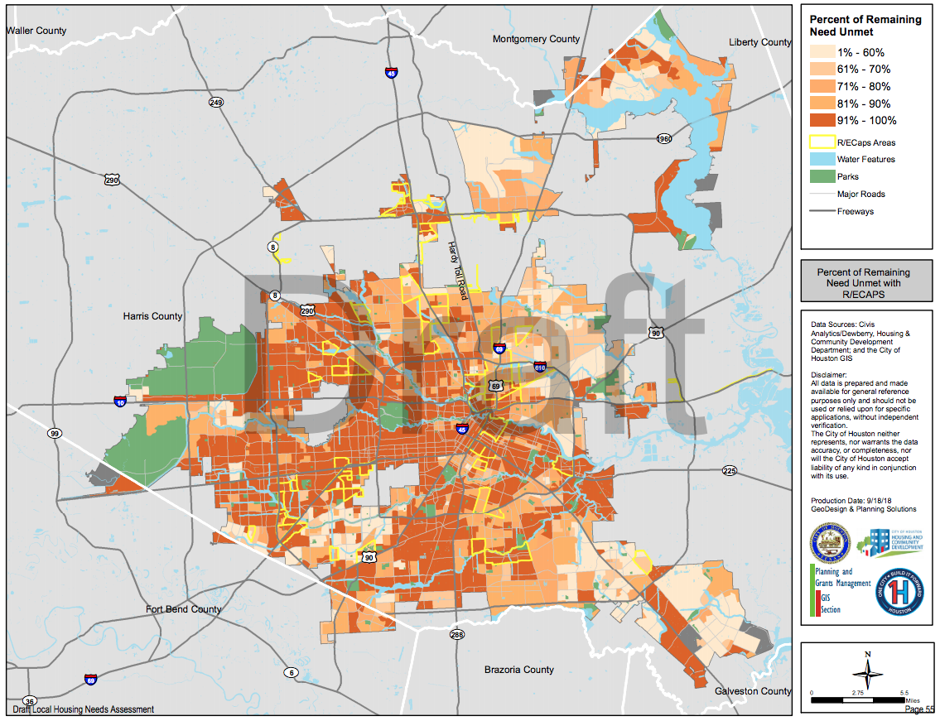 What Civis Analytics did instead, on a $1.3 million contract from the city, was combine various information: rainfall data from National Oceanic and Atmospheric Administration, land-use data to find the impervious surfaces, and data from Harris County Assessors' database to find all the city's residential buildings and record the construction material for each one (wood or brick, for example). They then reconstructed the hurricane using predictive modeling to figure out how much flooding each building received.
"It really helps you understand that if there is a foot of water in a building built out of one thing, that's going to cause more damage than if it was built out of a different material," said Chris Dick, the data scientist at Civis Analytics who led the project. To understand how the damages affected the population, they then overlaid the model with Census data, creating a profile of each building's residents. "We can know that this person who had a foot of water in their house was likely to be under 50 percent of the median income, for example," Dick said.
According to the resulting report, more than 208,000 households were affected by the hurricane, resulting in a total loss of nearly $16 billion. Nearly half of the households are of low- or moderate- income, incurring about $5.2 billion in damages. The most socially vulnerable victims lie in 12 neighborhoods where building damages account for more than half of the residents' estimated income. That includes the Greater Fifth Ward, where—at $30,535—the median income is less than 70 percent of the citywide median and whose unmet needs totals $54 million. According to the data, less than 5 percent of that has been met.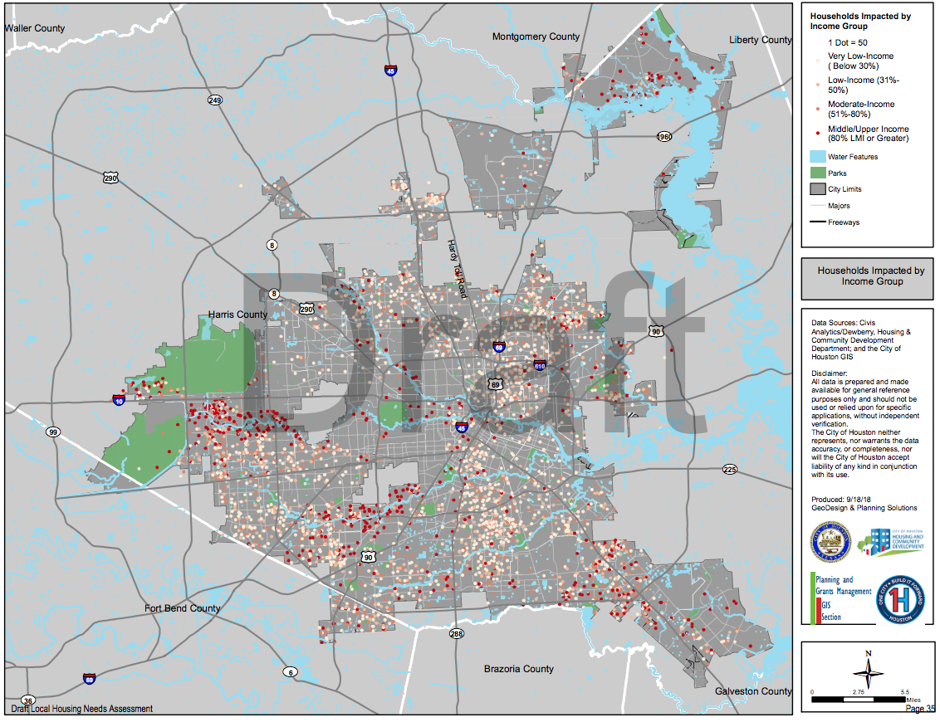 The report also shows that the proportion of homeowners and renters are split just about in half (54 percent versus 46 percent). "But we are able to see that owners have gotten more assistance," said Labowitz. In fact, the city acknowledges that renters have so far only received 37 percent of recovery funds.
"It also tells us where we have extreme flooding—more than 6 feet of water in areas like Memorial, Kingwood, and Magnolia Park—all made worse by the controlled release of the Addicks and Barker reservoirs by the Army Corps of Engineers and whose unmet needs have yet to be addressed," said Labowitz. "Yet recovery funding is generally given to areas with high housing values."
The report will help shape the programs described in its local recovery plan, unveiled earlier this June. It allots nearly $600 million to home repair and construction programs, and some $400 million toward fixing rental properties and building affordable housing to help turn renters into homeowners. The rest will fund things like buyout programs, economic revitalization, and various public services. The challenge is to make sure those programs target the right households.
In the long run, Houston hopes the new data will also improve the city's flood mitigation strategies. "It's not just rivers and bayous spilling their banks, but it's long heavy rains sitting over the city and overwhelming the street-level infrastructure," said Labowitz. "For us that means having a mitigation strategy so the investments we're making are protected." The report found that 59 percent of damage in Houston occurred outside the 500-year floodplain, with those losses totaling around $7.5 billion.
"At this point, our key challenge is how to get started," said Labowitz.
Yet Henneberger isn't convinced the report will actually be of much help. "Instead of going from the general to the specific, [the city] went from the specific to the general," he said. Essentially, he says, the city used a rain model to redraw, and widely expand, the potential population of people who need help. That may help with garnering funds, but Henneberger says it's the wrong approach to the equitable distribution of that money.
He also has a problem with the fact that some of the neighborhoods the report identifies as having the most remaining unmet needs are also some of the wealthiest. (Among the top are Greater Uptown, with median household income of $84,000, and University Place with $111,000, which has 96.8 and 98.5 percent, respectively, of needs remaining.)
"In disaster recovery, you want to begin to get a handle on the nature of the specific disaster needs of the affected populations and figure out how you are going to address those," Henneberger said. He argues the city should have surveyed those who initially called FEMA for help. "What was really needed was an effort to go back, contact a sampling of those people who did initial outreach for assistance, and ask them, 'Did you get the help you needed? Have you recovered yet, and whats not working for you?'" he said.
He acknowledges that it's labor intensive, and that it may be limited in reaching out to undocumented individuals who may have been hesitant to ask for help. But he maintains the key is for the city to ask the right questions. "This doesn't get me really closer to solving the immediate needs what sort of homeowner's assistance we are getting, how many homes are we going to tear down or repair," he saids. "And how are we going to identify the renters who have now been displaced?"
Henneberger does give some credit to the city, saying that it's better to have some analysis than none at all. "I just question if we are going to spend a million dollars doing this study," he said, "why didn't we spend the money doing a sample survey of people who applied for assistance."
Chrishelle Parlay, who directs Texas Housers' Houston office, calls the report a good first step in the right direction. "I do want give a nod to the city for even acknowledging that we really need to better understand exactly the real need of people who have fallen through the cracks," she said. "But we can't look a this as, 'This is the answer, and now it stops.'"
The next step is to use the data and work with grassroots organizations on the ground and, in essence, do what Henneberger is suggesting: knocking on doors.
Labowitz says the housing department is currently looking over the details of the report with local nonprofits like Texas Housers who will help them develop an outreach plan to the people they advocate for. "[Like] people who have been living in mold for a year, those will be the first people in mind once the programs start, probably in early 2019," she said, adding: "Having a data-driven strategy is going to help us have the most target and efficient strategy we'll ever have."