It's easy to think that cities and startups operate at opposite ends of the spectrum. Startups are known for moving quickly and breaking from the traditional ways of doing things. Cities have to play the rules and are often restricted by bureaucratic processes. So it's no surprise that when startups tackle public issues—think dockless bikes and the last-mile problem, or the many apps trying to make commuting less awful—they might be reluctant to work with the government.
To Jay Nath, the former chief innovation officer of San Francisco, that kind of thinking wastes skills and innovation that could be used directly to solve government challenges. "To date, we've seen mostly solutions from the private sector rebranded for the public sector," he says. It's much harder to find products that are designed specifically to meet a government's needs.
For startups, that's a business opportunity. The government-technology sector is a $424 billion industry that Nath says remains largely untapped. "It's not just dozens or hundreds of different challenges, but I think it's in the thousands, if not tens of thousands, that haven't been filled by the marketplace," he said.
That's why, in 2014, Nath led San Francisco's launch of a new residency program for startups, which embedded entrepreneurs inside the city government. The goal was to help them understand the regulatory hurdles that often intimidate small companies from partnering with the government. It worked—so much so that the Startup in Residence (or STiR) program expanded regionally in 2016, and is now growing to 31 cities in the U.S. and Canada, including larger ones like San Jose, California, and mid-size cities like Peoria, Illinois.
And Nath, who left the mayor's office in February to oversee the expansion as the CEO of the civic tech nonprofit City Innovate, hopes it can finally bridge the two sides.
When startups are accepted into the STiR program, they spend four months inside the government, interviewing and working with various departments as they develop a product for the city. During this time, the startups dive deep into the challenge they're trying to solve and essentially learn how city government works. They'll learn about the various policies and stakeholders, and they'll even get a class on the municipal work culture. (Lesson one: leave those shorts and flip flops at home.) The goal is to obtain a contract, though that depends on how those four months go.
Perhaps more importantly, STiR aims to level the playing field so that small startups can get involved. And it does so by simplifying the often messy government procurement process. Come October, Nath expects, his organization will have worked with the cities to issue roughly a hundred "startup friendly" requests for proposals (RFPs)—a process that can takes months, even years. "Rather than having a really complex RFP that only a handful of firms and tech firms are capable of responding to, [we want to be] inclusive about who can solve the [city's] problem," Nath said.
The residency program represents a break from the hackathons and app contests that cities like to host, which Nath says are great for generating interest, but often draw in hobbyists who aren't ready to enter into a contract.
The early iterations of the program are promising. In San Francisco, the first STiR program saw over 200 applicants, of which six were selected. One was Binti, which aims to make the application process for becoming foster parents faster and easier. "I started Binti trying to help families navigate the process, but the government controls that process, so we … were helping families navigate a process that we had no control over," Binti founder Felicia Curcuru said last week in a webinar hosted by City Innovate. "And so I realized I wanted to work in government, but I didn't know how to get started."
Today, Binti has expanded to work with 32 counties across California, and at least one agency in 11 states. Binti's success story highlights yet another barrier that startups face when considering whether to work with the government: the ability to scale beyond the city borders.
That's why, in choosing which cities to launch STiR, Nath says they are looking for a diverse set of challenges that apply to different cities, though he can't say what the specific challenges are just yet. "We are seeing sort of a reflection of the kind of challenges that governments are facing broadly," he told CityLab, adding that he's seen a lot of issues related to mobility and Vision Zero, as well as streamlining certain governmental processes and engaging the community.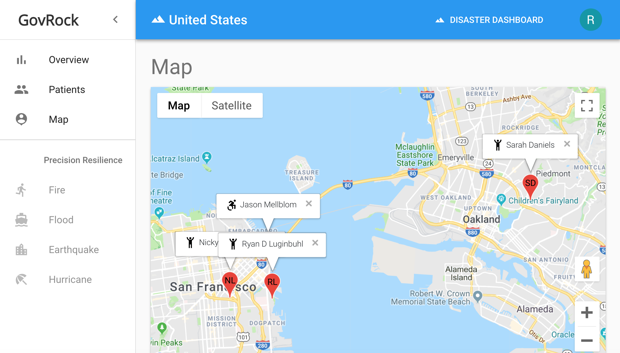 When the STiR program expanded regionally in 2016, it also gave room for entrepreneurs to expand the scope of their ideas. In West Sacramento, Ryan Luginbuhl was responding to the wildfires ravaging California communities when he came up with the idea behind Govrock, a platform for connecting residents to local volunteer opportunities. As part of Cornell University's alumni group, he was matching those displaced by the fire with alumni offering to help and wanted a system that could automate that process and speed it up during disasters.
So he went to hackathons, where he met cofounder Sarah Daniels, and local emergency preparedness meetings in hopes of turning his idea into an actual product. It wasn't until he got accepted to West Sacramento's STiR program that he and his cofounders reformulated Govrock to help the city engage different communities' "day-to-day" volunteering opportunities, and in turn create a database of communities that the city can quickly mobilize when disasters strike."So maybe volunteers who are helping out with painting in the park [can be called on] for sandbagging during an emergency," Luginbuhl said.
The four months, Daniels added, allowed the group to interview every department—from fire to police to health departments—and conduct user testing. Access to those different agencies is now allowing Govrock to expand its services. Currently the group is combing through the city health data to understand who are part of the vulnerable communities, so the city can actively reach out to them during emergencies when 911 centers are overwhelmed.
The initial idea was to partner up with large companies, Daniels said, but they soon realized they needed to engage local officials in order for it to really be of help. Getting access to those datasets and understanding the privacy laws surrounding them is one key to developing their product.
In fact, that's something that Nath emphasized as a main goal of the program. Essentially, this is his answer to companies like Uber, who parachute into cities and run into regulatory trouble. Innovative as they may be, "those solutions are often hoisted onto communities without any input," he said "So it's important that the government is at the table when these emerging technologies are being discussed to safeguard the public's interest."