When Amazon announced this week that it would locate HQ2 in both New York City and Arlington, Virginia, major media outlets published articles complaining that big tech was reinforcing the growing gap between coastal superstar cities and left-behind cities in the middle of the country. Sure, the company announced a smaller facility in Nashville, but that hasn't muted the outcry of criticism, fueled by nearly $3 billion in taxpayer-funded incentives—one of the biggest incentive hauls in modern memory.
This is all as predicted: A chorus of urbanists including myself have said that the Amazon HQ2 was never about a single HQ2, but rather about crowdsourcing data on sites, talent pools, and local incentives, for future sites. For these and other reasons, since the announcement nearly every media story about Amazon has been negative, as the Washington Post's Jonathan O'Connell tweeted. Local politicians and activists groups are already speaking out about how Amazon is taking its "winners" to the proverbial cleaners. A growing chorus of pundits and commentators are also calling on Amazon and other corporations to shift their operations away from coastal superstar cities and spur more development in the heartland.
I'm the first to complain about the geographic inequality and winner-take-all urbanism of big tech and the broader tech economy. But a new database of corporate headquarters compiled by my colleague Patrick Adler and our University of Toronto School of Cities research team suggests that America's corporate headquarters are actually spread much farther and wider across the economic landscape than is big tech. Our ongoing research projects tracks the location and changing economic geography of Fortune 500 headquarters for the past four decades from 1975 to the present.  Our research has one caveat: it excludes service firms, because back in 1975, they were not included in Fortune's list.
New York City may seem like a big winner with Amazon, and Google is expanding its footprint there too. But New York has actually seen a substantial decline in its corporate headquarters since 1975. While it is true that coastal tech hubs like San Francisco, Seattle, and Washington, D.C., have all gained headquarters in recent decades, so have Sunbelt cities like Houston, Dallas, Atlanta, and Miami. Headquarters remain sprinkled across large and small places in the heartland, like tiny Bentonville, Arkansas, where Walmart is quietly building its new "home office."
The map paints the picture, showing the total change in headquarters from 1975 to 2017 in the top 28 cities. While New York has the largest number of corporate headquarters, that number has fallen from 84 in 1975 to 70 in 2017, a decline of 17 percent. Los Angeles, America's second largest metro, saw a similar 17 percent decline. And Chicago, the nation's third largest metro, saw an even bigger decline, 28 percent, losing 19 headquarters since 1975. Despite picking up General Electric, Boston saw a 21 percent decline in its Fortune 500 headquarters between 1975 and 2017.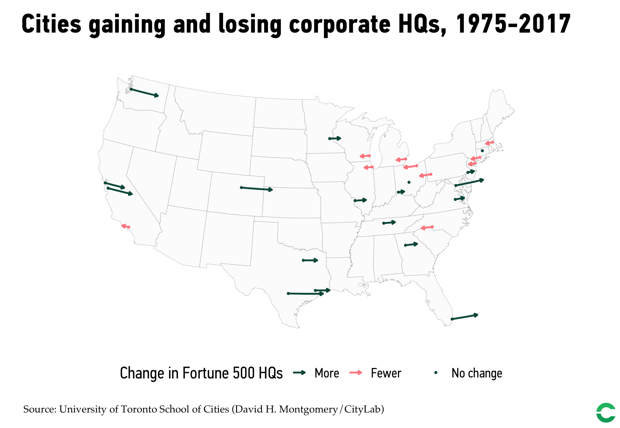 Big tech has made the San Francisco Bay Area, which spans the San Francisco and San José metros, the nation's second largest center of corporate headquarters with 35, compared to Chicago's 33. Indeed, the Bay Area increasingly looks like America's new "Second City," at least based on headquarters, a testament to the power of high-tech in the U.S. economy.
Still, other places across the country have posted even faster rates of growth. Out west, Denver and Seattle each added eight headquarters for a 400 percent rate of growth, and San Antonio also saw a 400 percent increase. Washington, D.C., added 13 new headquarters, for a growth rate of better than 300 percent.
The Sunbelt has also seen substantial growth as a headquarters locale. Dallas and Houston rank third and fourth, with 22 and 20 respectively, each posting a 60 percent-plus growth rate. Miami, which has solidified its position as the economic and financial center for Latin America, has seen 200 percent growth in its headquarters, while Atlanta and Nashville have posted 50 percent growth since 1975.
Don't write off the Rustbelt as a headquarters location: In addition to Chicago's large headquarters concentration, cities like Minneapolis, Detroit, St. Louis, Pittsburgh, Cleveland, Cincinnati, Columbus, and Milwaukee still number among the nation's leading centers for corporate headquarters, despite many of them seeing large drops in their numbers.
America's headquarters geography reflects the substantial variation and specialization of the U.S. economy. New York leads in finance and business services, consumer services, and goods and materials. But Houston leads in energy, San Jose in tech, and Chicago in retail and wholesale. Chicago also ranks second in consumer services, and goods and materials, and Dallas takes third in energy. Other cities like Nashville and Minneapolis take third in consumer services, and goods and materials, respectively.
Share of Fortune 500 Headquarters By Industry
     
Consumer Services
Share
      
Energy
Share
1
New York
24.5%
1
Houston
26.3%
2
Chicago
8.2%
2
New York
7.0%
3
Nashville
6.1%
3
Dallas
7.0%

Finance and
Business Services

Goods and Materials
1
New York
25.6%
1
New York
10.7%
2
Washington, D.C.
5.1%
2
Chicago
9.2%
3
Los Angeles
4.3%
3
Minneapolis
5.3%%
Retail and Wholesale
High Technology
1
Chicago
9.7%
1
San Jose
28.3%
2
New York
7.5%
2
San Francisco
7.5%
3
Atlanta
5.4%
3
Bridgeport
7.5%
This variegated pattern comes through even more clearly when we look at the location of corporate headquarters across America's eight major mega-regions. Not surprisingly, the "Bos-Wash" mega-region, the largest in the United States, leads with 137 headquarters, though that number is down 19 percent since 1975.
As for the Rustbelt: Its great "Chi-Pitts" mega-region, stretching from Chicago through Detroit to Pittsburgh is second, with 89 headquarters, though it is also down since 1975.
The Texas Triangle of Dallas, Houston, and Austin takes third place with 53, up substantially since 1975. The Northern California mega-region around the Bay Area is next, followed by Char-lanta in the Sunbelt, SoCal which stretches from Los Angeles to San Diego, Cascadia (Seattle and Portland), and So-Flo (Miami, Orlando, and Tampa) which tripled its number of corporate headquarters.
Change In Share of Fortune 500 Headquarters By Mega-Region
| | | | | |
| --- | --- | --- | --- | --- |
| Region             | 2017 | 2017 Share | 1975 | Percent Change |
| Bos-Wash | 137 | 27.4% | 143 | -4.2% |
| Chi-Pitts | 89 | 17.8% | 109 | -18.3% |
| Texas Triangle | 53 | 10.1% | 27 | 96.3% |
| NorCal | 35 | 7.0% | 12 | 191.6% |
| Char-Lanta | 23 | 4.6% | 23 | 0% |
| SoCal | 18 | 3.6% | 19 | -0.5% |
| Cascadia | 11 | 2.2% | 4 | 175% |
| So-Flo | 6 | 1.2% | 2 | 200% |
So, let's save the calls to force big tech to move to the heartland or break up with the big coastal superstar cities. Tech and innovation are the sectors of the economy that most require clustering and agglomeration, and economists like Enrico Morretti and David Albouy show us that America would actually be far more productive in tech if its big cities were even bigger.
On the other hand, America is a big, spread-out economy with large clusters of headquarters in Houston, Dallas, Miami, and Atlanta in the Sunbelt; in Chicago, Detroit, Minneapolis, and Pittsburgh, and in smaller places as well. Compared to just about any other nation, we have many different kinds of cities. America's five largest metro areas generate about a quarter of our economic output. Compare that to Canada, whose five largest metros generate 50 percent, London alone generates a third of British GDP and Seoul half of South Korea's.
What's even more valuable than giant companies like Amazon are the many cities, across the nation, that create them. Let's use the money that is being wasted on incentives to help build up our cities, our truly greatest resource, instead.
CityLab editorial fellow Claire Tran contributed research and editorial assistance to this article.