What is an hour in the life of a major metropolis? An ambitious new project at New York's High Line attempts to quantify that ephemeral idea through music, immersive performance, and community engagement. Hitting its first notes last Wednesday and running through Monday, 1,000 singers of all ages and backgrounds, culled from across the five boroughs and its many choral groups, have transformed the elevated park into a temporary stage to produce The Mile-Long Opera: a biography of 7 o'clock, a collective, "freeform" piece that doubles as an innovative social experiment.
During its six-day stretch, visitors are active participants as they wander the scenic park, enveloping themselves in stories reenacted by singers and culled from hundreds of real New Yorkers. In an attempt to convey the feeling of living in a rapidly changing city through song, each singer is given a form of illumination—whether a light up visor or hat or simply the glow of an iPhone—to give the normally idyllic High Line a haunted glow.
The project was conceived by Liz Diller of Diller Scofidio + Renfro, Pulitzer Prize-winning composer David Lang, and led by Music Director Donald Nally under the direction of Diller and Lynsey Peisinger, with Icelandic artist Ragnar Kjartansson as creative advisor (among others). The choir will serenade New Yorkers to texts collected and edited by Canadian poet, essayist, and Librettist Anne Carson, and Frederick Iseman Professor of Poetry at Yale and 2016 MacArthur Fellow Claudia Rankine. Staged along the full mile of the park, an accompanying 360-degree "digital experience" enables anyone to screen the performance online.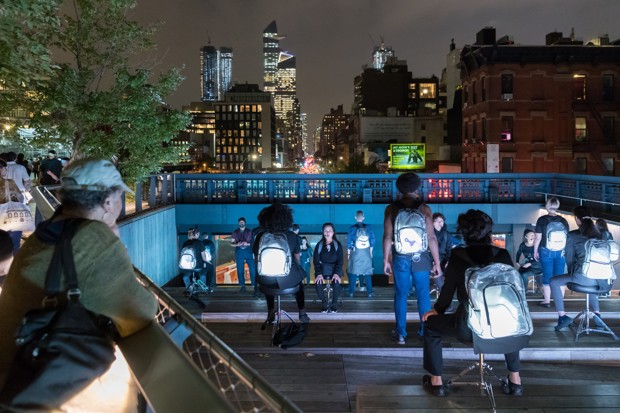 Carson and Rankine's texts, transformed into a harmonic-yet-cacophonous chorus of complaints, exclamations, and mundane thoughts were, in many cases, gathered through first-hand interviews with city residents. Asked to ruminate on their personal interpretations of 7:00 p.m., a time when the city is most alive and in transit, the responses range from the humorous ("My friends have moved away," performed by the MLO Company Singers, "That new café," Grace Chorale of Brooklyn First Unitarian Congregational), to joyous ( "AMBER WILL YOU MARRY ME," Choral Chameleon Abrons Arts Center Choir, MLO Company Singers) and the contemplative ("Parts of us erase," Haiyun Chorus, Open Hydrant Theatre Company @ The Point Edison Chinese Choir MLO Company Singers). As the creators have noted, the project is as much about celebrating the city as it is about documenting the ongoing effects of gentrification and displacement in the five boroughs.
"These conversations reveal a vast spectrum of feelings and perspectives—and, by extension, represent the diverse character of the city's inhabitants and their individual experiences," Rankine explains in the official press release. "The Mile-Long Opera challenges conventions of what opera is and who it is for." As she notes, the public nature of the opera comes from an egalitarian spirit, inviting all passersby to join in the free performances.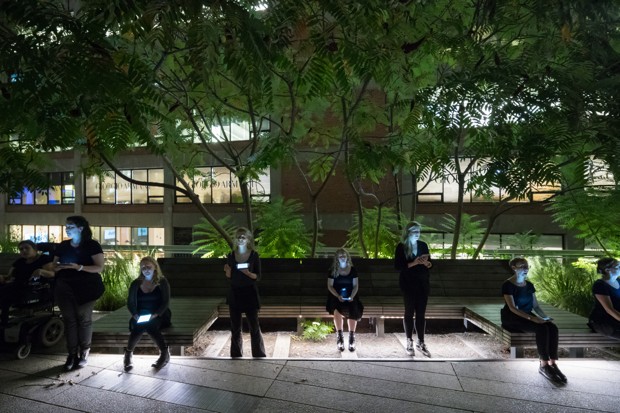 As a tourist magnet and city planning initiative, the High Line literally provides a front row seat to the changing nature of New York with architectural features like a clear glass "viewing booth" and an open-air amphitheater. In a neighborhood once dominated by industry, today's high-end hotels, boutiques, nightclubs, and blue chip art galleries create the perfect setting for a performance that highlights the shifting nature of New York. (Hudson Yards, at the end of the High Line, will someday contain two additional Diller Scofidio + Renfro projects, including performance space The Shed.)
This performance is the latest enterprising public works project from the High Line. From April 2017 to March 2018, it unveiled Mutations, an open-air group exhibition charting the complex and ongoing negotiations between man and nature, technology and the idea of genetic evolution. The project featured installations by Puerto Rican artist Radames "Juni" Figueroa and sound works by Joanna Malinowski and C.T. Jasper, who installed two gramophones, one playing recordings of the Great Pacific Garbage Patch and the other of a sufferer of black lung disease, both meant to represent the ongoing and devastating effects of pollution on our environment.
At the heart of The Mile-Long Opera is an extensive community initiative, co-organized by Peoplmovr, a creative agency that partners with artists, organizations, and communities to enable the arts to be more accessible to all. Other non-profits and cultural institutions that contributed include the Abrons Arts Center, the Greater Harlem Chamber of Commerce, ARTs East NY in Brooklyn, Jacob A. Riis Neighborhood Settlement in Queens, The POINT CDC in the Bronx, and the Snug Harbor Cultural Center & Botanical Garden in Staten Island, among many others.
The project brings together some of the most dynamic, community-engaged cultural institutions of all five boroughs, many frequently overlooked or underfunded. The groups contributed by recruiting singers and holding open rehearsals, workshops, and other consciousness-raising activities. All together, it has energized the spirit of community and arts engagement many have feared the city's high rents and rampant corporate encroachment have pushed away. For at least the next few days, that's certainly something to sing about.