By the time I got my hands on it, Robert Venturi and Denise Scott Brown's book Learning from Las Vegas was already 45 years old. But the architects' 1972 treatise on symbolism in architecture, the iconography of sprawl, and the limits of modernism felt—and still feels—exhilarating, radical, polemical, and new.
Venturi was well into his architectural career when the book appeared—he'd completed several of his most iconic buildings, including the Vanna Venturi House, Columbus Fire Station 4, and the Guild House, which was included in one of the analyses in Learning. The book not only advocated for the world of institutional architecture to pay attention and learn from the intricate and symbolic landscape of suburban sprawl, it also methodically dissected what Venturi and Scott Brown saw as a conflict between the form-follows-function rhetoric of modernist architecture and its execution.  
Before I read Learning, I always felt like architecture was something that existed in other, more worthy places, and for other, more worthy people. This was the first book on the subject I'd seen—I was 16—that felt like it applied to my world. I came from Anywhere, U.S.A., far, far away from any great works of architecture. Venturi's elevation of everyday buildings made me feel seen, made me feel like the places I had observed, and my appreciation for them, were valid and meaningful. He wrote about my suburban surroundings–strip malls, tract housing—in a way that gave them credit as a cultural and architectural force. Better yet, he chastised the architectural establishment for having ignored them for so long.
Even though I have evolved as a thinker and have developed my own criticisms of it, Learning taught me to look at my own surroundings and find what was worth looking at in them. It was a book about architecture that seemed to be written for people like me—nowhere people with no academic pedigree. In 2016, I started a blog called McMansion Hell, with the idea of using the suburbs and their most-loathed architectural residents (McMansions) to entertain and educate the general public about bad and good design. The site began with this line from Learning from Las Vegas: "Many people like suburbia. This is the compelling reason for learning from Levittown."
Venturi, who died on September 18 at age 93, is widely considered to be the father of postmodernism, a style born in the 1960s that blends elements of both historical and modern architecture, often in a way that is witty, ironic, or exaggerated. He studied architecture at Princeton under Walter Gropius and worked for two icons of midcentury modernism—Eero Saarinen and Louis Kahn. He later won the Rome Prize and spent two years in Europe studying ancient and classical Italian and Spanish architecture and urbanism, which had lasting impacts on his architectural vision.
Upon returning in 1956, he took up a teaching position at the University of Pennsylvania, where he met his wife and life-long partner, the equally influential and dynamic architect and writer Denise Scott Brown, whose ideas and visions Venturi upheld and promoted throughout his life. Two of his books—Complexity and Contradiction in Architecture, written in 1966 with the support of MoMA and the Graham Foundation, and 1972's Learning From Las Vegas, with Scott Brown and Steven Izenour—are considered classics in the field, and their firm, Venturi Scott Brown & Associates, produced some of the most iconic buildings of the postmodern era. He won the Pritzker Prize, architecture's highest honor, in 1991.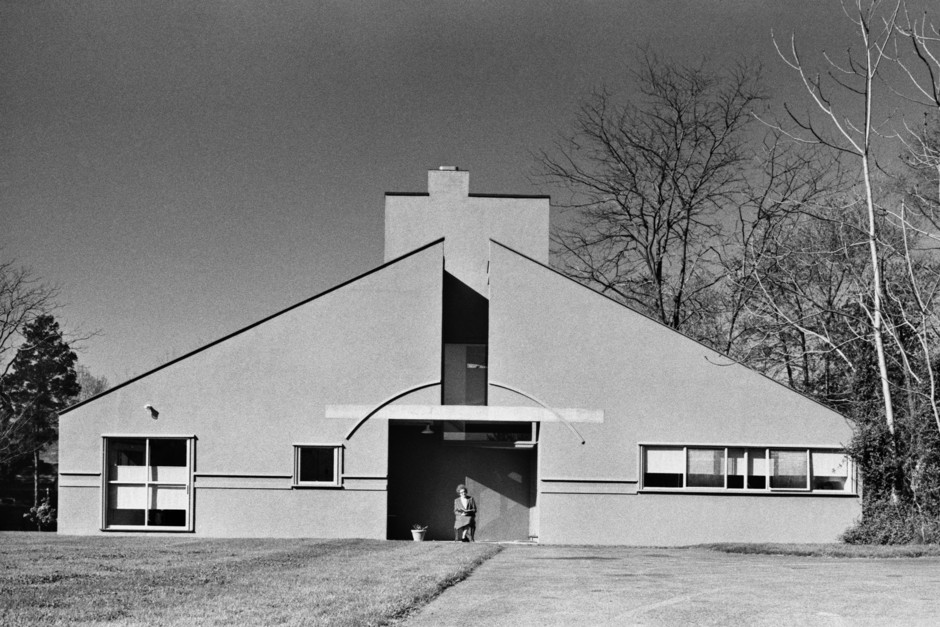 In Complexity and Contradiction, he describes an early project, the Vanna Venturi House, built in 1962 for Venturi's mother:
This building recognizes complexities and contradictions: it is both complex and simple, open and closed, big and little; some of its elements are good on one level and bad on another; its order accommodates the generic elements of the house in general and the circumstantial elements of a house in particular.
The exaggeration of certain architectural elements from the past—the central gable, broken pediment above the door, central chimney, and rectangular window forms—is taken to a new level. The house itself takes the form of a huge broken pediment; the lintel and fanlight above its central entrance are abstracted and oversized, as are the windows. Venturi dubbed it "a little house with a big scale." The large scale of the elements prevented excessive busyness, something shared with the clean lines of its modernist contemporaries. This nuanced, playful rendition of traditional elements, executed in modern materials, set the tone of Venturi's work, and of postmodernism as a whole.
Much emphasis has been placed on the anti-modernism elements in Venturi's work—and for good reason. His sometimes scathing, often humorous criticisms of modernism (specifically late modernism) were timely and necessary. Confronted with the limited nature of its less-is-more rhetoric, formal restraints of simplicity and transparency, and an emphasis on technology and top-down planning, modernism in the 1960s and '70s was pushing its stylistic and philosophical limits, something Venturi called out both in Complexity and in Learning from Las Vegas. In that era, the modernist ideology of  "form follows function" was becoming mere lip service, and Venturi and Scott Brown insisted that rejecting symbolism shouldn't equate to a rejection of ornament.
Late modernism was particularly keen on the idea of "structure as ornament"—specifically the use of functional structures like mechanical systems as decorations. To describe buildings whose program and structure have become a total formal symbol, Venturi and Scott Brown coined the term "duck" (named after a duck-shaped roadside building on Long Island), and they applied this concept of "building-becoming-sculpture" as a criticism of the modernist buildings they believed were not adhering to the dogma of form following function. In Learning From Las Vegas, the modernist duck was contrasted with the postmodernist "decorated shed"—a building where ornament is applied independent of structure and program, such as a functionalist big box store or fast food restaurant covered in signage: "The duck is a special building that is a symbol; the decorated shed is the conventional building that applies symbols."   
Venturi saw modernism as being disconnected from the vernacular architecture of everyday life and everyday people—of sprawl and highways, Las Vegas and the mall. These were institutions from which he and Scott Brown believed the world of high architecture could learn and integrate. He summed that up in his most famous aphorism: "Less is a bore."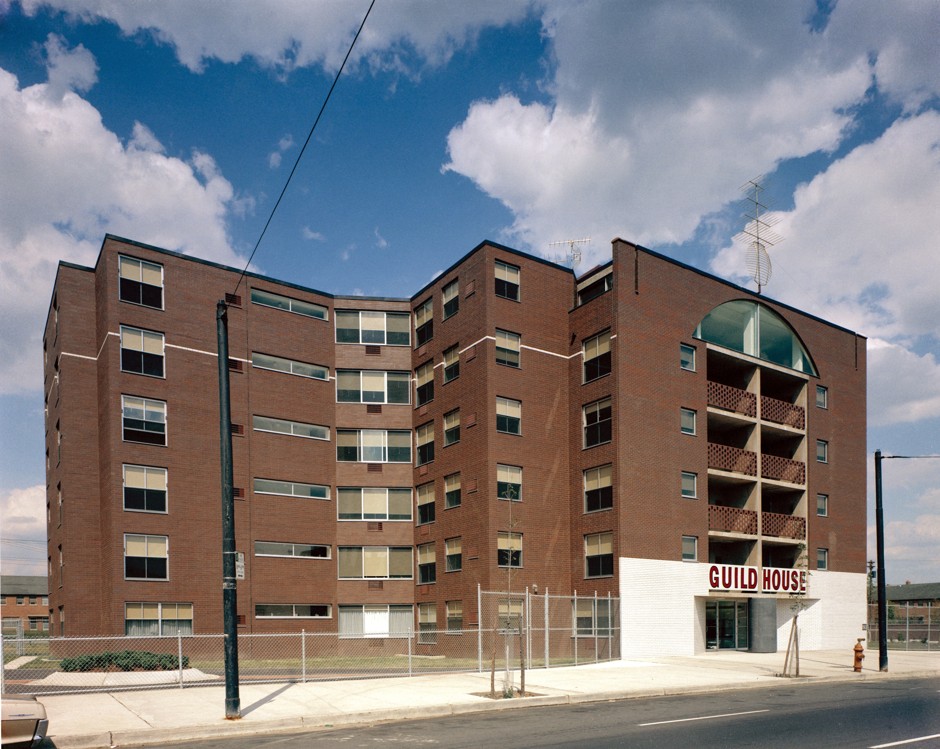 The prevalence of images, imagery, signs, and ornament applied independently of space, structure, and program is a key element in Venturi and Scott Brown's work, and it's codified in the Guild House, a retirement home in Philadelphia built in 1964.  
Everything about the Guild House is "denotative" rather than "connotative." It literally says "GUILD HOUSE" in big letters above a central entryway comically split in two by one oversized column. The central arched window, what would be a fanlight, appears instead on the sixth floor and is oversized. Instead of being graced with a keystone at its apex, a television antenna emerges. The building revels in its quotidian-ness and smiles back at its landscape of sprawl. In Learning from Las Vegas, the building is lovingly described as "Ugly and Ordinary Architecture"—a term that, for most Americans, also describes most of what we see every day.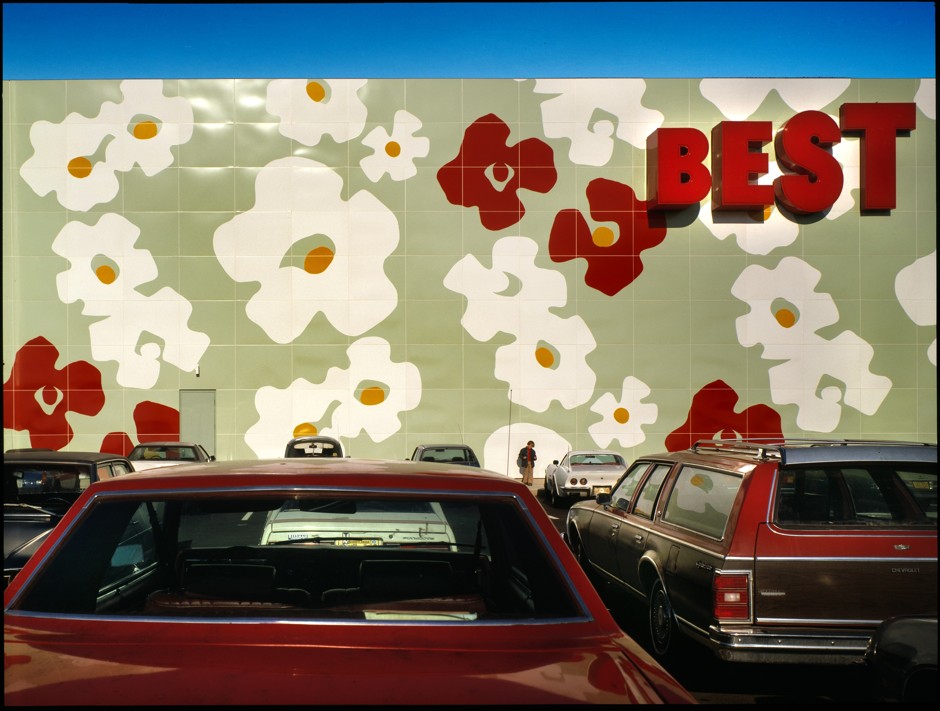 That's a reality that Venturi and Scott Brown embraced with their colorful, wonderfully kitschy flower-power design for the BEST Products catalog showroom. BEST Products, a catalog chain that went bankrupt in 1997, was known for its avant-garde showrooms, built by many transgressive architects working in the 1970s, including Venturi and Scott Brown. The project was well suited to their interests, as it gave them a an opportunity to lend their talents as highly trained architects to those of us stuck in the horizontal landscape of sprawl. The BEST showroom is merely one very colorful piece of Venturi's body of work for quotidian buildings, including the well-known Columbus Fire Station and an obscure, unbuilt YMCA designed for Canton, Ohio.
Architecture can be esoteric and intimidating. With his wit, his direct language, and his use of clever use of images and annotations, Venturi opened up the field and made it accessible not only to teenage me, but to many other writers, architects, and theorists working today. For the inspiration and encouragement we found in his buildings and words, we owe much to Robert Venturi, a man who made architecture realize that "more is not less."