Less than two miles from the Vulcan Materials rock quarry, where the popular fight scenes from the movie Black Panther were filmed, and near Hawkins Middle School, where the cult-status Netflix series Stranger Things is filmed, sits the castle called Eagle's Landing Country Club. It's a facility of pure wealthcraft spread over acres of land, complete with a 27-hole golf course, that sits in a sentinel position in front of an even larger land mass of Georgian and Federal Colonial homes. If you've ever watched the reality TV show "T. I. and Tiny: Family Hustle," you'll recognize Tiny's house in this tony neighborhood. In fact, this is where her husband T.I. was arrested for disorderly conduct earlier this year after a security guard at the country club's front entrance didn't recognize him and refused him admission.
The security is that tight in this gated country club community, which is neither visible nor clearly accessible from the major streets nearby. This is not Hollywood. This is Eagle's Landing, a neighborhood in the city of Stockbridge, Georgia, about 20 miles from Atlanta, and it's one of the few communities in the southern half of metro Atlanta that boasts incomes upwards of six figures, in volumes.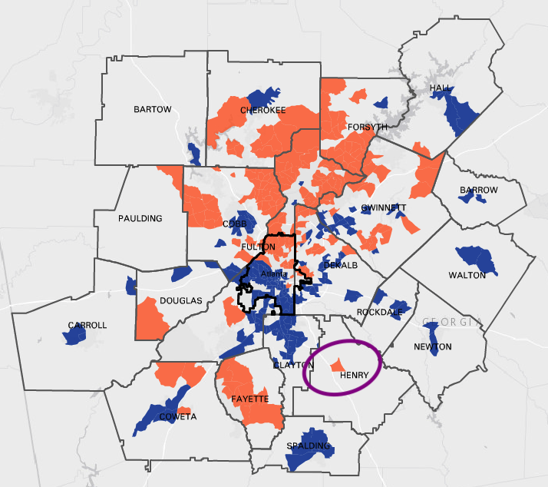 Roughly half of Eagle's Landing is spread out across seemingly disconnected patches of unincorporated land (meaning belonging to no city) in Henry County. As former Stockbridge Mayor Lee Stewart describes it, "It's like if you took wet spaghetti and threw it on the wall." Land logic would suggest that those areas should just be patched together and incorporated into Stockbridge's borders. But instead Eagle's Landing would rather just start its own city. The problem with this is that Eagle's Landing proponents would like to form a city by using land, people, and properties that already belong to the city of Stockbridge.
This would be a completely unprecedented move in Georgia—taking chunks of one municipality to produce another municipality—and one that would help further calcify the steep levels of segregation seen across the region. This would be extreme even for metro Atlanta, where nearly a dozen other neighborhoods have formed new municipalities since 2005, in a trend referred to as the "cityhood movement." But unlike Eagle's Landing's proposal, all of those new cities formed from unincorporated territories.
The Eagle's Landing plan seeks to merge into its boundaries the primest real estate and wealthiest households from the city of Stockbridge, leaving behind a smaller, mostly African American population with fewer resources to pay for Stockbridge city services. The Eagle's Landing city proposal will be voted on via ballot referendum on November 6, but Stockbridge residents who live outside the Eagle's Landing footprint—the people who will be most hampered by the division—are not eligible to vote on it. Meanwhile, neither lawsuits nor letters from global finance agencies warning that the proposal could wreck economies across Georgia have been able to stop it.
And the reason for tearing Stockbridge apart to start this new city? It has something to do with cheesecake. Or at least cheesecake is what was emphasized in a conversation with Vicki Consiglio, the chair of the Committee for the City of Eagle's Landing, held at the Eagle's Landing Country Club.
"I serve on the Henry County zoning board," said Consiglio, "and so I kept seeing all of these places like Bojangle's, Waffle Houses, dollar stores, and all this going up in our county. And I was like, why can't we get a Cheesecake Factory, or a P.F. Chang's or a Houston's? We have areas that have high incomes, so what's the deal?"
Eagle's Landing is a prestigious community that desires leisure, shopping, and dining amenities that reflect their gentry, said Consiglio. But she is convinced that won't happen unless Stockbridge, or at least what she considers the less desirable parts of Stockbridge, are taken out of the picture. What exists both within and immediately around the country club already looks pretty posh; there is an Outback Steakhouse on the main commercial drag not far from it. But that Outback doesn't rise to the level of the culinary opulence that Consiglio expects.
"We want it to be that and more," says Consiglio. "We don't want [Eagle's Landing] to go down."
She pulls out a map that shows the proposed Eagle's Landing city footprint (the violet colored area in the map below) along the southeastern quadrant of Stockbridge (the mint-colored areas in the map below).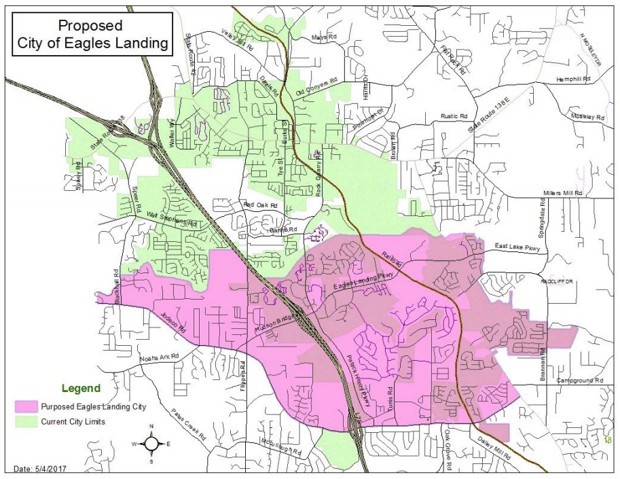 "You saw what that looked like up here," she said, pointing to the upper part of Stockbridge, where the Waffle Houses and Bojangle's are—the part she wants to separate from. "We don't want this," she said, pointing to the mansion-filled area beyond the country club, "to look like that."
The Cheesecake Factory
Stockbridge is the largest city in a county that is amongst the fastest-growing and diversifying in the state. In 2016, Livability.com named it one of the top ten best cities in the nation for African Americans. Just before the mortgage crash, it was fourth in the U.S. in housing starts. Its location near Atlanta's busy Hartsfield-Jackson International Airport, cheaper housing stock for people priced out of the city of Atlanta, and Stockbridge's growing reputation as "Hollywood South" all make it a location where more and more families are considering settling.
This kind of influx is typically seen as an omen for wealthier, whiter native residents of a receiving city, especially when they see the race of the city's leadership changing. When Atlanta elected its first black mayor, Maynard Jackson, in 1973, with a new African-American political elite emerging around him, white Atlantans took flight to the suburbs, mostly to the north of the city. Last year, Stockbridge elected its first black mayor and its first all-black city council in the city's near-100-year history, so consider its upper-crust residents triggered. But those who might be uncomfortable with that political shift are not escaping to whiter pastures anymore. Instead, they are engaging in the strangest form of white flight wherein rather than moving, they are standing their ground, and building new municipal borders around their mansions and fortresses.  
Racism, and geographic/spatial segregation to be specific, is not just about who a neighborhood includes. It has much to do with who it excludes, as well. Taking half of Stockbridge, as Eagle's Landing plans, would not only leave Stockbridge with a less wealthy population, but also with a black population with weakened voting power. Right now, African Americans are just over 57 percent of the voting-age population in Stockbridge—a clear-cut majority. If Eagle's Landing were to form, it would take a third of Stockbridge's population along with it, including a nice chunk of Stockbridge's black residents. In that scenario, African-American voting power would be reduced such that they wouldn't constitute a majority of voters in either the new city of Eagle's Landing nor the old city of Stockbridge. Meanwhile, the white voting-age public would see its voting power rise in both cities.
The Cheesecake Factory did consider coming to Stockbridge at one point1, but balked after an income study revealed that the average median income was too low to justify placing a restaurant there. She blames this on Stockbridge, where median household income is $54,769. So in 2016, Consiglio and her neighborhood colleagues, some of them former Stockbridge city officials, began meeting to figure out what they could do to land if not a Cheesecake Factory, then a Cheesecake Factory-esque restaurant, because the dining halls and pubs in the country club would no longer do.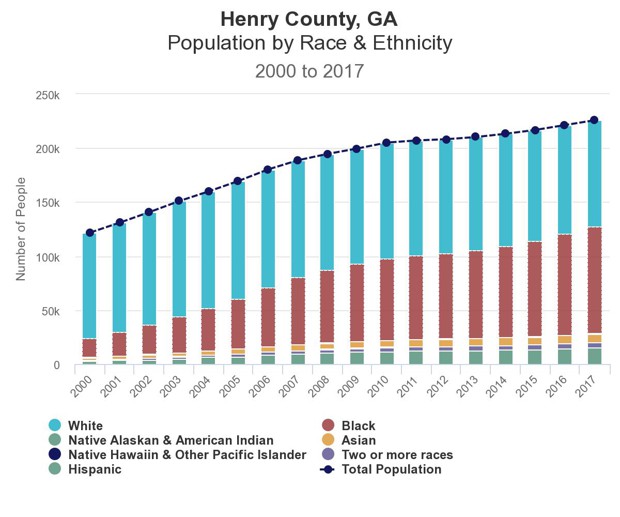 "It came up to, you know, form a city because that's the only way you're going to do it," said Consiglio. "And if this could happen, we'd have more control of our area, and we'd get to see what comes in here. We'd get to control zoning. We'd get to control code enforcement. Then we can hopefully hold the carrot out and say we want a Cheesecake Factory."
She started a nonprofit called the Eagle's Landing Educational Research Committee, or ELERC, and began drafting plans for a new city, but its members soon realized that they couldn't handle a city comprised solely of their residential neighborhoods. Cities, like businesses, have operational expenses and must, by state law, provide certain services, like trash collection and parks management. Eagle's Landing home property taxes would not be enough to pay for this, not even in the well-off households beyond the castle. For financial viability, they would need a strong commercial sector that could provide a reliable revenue stream from sales and business taxes. Fortunately for them, a large shopping district like this existed, and not far away from the country club. Unfortunately for them, this shopping district sits squarely within the borders of the city of Stockbridge.
Didn't matter. ELERC drew the shopping district into its proposed Eagle's Landing city boundaries anyway, along with a few other choice Stockbridge neighborhoods and properties. To reiterate, this has never been done before in Georgia—taking land from an already established city to create a new one. The only way new cities in Georgia had hitherto formed was through the incorporation of totally unincorporated land.
And it's because of that fact that Stockbridge officials originally didn't take ELERC's proposal seriously—or, at least, they didn't think state lawmakers would take it seriously. But in late March, the general assembly passed two bills, one allowing for the redrawing of Stockbridge's city borders, against Stockbridge's will, and to accommodate Eagle's Landing; and, another that officially puts the question of whether Eagle's Landing can become a city on a ballot referendum for November. Georgia Governor Nathan Deal signed the bills in May, putting the Eagle's Landing city proposal in motion.
"When we talked to the governor about this probably almost two months [before he signed the bills], I led off the conversation and Governor Deal was sitting just as close to me as you and I are sitting to one another right now," said Stockbridge Mayor Anthony Ford, the city's first black mayor, "I really honestly believed that he would [veto the bills] based on the conversation. And so I was quite surprised when he didn't. Some people said I shouldn't have been, but I have to admit, I was really surprised about that."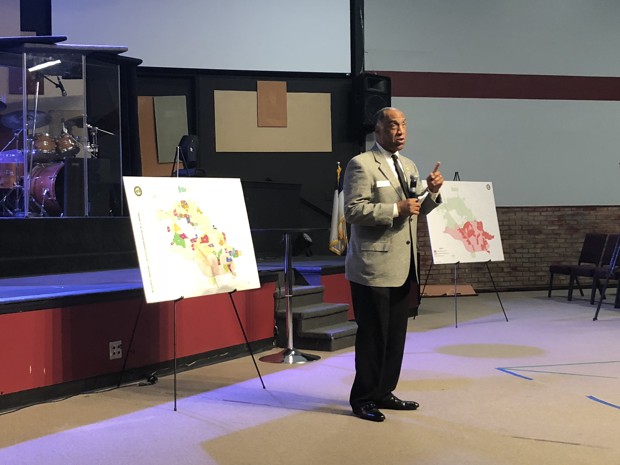 What's at stake now is whether Stockbridge could even continue to function if the Eagle's Landing ballot is successful. The theoretical city of Eagle's Landing is looking to claim nearly a third of Stockbridge's population, and the assessed value of all the properties that Eagle's Landing is looking to claim would amount to $379 million, more than half of Stockbridge's total assessed property value. Collectively, this would decrease Stockbridge's gross annual revenues by nearly half—from $9 million, which it currently brings in, to $4.8 million. Stockbridge relies on this revenue not only to keep the city running, but also to repay municipal bonds taken out to finance projects like constructing its city hall, built in 2005.
"Up to this point, the city has been fiscally sound and we have a healthy fund balance that allows us to get some projects done," said Camilla Moore, the assistant city manager for Stockbridge. "What hurts us is that Stockbridge today is the largest city in Henry County, so therefore when you get to [tax revenue] formulas based on population, we've been the primary beneficiary of those. If we no longer have the population and the numbers to receive the largest share of those monies, then we get less money to do some of the things that we're able to do now because of our population in the past."  
Moore has been down this road before. She has been involved in the formation of several other cities around metro Atlanta, including Sandy Springs, the first of the cityhood movement, and South Fulton, one of the more recent cities to incorporate. In those cases, she supported the notion of cityhood, advocating for the idea that city start-ups give residents stronger say in land-use and economic development policies—a seductive prospect if you live in an unincorporated, ill-defined territory that's constantly overlooked by county and state government. But today, Moore is testifying on how cityhood for Eagle's Landing might not reap the benefits some people think it will. In fact, she addresses one of Consiglio's primary concerns head on.
"I've heard them say, 'I really want a white linen restaurant and fine dining,' but for those of you who have been involved in development, you know imaginary lines don't make businesses come," said Moore. "It's not the old baseball saying, 'If you build it, they will come,' because Stockbridge built Eagle's Landing. This suburban community of Stockbridge has been called Eagle's Landing for the last 20 years. So if the Cheesecake Factory was coming, they would have been here."
'It's like a divorce…'
When players from both sides of the equation speak about this situation, they often use the term "deannexation" to describe the process of re-appointing land from Stockbridge to Eagle's Landing. It's rather anodyne terminology for referencing what could be called a taking, or a land grab unfolding in real time and with the state's approval. The fact that it's happening in a city as it grows more black and brown—the city where Rev. Martin Luther King Jr.'s father was born—only makes it more suspect.
"I use the analogy that it's like a divorce—you can't walk out of most divorces and say I'm taking half of your money, I'm leaving you all the bills, and I'm going to take the two good kids, and you can have the two little shitburgers," says former Stockbridge Mayor Lee Stuart, who opposes the Eagle's Landing city proposal. "Why rip apart a beautiful community? Why not come together and try to make it better. But it's because they [Eagle's Landing proponents] want control."
The broader implications haven't been fully examined or investigated by Georgia lawmakers. No one seems to know the endgame nor how catastrophic this form of cityhood could be. But some signs point to reckless. After Deal signed the bills, Moody's Investor Services sent out a letter stating that the disintegration of Stockbridge to start up the city of Eagle's Landing would constitute a "credit negative" not just for Stockbridge, but for all of the cities across Georgia.
This could happen, wrote Moody's, because of the potential for a trend of new-cities-eating-old-cities to metastasize, which would affect the ability of all cities to honor outstanding debt obligations. The S&P Global Ratings followed up with a report that its institutional framework "profile could weaken for cities based on our views of weakened predictability and, potentially, system support should similar actions become more frequent without considerations for overall operations and liabilities."
And those other municipalities are well aware of the potential mess that the Eagle's Landing proposal can make if voters approve it. More than 100 cities in Georgia have passed resolutions denouncing such forms of citymaking, and earlier this year the Georgia Municipal Association adopted language in its 2019 legislative policy priorities document stating that while it supports new city incorporation, "portions of existing municipalities should not be de-annexed to create new municipalities."
In August, Capital One Public Funding, LLC, a municipal bonding corporation that holds nearly $12 million of Stockbridge's debt, sued state and county election officials to stop the Eagle's Landing ballot, arguing that breaking up Stockbridge would be a violation of the contracts clauses found in both the U.S. and state constitutions. It is one of three lawsuits currently pending that hopes to stop the Eagle's Landing proposal from becoming a reality.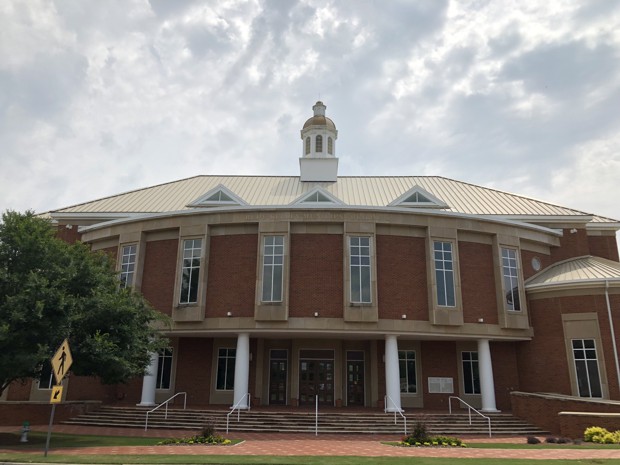 On October 19, a federal judge denied an injunction in the Capital One case that would have at least delayed the ballot vote on Eagle's Landing until the cases were decided on the merits. However, the judge ruled that if Eagle's Landing won the ballot that it must pay a portion of whatever debts were created when it was a part of the city of Stockbridge.
Consiglio, meanwhile, has maintained that Eagle's Landing would not be ponying up for any of Stockbridge's debts, even though the new city would be taking half of the properties that Stockbridge used to secure the municipal bonds it currently holds. She is undeterred by the judge's ruling, and disputes the judge's interpretation of the relevant law.
"I'm still adamant about it," says Consiglio. "I stand my ground and I will continue to stand my ground, even though this [language] is in [the judge's order]."
A classic but tenuous pledge: No new taxes
If Eagle's Landing were forced to take on some of Stockbridge's debt, it would call into question one of Consiglio's main selling points for Eagle's Landing. She has pledged that the new city of Eagle's Landing would impose no new taxes and specifically no property taxes on its residents.
But that claim is based on the assumption that Eagle's Landing would be starting tabula rasa, with no other debts or expenses other than the regular costs for starting up a city. In fact, Eagle's Landing's lawyers said during oral arguments that the new city would be willing to impose property taxes on its residents if need be.
"It is ironic that the proponents of Eagle's Landing actually advocated this position with the court when they had previously promised referendum voters that there would be no property tax in Eagle's Landing," said Chris Anulewicz, the attorney representing Stockbridge in the case. "Those proponents have already broken their biggest promise to the voters before the City of Eagle's Landing referendum has even taken place."
Yet, both of the Eagle's Landing websites still emphasize that there will be no new taxes in the new city.
Consiglio refuses to back off from her, even if the movement's lawyers may be telling courts something different. But asked if she was guaranteeing no new taxes when talking with potential Eagle's Landing city residents, she couldn't do it.
"I can't use the word guarantee, but we do not want a property tax," said Consiglio, emphasizing that their city charter states that they could impose one if need be. "I can't guarantee anybody anything. I'm not the mayor and I'm not the council. All I can say is, as the organizer of the city of Eagle's landing, I am pretty emphatic about there not being a tax and I will fight that to my dying grave."
'What's wrong with wanting better?'
Stockbridge and Eagle's Landing are already segregated, and it's because of this condition that Eagle's Landing was able to demarcate the choicest neighborhoods of Stockbridge for inclusion in its new city map. But there is no desire on Consiglio's part to entertain the integration of the two, or even consider what benefits could come of that. The separation of the two is the point, and it's not just so that the Eagle's Landing gentry can better access a Cheesecake Factory. El-Mahdi Holly, who is running to represent House District 111 in the state legislature, says he picked up on this when he attended some of the early meetings that Consiglio's group had with neighborhood residents, which he said started right after Donald Trump was elected.
"They would always preface their statements by talking about how Stockbridge residents themselves are keeping a filthy community, that they're not cutting their lawns, that trash is everywhere, that these people just don't care for the properties," said Holly, who opposes Eagle's Landing taking land from Stockbridge, even though he lives in the Eagle's Landing "bubble." Holly's district once included much of Stockbridge, but the parts of the city where black, Latino, and lower-income families reside were cut out of it in a 2015 wave of redistricting. (Voting rights advocates are currently contesting this in court as an unlawful racial gerrymandering.)
"What that said to me is that these people have excluded themselves from the rest of the people in Henry County," said Holly. "Because the people they were referring to in Stockbridge are the people who go to our churches, and that we shop with in grocery stores, that are kids go to the same schools with—these are our neighbors. It's a ploy used to have people think of themselves as being better than others, and provided that you give them that justification, then you can pick their pickets."  
Consiglio balks at any accusations of racism or bigotry. As far as she's concerned, Stockbridge is a poorly run city, despite the fact that it was recently honored with an award for Excellence in Financing Reporting by the Government Finance Officers Association. Even Consiglio admits that Stockbridge does have a deep well of financial resources. The city does have several million dollars stored up in a rainy day-type fund, to be used in an emergency, which Consiglio said could be used to pay off whatever debts it has should Eagle's Landing takes what it wants. The irony is that Eagle's Landing could be creating the emergency that would cause Stockbridge to have to break open that rainy-day piggybank. More than anything, Consiglio just wants to "control what comes in here and what it looks like" for Eagle's Landing.
"What's wrong with wanting better?" says Consiglio. "What's wrong with being able to say I want to control what goes on around me? Stockbridge is going to be Stockbridge after all of this is over. They will be a sister city. We don't hate Stockbridge. It's an old city and they have a heritage. That's awesome. Good for them. But this is not it. This is Eagle's Landing. Not Stockbridge."
And with that, Consiglio has to end the meeting and leave the country club. She's off to a dinner meeting at Serafino's Italian Restaurant in the nearby Villages at Eagle's Landing. It's an elegant dining place that serves a Salmon Felicia for $29.95, a "Million Dollar Cake" that costs $7.50, but you can get the "Regular Cheesecake" for $7.00. It's no Cheesecake Factory, but it will have to do for now.