A month ago, Sidney hit 44 three-pointers in a row in the partial darkness of the Sara D. Roosevelt courts at night. My own record is 17. I used to consider that impressive.
I found these courts 16 years ago when I moved to New York City's Lower East Side. To a street basketball lover they are beautiful: two wide-open courts, lined with sycamore trees and benches.
Whenever I didn't have to work late, I'd race downtown on the F train from my job at a French bank, change out of my suit, and head over to the park to play a game of full-court. As the evening wore on, the courts got more crowded and it was hard for an unknown player to get picked up for a five on five. Almost no one wants to take a chance on a middle-aged, stick-like, 5' 10'' white guy. To have a basket to myself to practice, I had to show up at night. Over the years, late-night shooting on these courts has become a meditative routine, one Sidney and I share.
Sidney is the éminence grise of the courts. Nicknamed Magic, he is a New York City playground legend. I've heard stories about how he dominated at West 4th Street, where the semi-pros play, and I've seen the 20-year-old grainy tape of his college highlights, which include a casually executed 360-degree dunk. It took a long time, but we know each other well now: We sometimes meet to shoot around or talk. He's seen it all: He recently gave me perspective on a painful breakup, pointing out that, in a way, I'd been cheating on my girlfriend with these courts—and that might have been worse than cheating with another woman. At the park I am unconditionally welcome, and appreciated.
The Sara D. Roosevelt Park, has been here for 84 years. One block wide and seven blocks long, it stretches from the Manhattan Bridge to Houston St. and is flanked by Chrystie and Forsyth Streets. It actually contains six full courts: Two on Canal St, and another two next to a soccer field between Stanton and Rivington. Those two have been recently repainted by a famous graffiti artist in a co-branding partnership with Nike: Flashy, but not for me. The real action is on the north-side courts.
In 2011 my finance job and I parted ways. For two decades my life had been organized around arriving at an office at 7:30 a.m. and leaving ten hours later. With all the new free time, I worked on my automatic jump shot. (By "automatic," I mean that if no one is guarding me, it's going in the basket.)
On the courts, it's not "what do you do?" Here, you play ball—mostly. Fifty percent of the time I'm shooting; 50 percent I'm sitting on the sides, talking to people, forming relationships. I don't have kids, but I've watched kids grow up here.  
These courts are home to a motley family of surrogate brothers, fathers, sons. When I was about nine, I remember my stepfather handing me a basketball and saying, "this will be your father," or at least it felt that way. We lived in Brussels, my biological father was a continent away in Tucson, Arizona, and my stepfather was a jazz musician who was always on the road. Most of the guys who spend time at this court have fathers who died young or who aren't around. It's hard for me to believe, but I, who always cleaved to strong male figures as a young adult, now act as a mentor to others.
In 2012 Orville showed up. At that time he was about 16 years old. A guy tried to bully him and steal his "next." (Next game.) Orville kicked his ass. This gave Orville immediate cred on the courts. Medium height, with dreadlocks, Orville isn't outwardly imposing; he's the kind of guy who hugs you each time he sees you and smiles easily. But he grew up around boxing gyms, and, for better or worse, he really is fearless. We have each other's backs: When Orville got to age 19 and hadn't graduated from high school I said "enough," and tutored him until he passed the exams that would earn him his diploma.
Sidney, who also lost his dad when he was six, offers Orville stoic praise and tough-love advice, including "stop wasting your time with basketball," recognizing early on that Orville needed to concentrate on boxing. Orville became more serious and started training at Mendez Boxing Gym. Earlier this year, he qualified for the Golden Gloves at Madison Square Garden. Sidney and I went to see his championship fight. A tribal impulse takes over when you watch someone you care about box and I kept thinking "don't hurt my baby." Fighting as a heavyweight with the moniker Popcorn, he won his weight class on his 23rd birthday.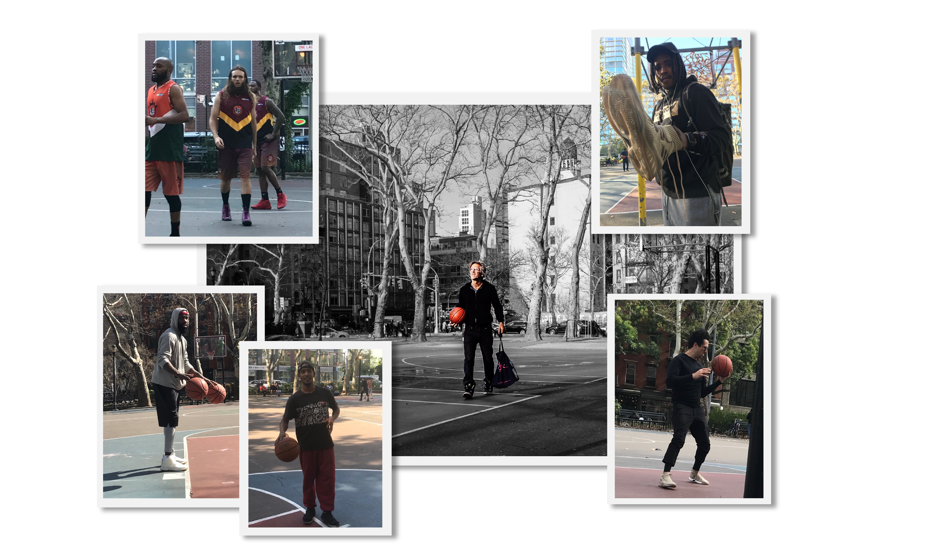 Francis, a skinny white guy who would often arrive at the courts late at night dressed in all black, with dark shades, earned the name "Vampire Weekend." One day he told me, "Yo, I'm about to blow up," and showed me a cut of a video featuring him with Kanye West and Bon Iver. Vampire moved out to the West Coast and left some sneakers at my place. When he said to just keep them, I sent him a photo of Orville, everyone's little brother, wearing them. Francis comes back occasionally to a group of park regulars, proud that he's mixing with superstars: The last text I got from him read: "I just threw down on Kanye's court. I beat a 22-year old one on one."
The king of the game at Sara D, is Raine. A newcomer—he moved here from Florida three years ago—Raine was a bit of a loner until he conquered the courts: a sniper of a shooter, he rarely loses. He lives way uptown in Washington Heights but makes the trek down regularly because like so many of us he loves these courts and its community. Now other players call him Jesus because of his long hair and beard. Like many of the guys at the court, Raine delivers food for one of those apps like Caviar and Postmates: The others do it by bike; Raine is the only guy I know who just runs around. Also, Raine is the only guy I know who doesn't know who his father is.
It's not all good times at the courts. This is New York. The benches surrounding the courts are draped with people smoking K2, a cheap imitation THC sprayed onto herbs, that has an odor more like burning tires than weed, one that's worse than the whiff of human feces occasionally deposited by the homeless in the park. Drugs have long been part of the park's story: From the 1970s to the mid-80s, the city's largest open-air heroin market ran in the park. But the neighborhood has been changing like most of Manhattan. In 2014 the Nativity Mission School was razed to make way for a luxury condo building, with apartments selling between $2.6 and $8.5 million. In 2017 a 28-story-Ian Schrager hotel, PUBLIC, opened across from the park.
The player who has logged the most pick-up games since I arrived is a short Dominican guy named Rondo. He works at the meat section of Whole Foods nearby and tells us stories about a regular customer who comes every day to buy $100 worth of filet mignon—for his dog. A point guard with a high basketball IQ and good handles (dribbling ability) Rondo's signature move is to shout "hey" at a member of the opposing team at the exact moment the player is trapped and desperately looking for a teammate to offload the ball to. Time and time again Rondo dupes them into passing him the ball.
These courts are a cross-section of an evolving Lower East Side. It's a boy's club—we all come together around a ball and a game. Not everyone plays; some just hang out and watch, show off their new sneakers, smoke weed, or argue over the relative merits of NBA players. It's free, it's entertaining, it's supportive. It's based on respect for your ball as well as your talking game. Anytime someone comes into the group he gives a handshake. In the beginning, only two people shook my hand. Now in the summer, it might be 100.
I ball pretty much every day that I am NYC when the weather allows (temperature at least 34 degrees Fahrenheit). I tend to the courts. I put up the nets when the old ones fray. There is a lot in New York City that has come and gone for me, but not these courts, the people and the relationships I made. And late last year, I made a commitment to them, moving into a small apartment that looks directly out on them. It's easier for me to tend to the courts, see who's out there, spot an available basket. The kids text me if they don't have a ball (it's amazing how few people bring a ball to a court) and I'll throw one down to them from my fourth-floor window.
As I near 50 my hair is grey, my nickname on the courts is Grandpa or OG, but after 16 years, the teens, the ballers, the locals, and even the K2 smokers on the Sara D. Roosevelt courts know one thing: "That old dude, that friend of Sidney's—He can shoot."