Parking in San Francisco is a nightmare. Not only is parking scarce, but the rules that govern the city's curbs can be baffling, changing by hour and by the day. One study estimated that the average driver there spends as much as 83 hours a year circling the streets to find an open spot, further worsening the city's already hectic congestion problem.
Fortunately, San Francisco drivers can find some relief in a new Curb Explorer tool from Coord, a company backed by Sidewalk Labs that is on a mission to make urban streets easier to navigate. The latest project is to "code the curb," as Coord CEO Stephen Smyth described it in a post on Medium.
Coord sent its team out to the the commercial corridors of San Francisco, where they photographed parking signs, hydrants, bus stops, and other features that dictate how a curb can be used. They used an app that analyzes those photos for parking information, and then translated that data into rules that can be mapped for easy viewing. On the color-coded map, red curbs indicate no-parking areas, for example; dark blue zones are paid parking, and light blue zones are free.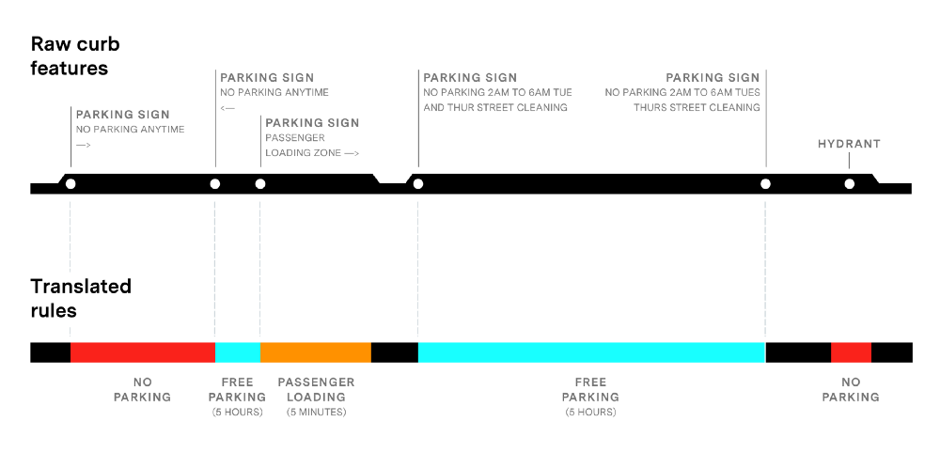 Users can filter the data based on date, time, vehicle type, and what they're ultimately looking for, whether that's a free parking spot for two hours or a paid space for eight hours. Truck drivers can find loading zones, indicated in yellow. And—particularly fitting for the city that brought ridesharing into the mainstream—Uber, Lyft, and taxi drivers can see all the dedicated pick-up/drop-off zones that San Francisco introduced last November to address the problem of ride-hail drivers blocking transit and bike lanes. (A study by the city's police department found more than three-quarters of the 239 lane-obstruction tickets issued between April and June 2017 went to ride-hail drivers.)
San Francisco may have it particularly bad, but hellish parking isn't unique to any one city. Nationally, the average driver spends as much as 17 hours a year looking for parking, resulting in $345 in time, fuel, and emissions, according to one study. So Coord hopes to partner with municipalities and companies to essentially digitize the curb and turn that data into something useful. As of now, the San Francisco map lives on a website that's accessible on mobile, but likely not useful to someone who is already behind the wheel.
Down the line, however, Coord's tool may be incorporated into other driving and navigation apps. "We hope this will help jumpstart the conversation on the importance of the curb in the rapidly evolving transportation landscape," Smyth wrote.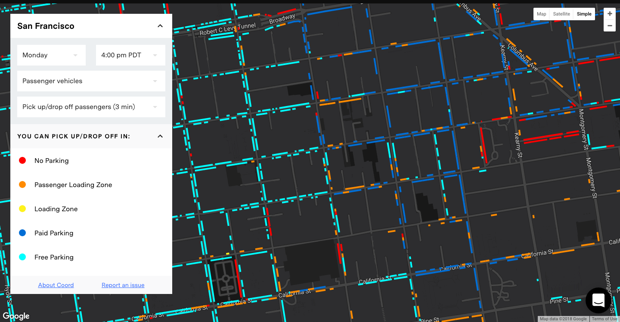 Indeed, the humble curb is becoming one of a city's most valuable assets. As planners begin thinking beyond private car ownership, and as space becomes more scarce, a number of interests are jockeying for the strip of road between moving traffic and the sidewalk. Mass transit advocates will argue for more bus lanes and de-prioritizing parking. Meanwhile the likes of Uber and Waymo are betting on autonomous vehicles and may push for special "docking" zones. Still others will advocate bike lanes and pedestrian zones as solutions to easing congestion in the city.
What they are ultimately fighting for is a say in how governments manage and regulate curbside access, and they're not the only ones. As my colleague Laura Bliss wrote, "Rethinking the curb is going to take a lot of buy-in from not only city leaders but also from retailers, who are often unhappy about losing storefront parking spots."
Nonetheless, cities are starting take curb management seriously. Consider Seattle, which in 2016 redefined curbs as flex zones in which curb use—whether for passenger pick-up, bike-share stations, or commercial loading—is prioritized differently depending on the type of street (mixed use versus residential versus industrial areas). Not surprisingly, the city generally ranked transit higher than metered parking. The move resulted in at least one major payoff, as CityLab has reported: a boost in bus ridership at a time when, nationally, fewer people are taking mass transit.
Other cities, according to a white paper by the National Association of City Transportation Officials, have looked into prioritizing curbside use for transit during "peak periods"—when bus volumes are at their highest—and allocating curb space in main streets for short-term uses, like passenger drop-off, and zones further down the road in less congested areas for longer-term activities.
For some cities, though, the process starts not with changing the policies but simply getting a better grasp of their curbside assets. That's what Washington, D.C., did in 2015 to ease truck-related traffic congestion, which was estimated to cost the city $650 million each year. The district digitally mapped all 500 of its curbside loading zones and collected data on their use. That helped officials determine where to increase loading zones and to implement a demand-based pricing system, charging truck drivers higher prices during peak hours. The goal was to encourage them to deliver goods overnight, and ease congestion during the day. It also made the job easier on the drivers, who can now use the district's website to look for loading zones in advance.
So, as urban planners like those at NACTO will tell you, when planners seriously rethink curb management, and with transit in mind, the cities themselves are ultimately the winner. And by mapping those changes and initiatives, as Coord has done for San Francisco, cities can help their drivers navigate around any confusion.