When Brazil's National Museum was consumed by fire on the night of Sunday, September 3, I saw a part of my childhood going up in flames with it.
Like countless others who grew up in Rio de Janeiro, I'd first visited the museum as a small child. São Cristóvão Palace, home of the museum since 1892, is a beautiful neoclassical building located in Quinta da Boa Vista, a large park in the city's Zona Norte, where I was raised. Rio's less-affluent north side lacks the amenities that are concentrated in the more heavily touristed Zona Sul; as a result, the majority of cultural spaces in the city are difficult for less-privileged people to access.
But even the poorest residents of Rio could visit the National Museum, which was near two train stations and was often one of the first (and sometimes the last) forms of contact this segment of the population would have with Brazilian science and history. The museum held a vast trove of more than 20 million items—Latin America's largest anthropology and natural history collection. It was there that students from public schools, residents of distant neighborhoods, and the children of parents who could not afford to enter other cultural spaces in the city learned about the prehistoric animals that once inhabited our country. It was there that they took pride in the 12,000-year-old skeleton of Luzia, the oldest human remains ever found in the Americas. That precious artifact, like an estimated 90 percent of the museum's collection, has been destroyed.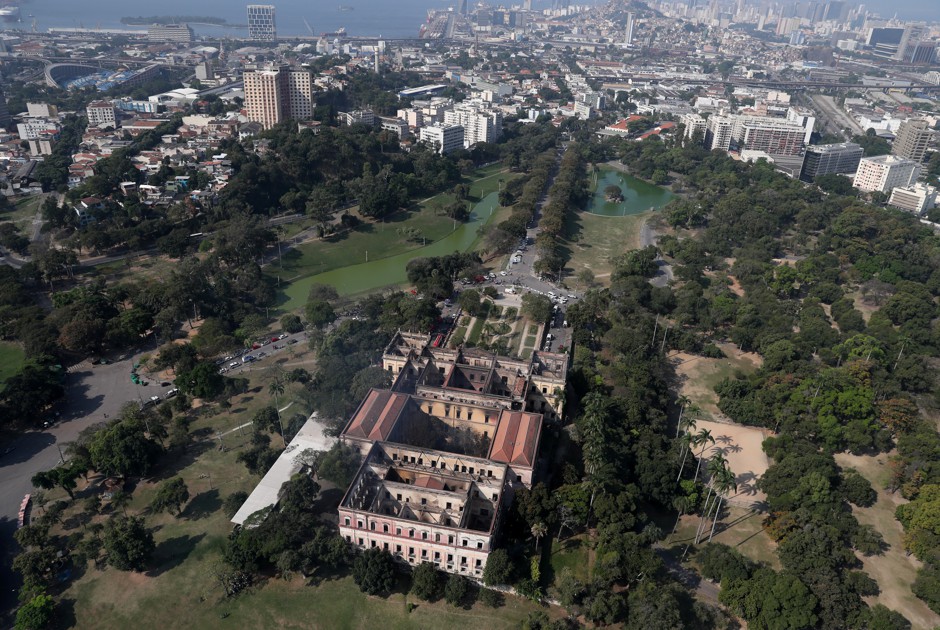 Since the fire, Brazilians have been sharing emotional stories from their visits to museum as children, marveling at both the exhibits and at the National Museum itself. Built in 1803, the ornate palace was once the residence of the Portuguese royal family. Beyond its historical, cultural, and social importance, the museum, which was overseen by the Federal University of Rio de Janeiro, was also a prestigious academic institution recognized in Brazil and internationally for the quality of its courses and scientific work.
We may now be shocked at the destruction, but no Brazilian could truly claim to be surprised by this disaster. For decades, the once-grand palace had been showing signs of decay—exposed electrical wires in the galleries, an inadequate cooling system, floors and ceilings patched up with unsuitable materials. It lacked sprinklers and smoke detectors; nearby fire hydrants were dry. What was once a source of local and national pride has now become a symbol of Brazil's failing infrastructure and ineffective local and national government.
How did we get here? Why are we now weeping over the destruction of an asset of invaluable material and immaterial worth?
In the wake of the fire, many guilty parties have been singled out, from the university that was responsible for the management of the building to the city's firefighters, who lacked adequate training and supplies.
But most Brazilians blame the government and the austerity policies of the current president of the republic, Michel Temer. Recently, an amendment was inserted in the text of the Federal Constitution, freezing public investments for 20 years. We have witnessed many long years of diminished federal funding for cultural and scientific institutions in the name of other public priorities. Consequently, the process of decay accelerated for institutions that depend almost entirely on public investment. Before the National Museum burned, it was subjected to decades of disinvestment. The Federal University of Rio de Janeiro, to which the museum belongs, has experienced seven fires at its facilities over the past seven years—three in 2018 alone. This is an ongoing campaign, not the result of accidents and misfortune, as some Brazilian officials have argued in recent days.  
At least some blame must also go to the devaluation of culture in Brazil in general. We live in a country that has a weak connection to its history, a reflection of our inability to overcome the plunder and colonization in our past. In advance of the 2016 Summer Olympics, Rio de Janeiro and the Brazilian government spent billions on costly development projects, opening new landmarks like Spanish architect Santiago Calatrava's Museum of Tomorrow and AquaRio, the largest aquarium in South America. Meanwhile, the city has allowed several other museums and historic structures to decay, such as the city's former rail hub, Leopoldina Station, which has sat unused and vacant for more than a decade.
In particular, we also have little concern for the educational and cultural resources provided for those living in poverty, thanks to Brazil's perverse collective consensus that inequality is natural and success must come from individual merit-based effort.
In Brazil today, producing science and culture is increasingly a political act, and an act of resistance. It means opposing the government's austerity regime. It means hearing that you and your work are not important—that it's better to just privatize everything. It means finding the strength to overcome systematic federal disinvestment. It means embracing a career that is both financially and socially undervalued. But above all, it means possessing the hope and strength to fight for better days.
I was a child who was enchanted by the fossils in the museum, who once said that I wanted to be a paleontologist. I was the public school student who visited the museum with my class in elementary school. Years later, I was a student at the Federal University of Rio de Janeiro who witnessed the university's decline and lost the building where my classes were held to a fire. Today, I am a social scientist who went back to campus the day after the fire to help produce knowledge—a small step toward building a country that once again values education and science as pathways to a free and just society.