Speaking at a gathering of public housing authority directors in Washington, D.C. earlier this week, HUD Secretary Ben Carson re-upped his argument that affirmatively furthering fair housing—which in principle means desegregating neighborhoods—actually just means building more housing. Said Carson at the gathering:
While the prior [AFFH] rule focuses on analytics to discover discrimination, I want to take a closer look at the archaic local and state regulatory barriers—such as zoning and land use restrictions—that are preventing the construction of new mixed-income multifamily developments, whether in poor or wealthier neighborhoods.
The prior rule Carson referenced included tools that local housing agencies could use to root out housing segregation. The purpose of those tools was also to find ways to distribute housing subsidies more fairly across a broader swath of neighborhoods instead of concentrating them in impoverished neighborhoods, as HUD has done historically. But as Carson noted, he's not really all that concerned about discrimination, which is why he's been nixing those prior rules. Rather, as he explained to the public housing directors, he wants to figure out how he can turn NIMBYs into YIMBYs, and also how to get more landlords to accept housing vouchers from low-income tenants. He announced that he'd be conducting a "landlord engagement listening tour" later this month to help him out with this.
"I'm not making any recommendations at this point, as I'm in a studying mode to get a better handle on the challenges," said Carson at the gathering. "After all, we first need to understand why landlords say no to voucher holders, before we can persuade them to the point of saying yes."
However, there is already a great deal of research out there on why landlords say no—a lot of it from Carson's own department—and much of it points to discrimination. The day after Carson made the speech, a study from a group of economists began circulating  heavily on Twitter: It found that African Americans pay more in rent for identical housing in identical neighborhoods than white tenants do—a gap that increases the whiter a neighborhood becomes.
Wow: New paper suggests that discrimination causes black renters to pay substantially more than whites for identical homes in identical neighborhoods; the amount of the exploitation is greater the more white the neighborhood https://t.co/0lHlzvYxXX pic.twitter.com/fOJqQzg9Wk

— Daniel Kay Hertz (@DanielKayHertz) September 11, 2018
To reach this finding, the economists used HUD data culled from more than 450,000 housing voucher users between 2000 and 2002. Reads the study:
In equilibrium, the aversion of some landlords to dealing with black tenants and the aversion of some white tenants to black neighbors should lead to a sorting of landlords and tenants. Landlords with little or no aversion to dealing with blacks should work in predominantly black areas and landlords with the greatest aversion in predominantly white areas. A similar sorting across neighborhoods will occur for white tenants. As a result, the black rent premium is likely to be greatest in heavily white neighborhoods. Racial rent differences might also reflect differences in the revenue that landlords expect to receive from people of different races and expected differences in the cost of serving them (Ewers, Tomlin, and Wang 2014). These expectations might be based on prejudice or experience.
As it happens, HUD knows quite a bit about how much of it is prejudice because it has studied this topic considerably. HUD released three major studies this year that identify the various ways that black and Latino tenants face discrimination in the rental market, and why landlords refuse to accept tenants with vouchers. Carson acknowledged these studies at the public housing directors gathering, but only mentioned how landlords were frustrated with "paperwork," inspections, and how local housing authorities manage tenant disputes. Meanwhile, the studies from his office reveal far more than that, granularly detailing exactly how landlords discriminate against people who use vouchers and why.
HUD sponsored a report prepared by Johns Hopkins University's Poverty and Inequality Research Lab in May called "Urban Landlords and the Housing Voucher Program," for which 127 landlords and property managers were interviewed in the cities of Baltimore, Dallas, and Cleveland. Excerpts from some of these interviews are included in the study and the language used nakedly illustrates prejudice. Instead of using standard forms to screen potential tenants such as credit reports and background checks, most of the landlords interviewed said they use "gut feelings" to decide if they'll accept a tenant.
Two of the researchers on that study, Eva Rosen and Philip Garboden, wrote an op-ed in 2016 that elaborates on landlord discrimination. A landlord named "Gus" (a pseudonym) discussed with them why he doesn't use standard screening tools like background checks:
It's not that Gus thinks screening isn't important—he's intimately familiar with the costs of placing the wrong tenant. But he believes that the characteristics of a good tenant aren't written on their application or in their demographic profile. He seeks some unmeasurable quality—a combination of personal responsibility and stability. At first blush, his strategy appears in sync with HUD's guidance to take context into account. But like many landlords, Gus's biases are embedded within a highly racialized worldview. To illustrate this, Gus noted that most of his tenants are black or Hispanic and he would never reject someone based on race, but in the next breath declared, "If they're just some n***** I don't want them."
In another HUD-sponsored study on landlords' acceptance of vouchers that was released in August, researchers set out to examine this dynamic in five cities: Los Angeles, Newark, Philadelphia, Washington, D.C., and Fort Worth, Texas. This one involved testers, or people posing as prospective tenants to assess how landlords engage with them. The testers would first call a landlord to ask if they accept vouchers, and then would set up appointments to meet with the landlords in person if they did.
However, there were so many landlords in Fort Worth and Los Angeles who refused to accept vouchers from the start, the researchers had to drop those cities from their list and change the scope of their study. For the cities remaining, they found that landlords were more likely to deny voucher holders in wealthier neighborhoods. In the cases where landlords said they did accept vouchers and would meet with the (tester) tenants, the property managers and owners only showed up for 58 percent of the appointments. Meanwhile, the high rates of voucher denials prevented the researchers from having a large enough sample size to determine if voucher tenants were treated differently because of their race.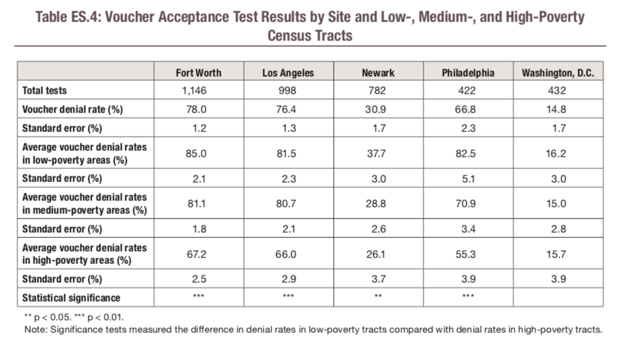 But we do still know something about how racism plays out in the rental housing search based on not only the "Urban Landlords" study, but also another HUD-sponsored study released this year called "Racial and Ethnic Differences in Housing Search." In this study, people were interviewed about their experiences when looking for rental housing, and researchers found that African Americans often go into the search process expecting to encounter discrimination. In fact, their own search habits are affected by the possibility that they'll be rejected because of their race. For example, some African Americans completely filter out neighborhoods that appear to be too white even if they could afford to live in them or the neighborhoods were close to their schools and jobs.
The way that black renters are often received (or not received) by white landlords informs this. Here's a sample of one respondent's interview, explaining how discrimination played out in a scheduled appointment to a view an apartment:
One high-income Latino woman (with no children), for example, relates a story about how she sent a friend to look at a potential rental unit because she was unable to do it herself because she was out of town for work. She explains, "And she was there first, and she knocked on the door. The woman didn't answer, and she was like, 'are you sure this is the address?' I'm like, 'that's the address she gave me.' I sent her a screen shot. Anyway, the next couple showed up, and it was two White people, and then the woman opened the door, and then that's when my friend kind of went, like, 'Hey, like I have been out here.' The woman was like, 'Oh, I didn't see you. Come in.' She goes in. I'm like, 'Was it a mistake to like invite my Black friend?' I told my friend, Bridget, I'm like, 'Girl, you are Black. I'm brown. I don't know if that was a good combo.' And she was like, 'right.' I'm like, yeah. I could have asked another friend, you know. I have like diverse friends."
Taken together, the discrimination that people of color and voucher-holding tenants face is well documented, particularly in Carson's own wheelhouse. At the public housing directors gathering, Carson mentioned some of the policy recommendations from the "Urban Landlords" study that he thought could help improve voucher acceptance: insurance programs to help landlords pay for damages in rental units, and loans for landlords to renovate properties. And he also, again, said he wants to incentivize building more mixed-income multifamily housing complexes.
Writing for Bloomberg Opinion, Noah Smith applauded these proposals as good news for increasing affordable housing, and Carson graciously thanked him for that on Twitter.
ICYMI: @HUDgov is taking on the #NIMBYs. I agree with @Noahpinion that we must look at increasing the supply of affordable housing by reducing onerous zoning regulations. Zoning laws are holding back America's cities. #YIMBY https://t.co/5K3dVAOd7A

— Ben Carson (@SecretaryCarson) September 12, 2018
But even Smith recognized that, "Exclusionary zoning isn't the only force keeping America's towns segregated, but it is one factor."
Eradicating exclusionary zoning regulations will help, but it won't totally resolve the problems of landlords racially profiling potential tenants, the concentration of racial minorities and voucher holders in segregated communities, or the extra "racial premium" African Americans end up paying for the same kind of housing as white tenants. At some point, Carson will have to address the discrimination.